Auction
Below are some of the acution items that will be available.
Harlan
Magnum (2012), Includes VIP Tour for 8 – Valued at $4,600
Harlan Estates is, by far, one of the most exclusive and prestigious wineries in Napa Valley. Founded in 1984, this Oakville property is shrouded in mystery, creating an irresistible fascination amongst the most avid wine connoisseurs. Although the property is never open for tours of any kind, this once in a lifetime opportunity will afford one lucky winner and eight companions of their choosing to visit the infamous Harlan Estates. The Magnum of the 2012 Red Blend is an added bonus to this already tantalizing item. Elegant yet complex, rich but not overbearing, this wine is only available to members of the estate's elusive wine club. Explore the mystery of Harlan Estates and indulge in this marvelously unique experience.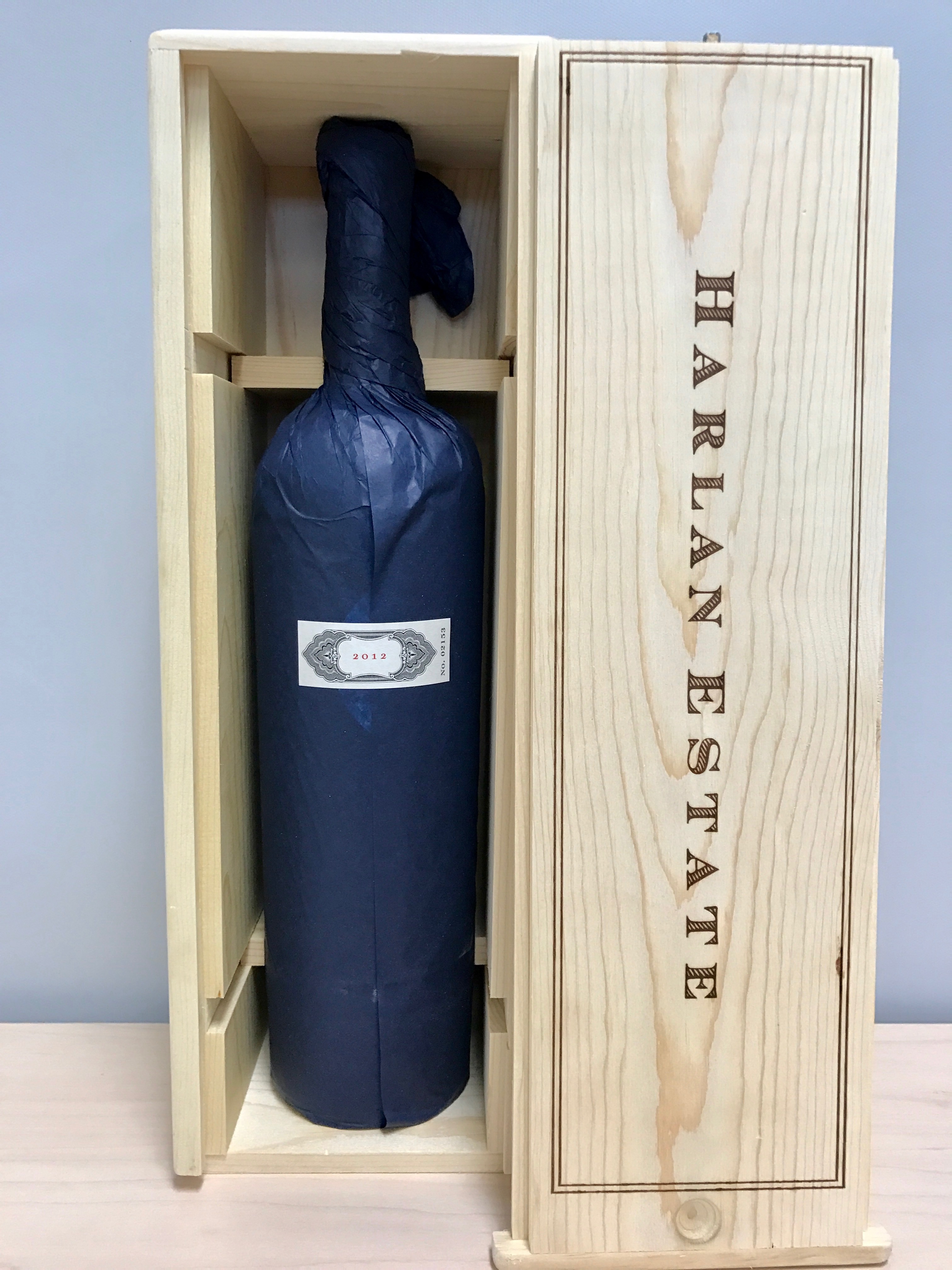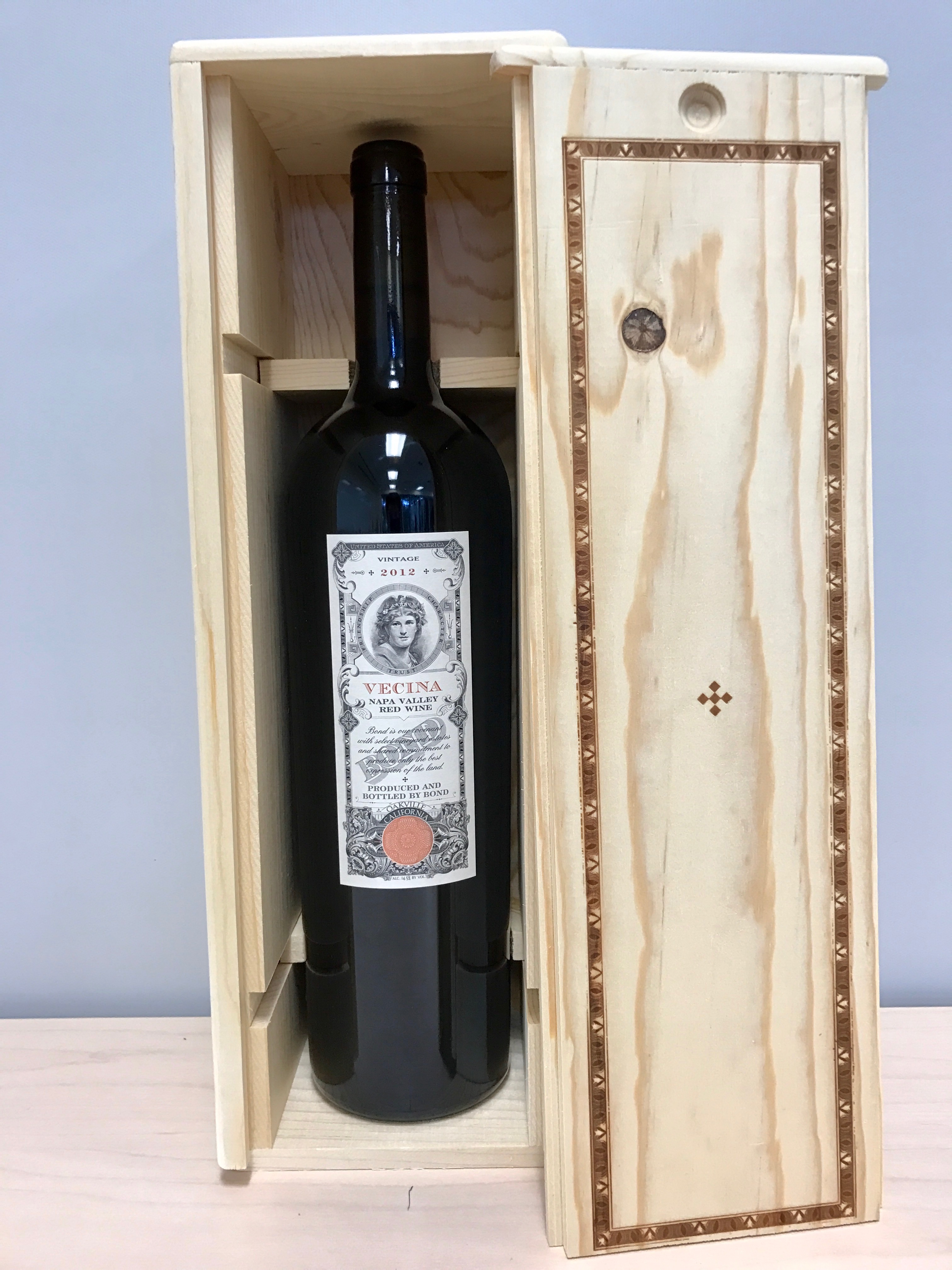 Bond Red
Magnum (2012), Includes VIP Tour for 6 – Valued at $3,600
In each and every step of the winemaking process, from harvest to bottle, Bond strives for nothing less than perfection. Over the last twenty five years, their philosophy of diversity and quality has led them to select five premier Cabernet Sauvignon hillside vineyards within the Napa Valley. The vines are carefully managed to produce fruit that is both a fine representation of the land on which it was grown and is worthy of being crafted into their 'Grand Cru' quality vintages. Vecina has been a part of the Bond's premier 'Grand Cru' selection since 1999. The volcanic soil is the ideal foundation for these vines, which are nurtured by the cool morning sun to the east. Consistently, the Vecina vineyard produces wines that are powerful, intense, and memorable. Enjoy the 2012 vintage, which was deservingly given a 100 point score by Robert Parker Jr.'s Wine Advocate (October 2015). Praised for its blend of La Mission Haut-Brion and Mouton-Rothschild in style, the 2012 is remarkably intense and flavorful, with incredible purity and delicately woven with tannins. The wine is divinely crafted and a marvel of Napa Valley winemaking. Additionally, you and five exclusive guests will embark on an exclusive VIP tour of the Bond winery.
Colgin Red
Magnum (2009), Includes VIP Tour for 6 – Valued at $1,700
Colgin Cellars, completed in 2002, sits at the northern end of St. Helena atop Pritchard Hill, overlooking the pristine Lake Hennessey. The winery is a modern marriage of traditional design and contemporary technology. The eclectic and passionate winemaking team strive to produce top notch wines, ranging from bold and bright Syrah to the ever-classic Cariad Red Blend. Inspired by the welsh word for "love", the Bordeaux-style blend is composed of grapes from three outstanding vineyards owned and managed by Vineyard Manager David Abreu. Consisting of Cabernet Sauvignon, Cabernet Franc, and Merlot, the Colgin Cariad displays a classic but vivacious character, with vibrant aromas, impeccable balance, and smooth finish. In addition to this exceptional bottle, enjoy an exclusive six person tour of the Colgin property and explore the behind the scenes world that produces some of the finest wines in St. Helena.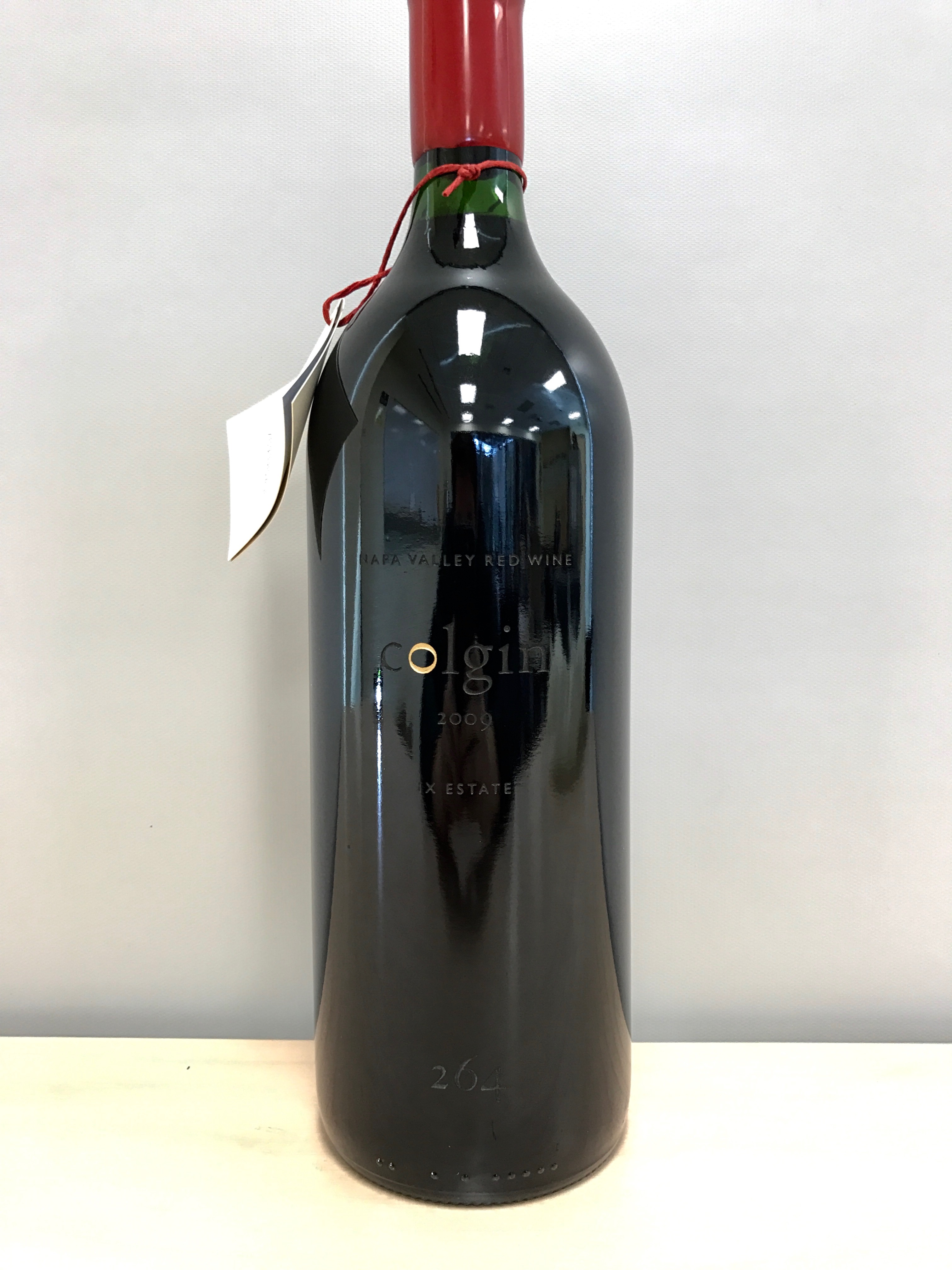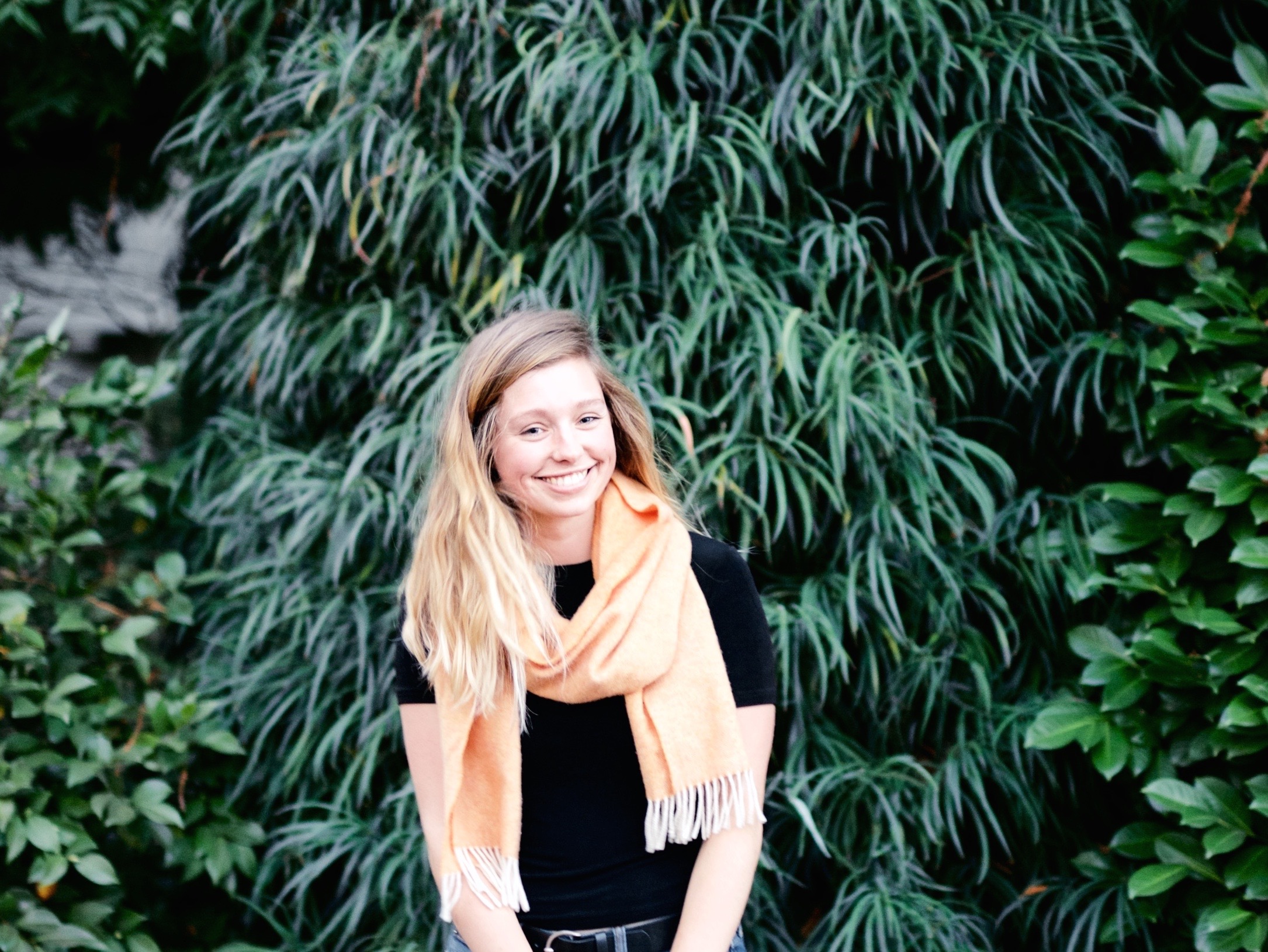 Isabelle Straka Napa Valley Experience for 4 guests
Valued at $1,500
An exclusive tour of Napa Valley from Napa-resident and Viticulture and Enology graduate student, Isabelle Straka, on Saturday, June 24th 2017. Ms. Straka brings a lifetime of local familiarity to this once-in-a-lifetime experience. Here's a description of the day from Isabelle: We begin our day Scarecrow, walking the vineyards of the historic J.J. Cohn Estate in Rutherford. Renowned vineyard manager, Michael Wolf, will lead this tour for a behind the scene experience of this classic Napa Valley property. In 2015, Mike was awarded the prestigious grower of the year award by the Napa Valley Grape Growers Association and farms some of the most sought after vineyards in Napa including Vine Hill Ranch, Adamvs, and Meteor. Proprietor Bret Lopez will then lead a tour of the historic property followed by a tasting of the Scarecrow wines. About the name: Founder J.J. Cohn was head of production at MGM studios and was an uncredited producer of 'The Wizard of Oz'. Winemaker Celia Welch is a graduate of the UC Davis Viticulture & Enology Department. Next, we take a scenic drive to Calistoga along the Silverado Trail to Kelly Fleming Wines. Here, winemaker Rebecca George will lead a tour of the cellar and a tasting of the Kelly Fleming Wines. This small estate producer is planted to twelve acres of Cabernet Sauvignon and is surrounded by the Eisele, Hundred Acre and Fisher Vineyards. Becky has recently launched her own Pinot Noir label, Mojave, which we may have the chance to taste, time permitting. Prior to her time at Kelly Fleming Wines, Becky was the assistant winemaker at Schramsberg. Rebecca is a graduate of the UC Davis Viticulture & Enology Department. Finally, we will make our way to St. Helena where winemaker and brewer Nile Zacherle will lead both a tour and tasting of his new brewery, Mad Fritz. Here, Nile crafts ales and lagers with an emphasis on origin-driven ingredients. Locally sourced water, hops, and in-house floor malting are just a few of the reasons these beers have been regarded as some of the best produced in Northern California. When he is not brewing, Nile is also the winemaker at David Arthur Winery on Pritchard Hill. Nile is a graduate of the UC Davis Viticulture & Enology Department. Lunch will be provided by Goose & Gander in St. Helena. Transportation provided.
Ovid Red & Ovid Experimental
Magnum (2013) & 3 Bottles (2014, 2x 2015)
Includes VIP Tasting For 6 – Valued at $1,300
Ovid winery located on Pritchard Hill takes its name after the Roman poet [Publius Ovidius Naso] most famously known for his poem: the Metamorphoses, a poetic retelling of the Greek myths celebrating the themes of transformation and change. Ovid believes winemaking, at its essence, is a transformation from grapes to something sublime, aptly symbolizing Ovidius legacy. Ovid employs classical techniques in both their farming and winemaking practices with the goal of creating a wine estate that will endure and flourish for generations to come. The 2013 Hexamer Red, named after the Hexameter meter in which Ovid wrote his famous work, features Pritchard Hill estate's most profound and compelling Cabernet Franc as its core. Hexameter is only available in some years and not sold to the public. In addition, this package includes an exclusive tour of the Ovid estate and tasting for six.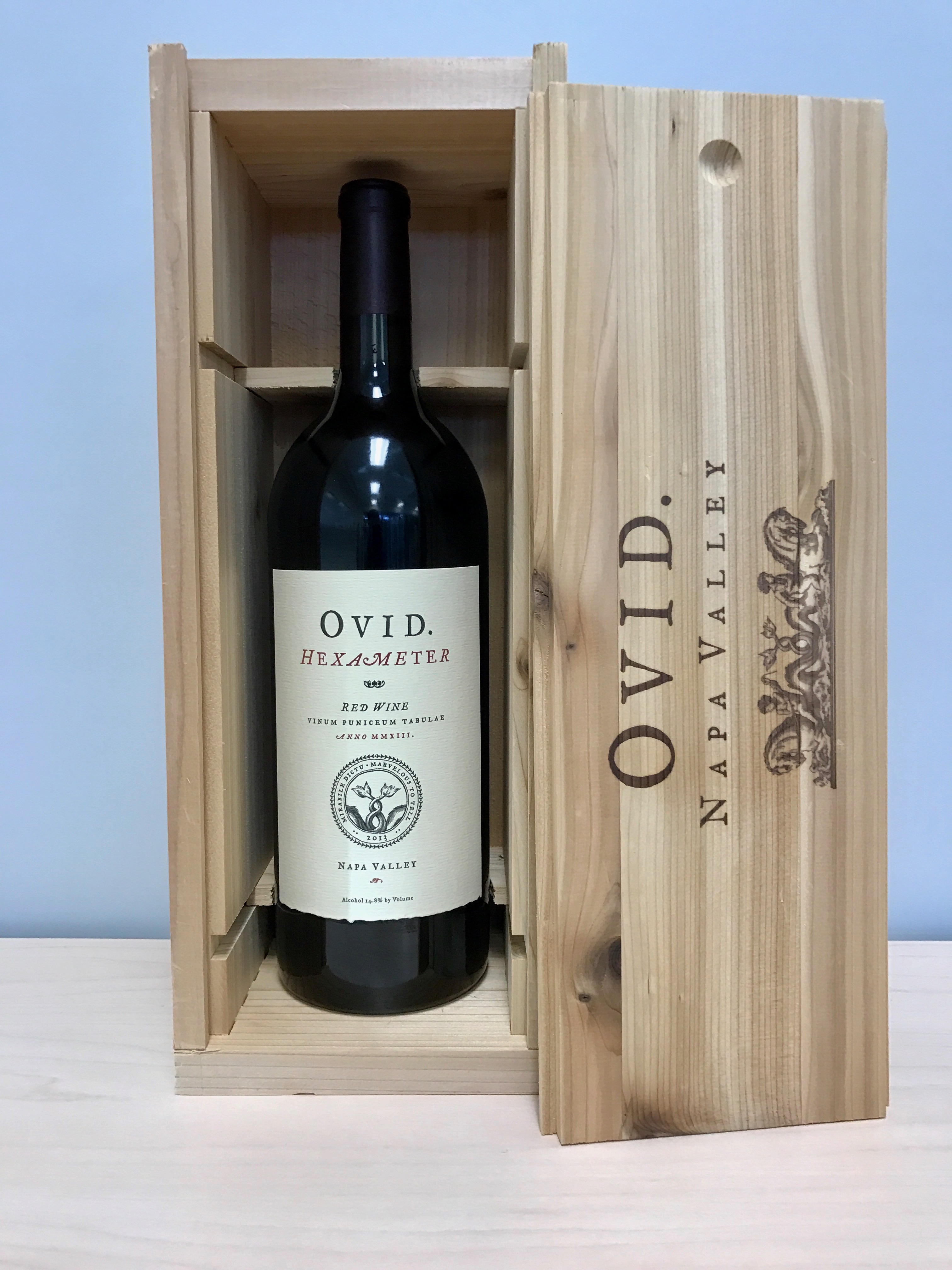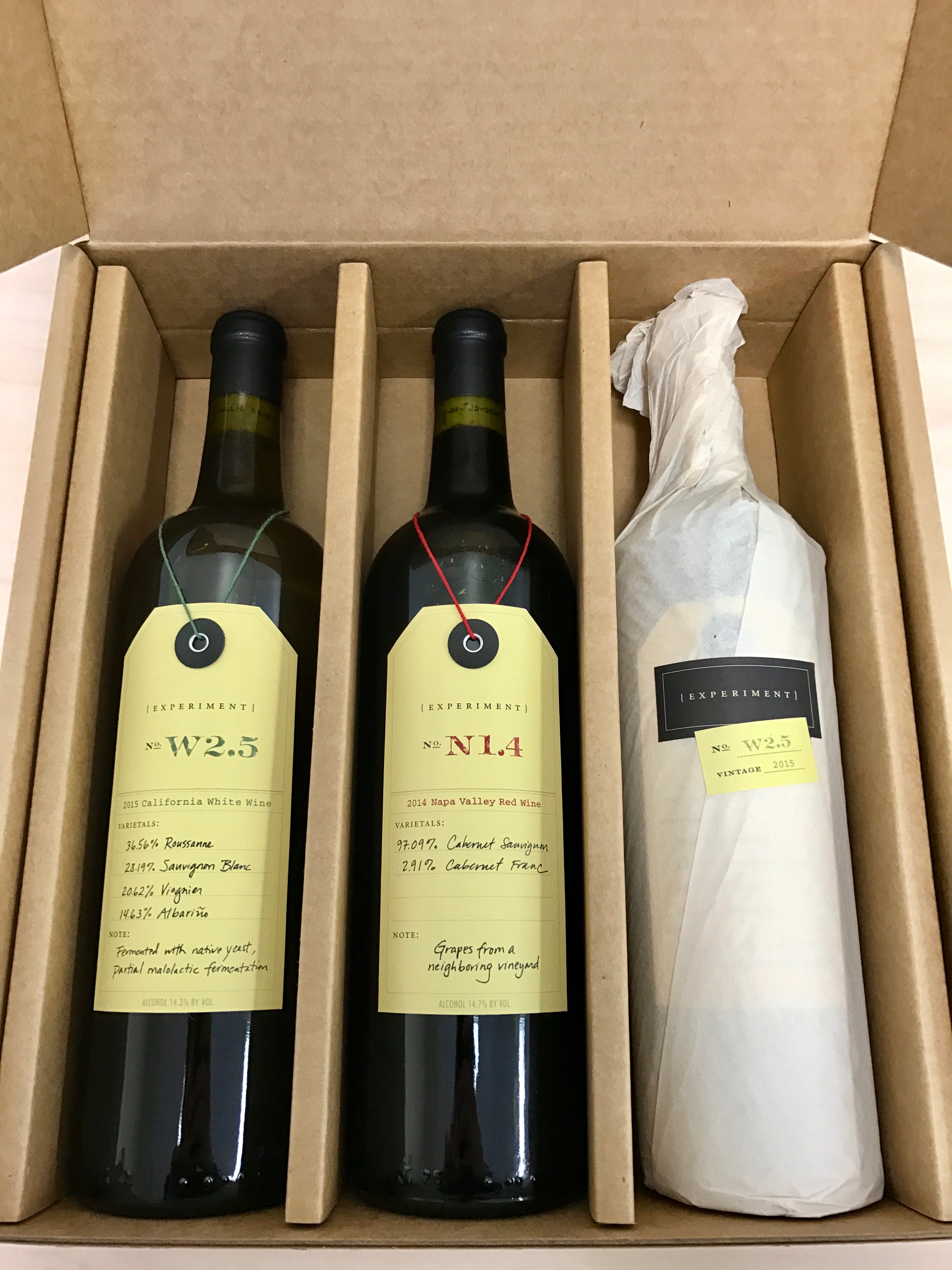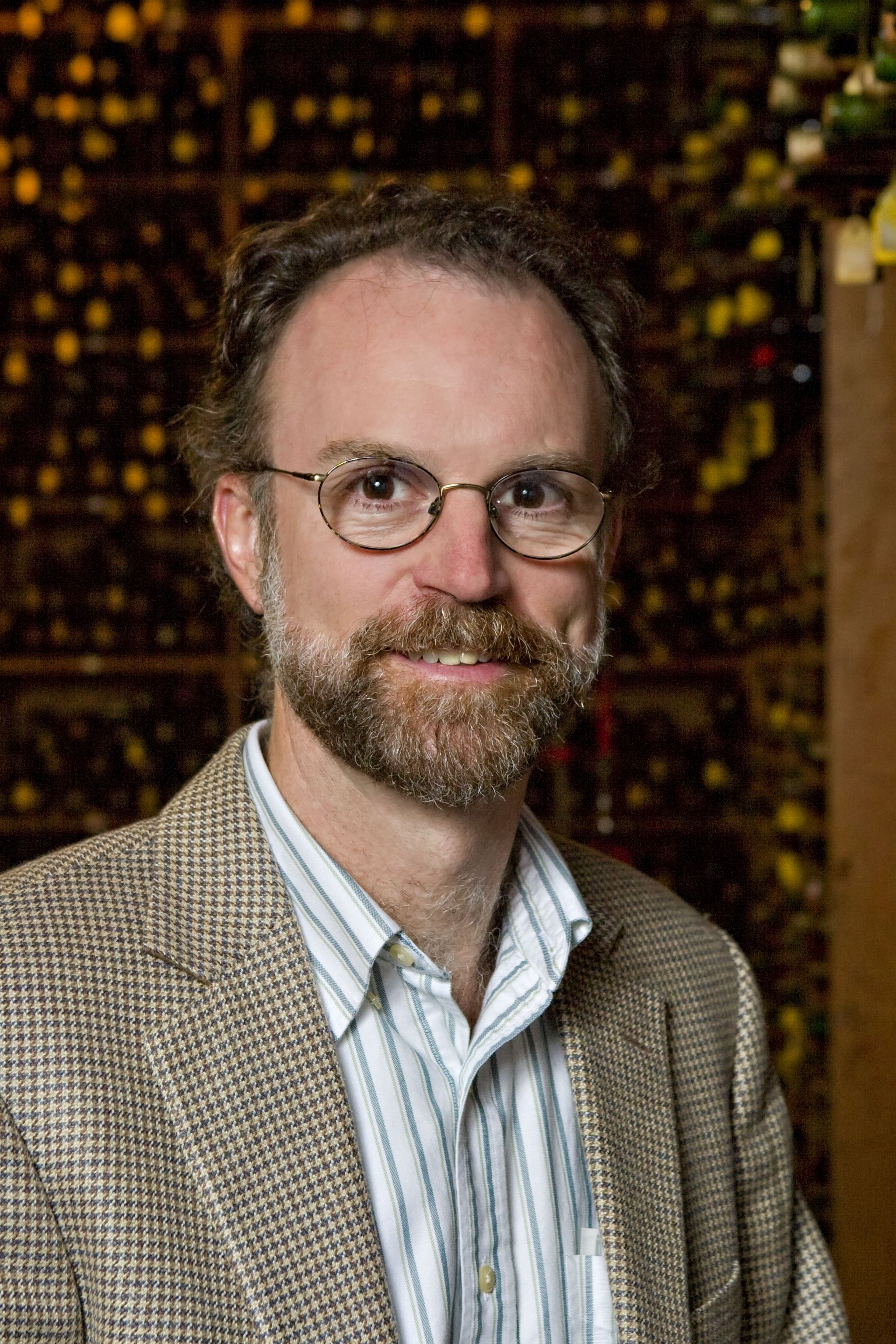 Tasting of UC Davis Alumni-Proprietor's Wines with Dr. Waterhouse
Valued at $1,000
Professor Andrew Waterhouse will come to your home to entertain you and your guests with wine provided by UC Davis alumni who own these brands. Learn some history of our graduates and taste the well-known as well as the hidden gems. This year we have wine donated for this tasting from Mike Martini, M2 Monte Rosso Cabernet; Bob Bolan, Russian River Pinot noir; Celia Walsh, Corra Napa Valley Cabernet; Steve Matthiasson, Napa Valley White Blend; Brett Hogan, Cote West Sonoma Coast Chardonnay; Hugh Davies, J Davies Diamond Mountain Cabernet; Aaron Pott, Stagecoach Grenache; Diana Snowden, Brothers Vineyard Cabernet; Robert Fiore, Wan Fiore Project Pinot Noir; and others.
Consultation with Andy Walker
Valued at $1,000
Considered by many to be one of the most gifted and passionate viticulturists of our time, Dr. Andrew Walker has been a part of the UC Davis community since he 1989. At this time, he was only just beginning his grape breeding project, which has since expanded his research to pest-resistant rootstocks as well as disease-resistant cultivars for wine, table, and raisin grapes. As the chair of the Horticulture and Agronomy Graduate Group, Dr. Walker directly oversees and assists students pursuing a M.S. degree in Viticulture and other plant programs. From 2000 to 2015, Dr. Walker was the Louis P. Martini Endowed Chair in Viticulture, and currently holds the Louise Rossi Endowed Chair in Viticulture. Dr. Walker is a reputable resource for viticulturists nationwide, and will be giving one-on-one consultations to whoever is the lucky winner of this item. Dr. Walker will visit the vineyard property and give a personal consultation so as to remedy any possible issues and improve the health, productivity, and quality of the vineyard.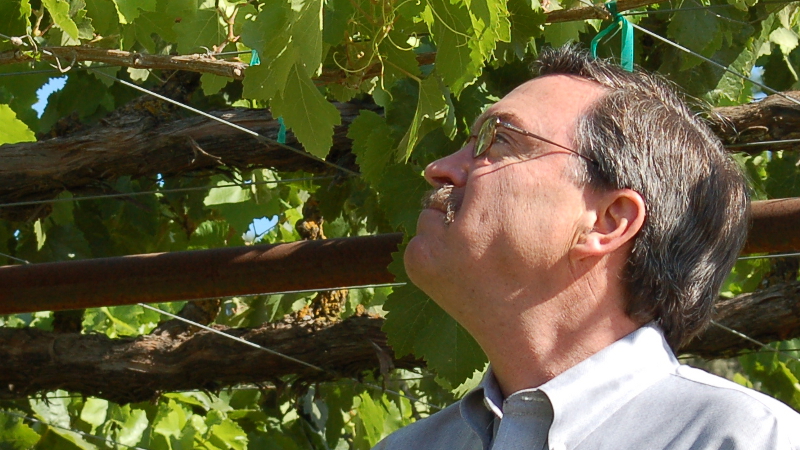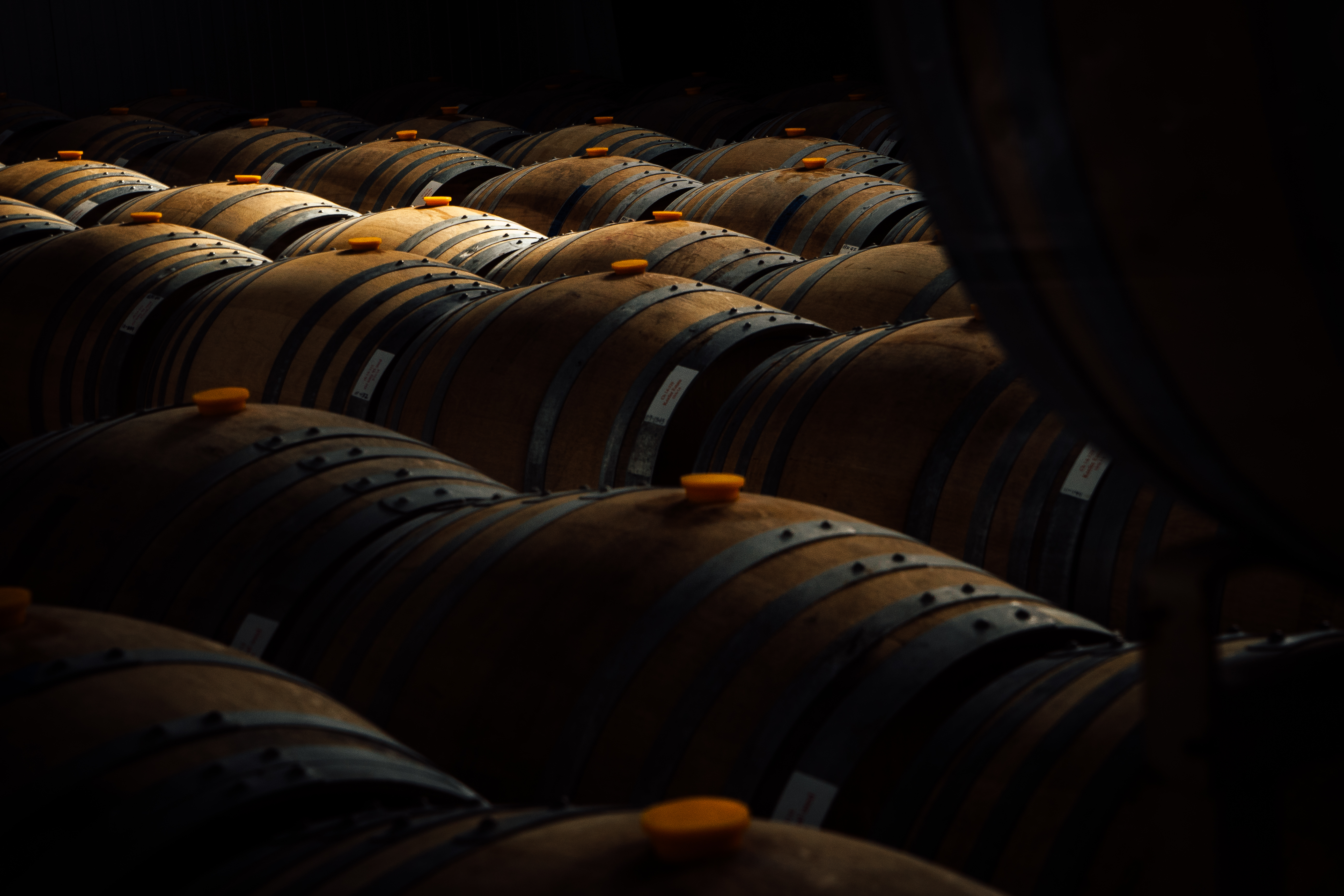 Kosta Brown
Tasting – Valued at $900
Kosta Browne believes that truly great wines are born in the vineyard. While being located in Sebastopol CA, Kosta Browne makes it their business to find incredible growers and vineyards in key appellations all throughout California. It is their goal that every vintage tells the story of its vineyard of origin. Their production is quite limited with a wait list nearing two to three years for appellation wines and five to six years for single vineyard wines. Closed to the public, very few have the opportunity to taste Kosta Browne's artisanal Pinot Noirs. This tasting would allow six visitors an exclusive opportunity to taste Kosta Browne's critically acclaimed collection.
Haitz Cellars Cabernet Sauvignon
Case (2004) – Valued at $900
A fixture on Highway 29 in St. Helena, the Heitz family's vision of winemaking spans three generations of dedication to excellence. They believe that true artistry sometimes requires restraint, and strive for the delicate balance between science and nature's bounty that allows their wines to express the genuine character of the varietal and to reflect the vineyard's unique geography within the Napa Valley. The intensely flavorful wines from Rutherford's Trailside Vineyard have been part of the Heitz range since 1989. The vineyard is flanked by the Silverado Trail on one side and Conn Creek on the other and is certified organic. According to the winery: "From first sip to glorious finish, the 2004 Trailside Vineyard Cabernet Sauvignon captures the essence of this superb vintage. This wine is a Rutherford classic, deeply-hued and powerful, with a lush bouquet of fresh raspberry. Its vibrant core of Cabernet fruit is beautifully wrapped in French oak with a slight hint of vanilla. Skillfully balanced with firm tannins and lively acidity, it soars to an unforgettable finish. Decant this wine to enjoy now, or cellar it to reward yourself in years to come."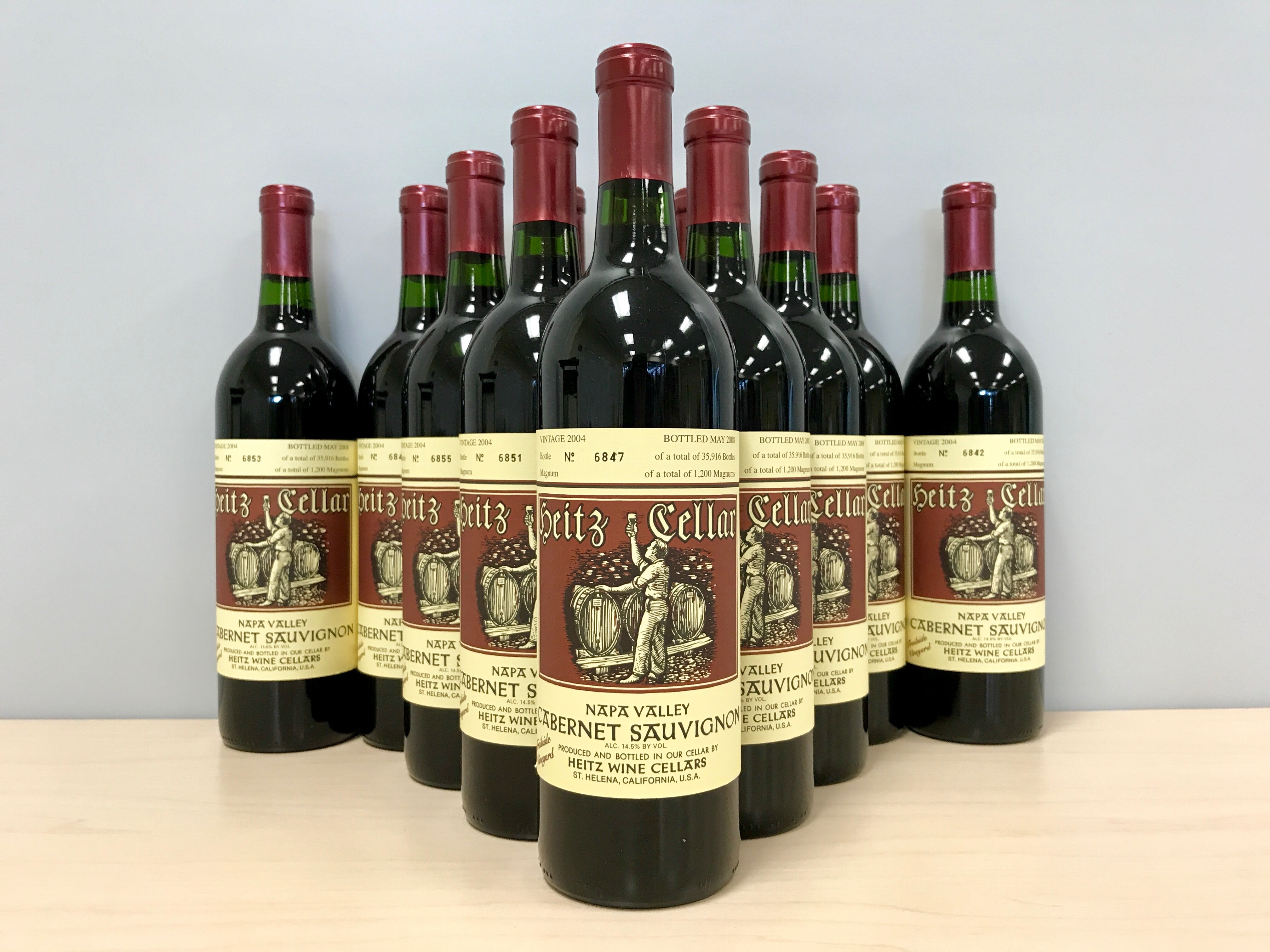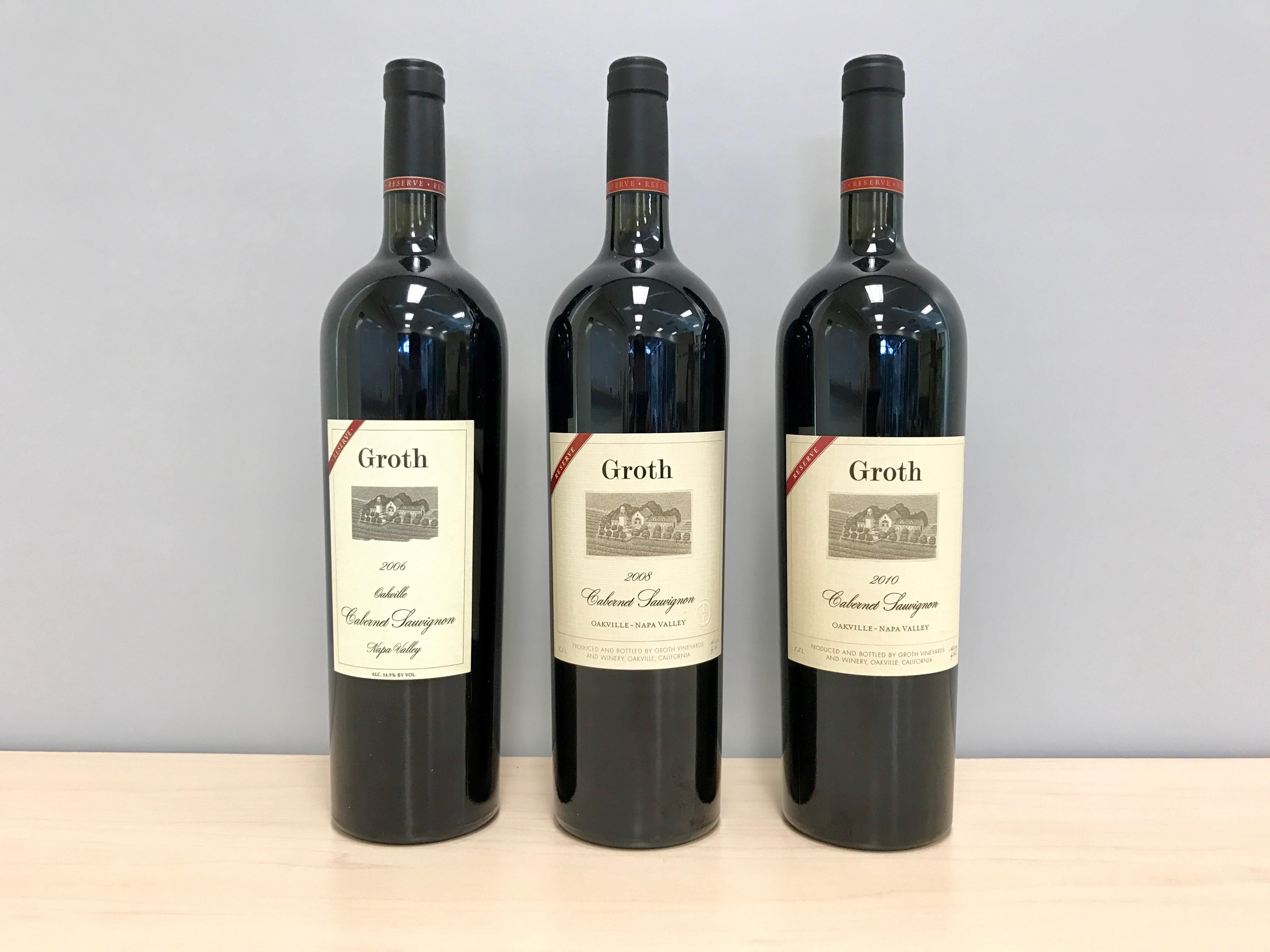 Groth Cabernet Sauvignon
3 Magnum Vertical (2006, 2008, 2010) – Valued at $750
The Groth estate vineyard is a 121-acre property located in the heart of Oakville and was purchased by the family in 1981. Since then, the Groth family has become one of the most dedicated Oakville producers making the best wine that a vintage will allow. This special bundle has 3 large format bottles of Cabernet Sauvignon from vintages 2006, 2008, and 2010. Always believing that success follows with making great wine, Groth began as, and continues to be 100% family owned, operated, and managed by the Groth family: Dennis, Judy and their children, Elizabeth, Suzanne and D. Andrew.
Laurel Glen Cabernet Sauvignon
6 Bottle Vertical (2008-2013), Includes Library Tasting for 4 – Valued at $590
Laurel Glen Vineyard, a thousand feet up the slopes of Sonoma Mountain, has long been considered one of the iconic Cabernet vineyards of California. It was originally planted to mixed red varietals by German immigrants at the end of the 19th century. In 1977, Ms. Taylor sold the property to Patrick Campbell, who took cuttings from the existing three acres of Cabernet vines to develop the modern vineyard. Today, the 14 acre estate is farmed organically and planted entirely to Cabernet Sauvignon, and in particular, the Laurel Glen clone of Cabernet Sauvignon, certified as a unique clone by the University of California at Davis. Randall Watkins, a graduate of UC Davis' Viticulture & Enology program, is now the winemaker and joins an ambitious new team formed by Bettina Sichel. In addition to this 6 bottle vertical, indulge in an exclusive tasting experience in the Laurel Glen library, where you will and three lucky companions will sample the best of their Estate Cabernet Sauvignon. These wines are lush, headstrong, and vibrant now, but have the proper backbone to age beautifully in the coming years.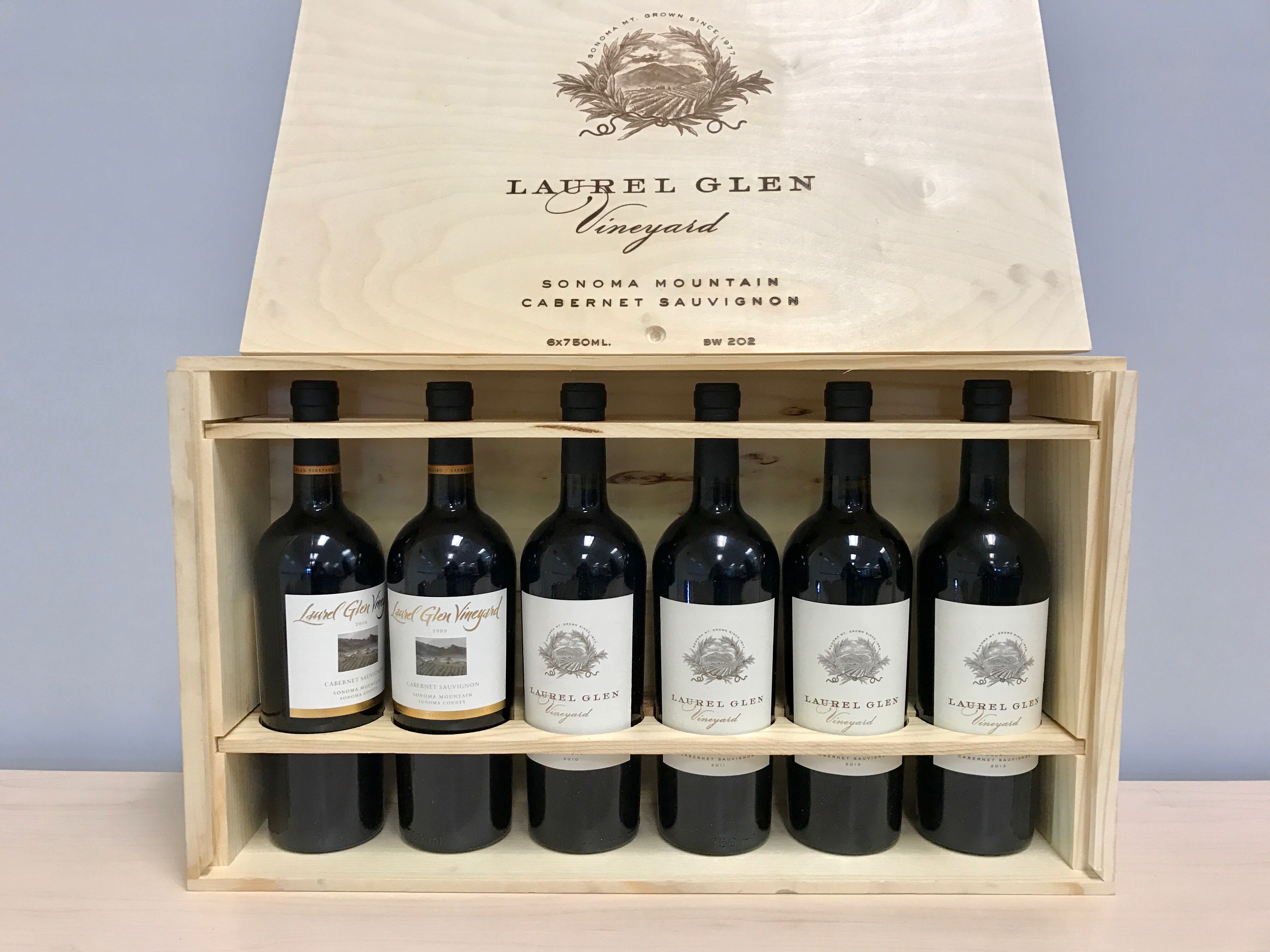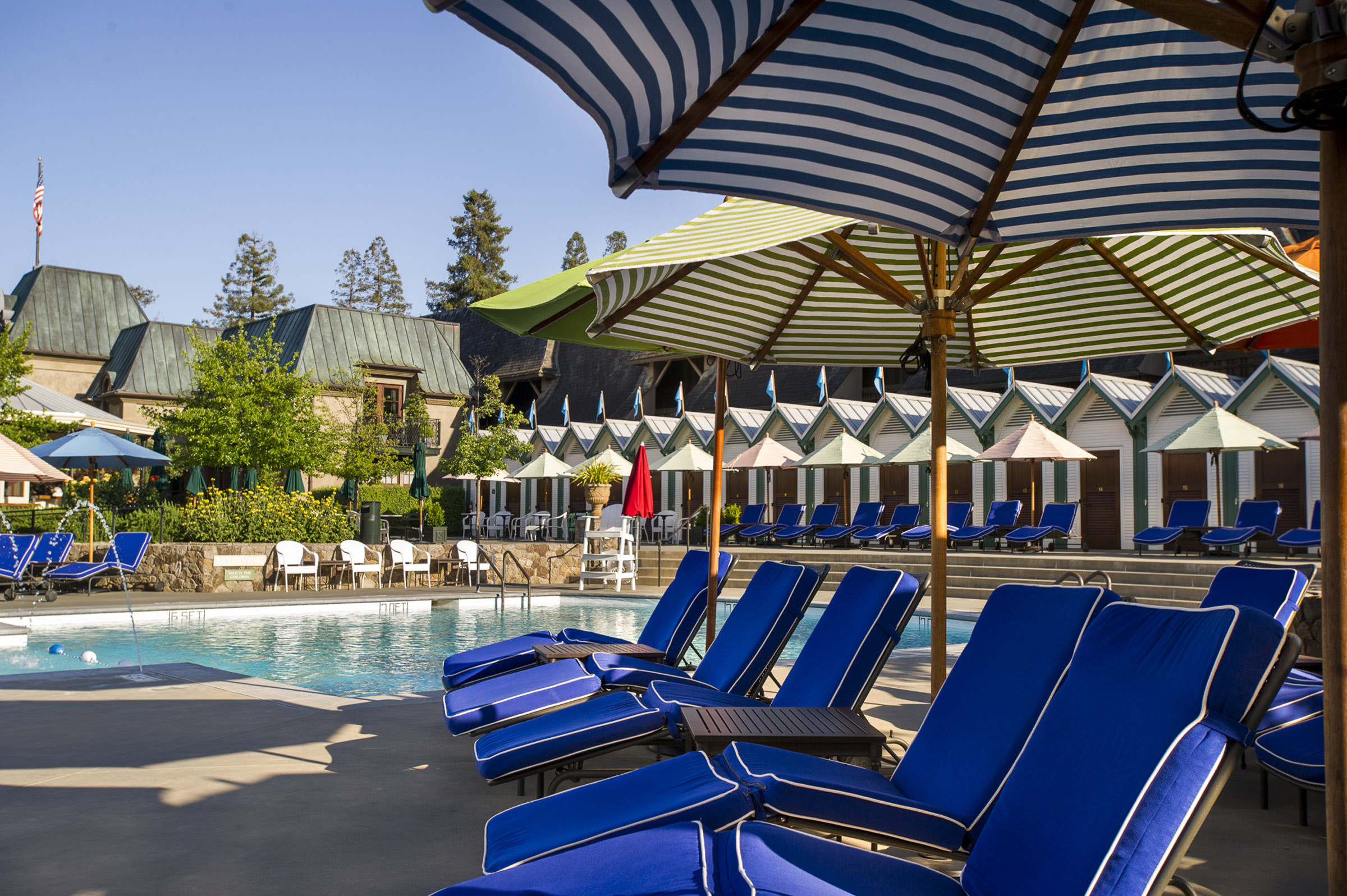 Francis Ford Coppola Gift Certificate for Day by the Pool
Includes Lunch, Wine, and VIP Tour from the Winemaker – Valued at $570
Winemaking has been a Coppola family tradition for several generations. Agostino Coppola, Francis Coppola's grandfather, used to make wine in the basement of his New York apartment building using concrete vats he constructed himself. According to Francis's Uncle Mikey, they weren't fancy wines, just pleasant everyday drinking wines that anyone could enjoy. The wines that Francis Coppola makes today aren't the same as those Agostino made, but they are produced in the same spirit—for sharing with friends and family. Bring your family and friends to the Francis Ford Coppola Winery in Geyserville to enjoy a day of summer fun at the winery's swimming pool with the use of a private cabin! Steps from the 3,600 square foot pool, and equipped with private showers, your cabin will provide a comfortable and secure space for your group of up to 4 to change clothes and store personal items when it's time to take a dip. Package includes: Four pool passes, four chaise lounges, use of four towels, lunch from our Pool Café (up to $100) with two bottles of Francis Coppola wine, unlimited bocce ball games, and a VIP Tour with a Winemaker.
Talisman Pinot Noir
6 Bottle Vertical (2006-2011), Includes Tasting – Valued at $560
Talisman Winery was started by Scott and Marta Rich. Scott received his bachelor's degree from UC Davis in Landscaping and eventually came back to receive his Master's in Viticulture and Enology, having worked as a research enologist for both RH Phillips and Robert Mondavi. He has been the winemaker at Mont St. John, Carneros Creek, and Etude, where he made highly-acclaimed Pinot Noir and Cabernet Sauvignon. Currently, Scott's time and energy are spent as winemaker and owner of Talisman. His partner, Marta Rich, actually has no memory of life without wine. Her father made wine in their Minnesota basement, using virtually any form of grapes or juice he could get. After taking up residence in Napa Valley, Marta began an 18-year stint at Robert Mondavi. She worked her way up the ladder, first scheduling grapes during harvest and eventually running Robert Mondavi's Northern California sales team. She was well-prepared for both of her current jobs, Director of Sales for Calera Wine Company, one of California's Pinot Noir pioneers, and Director of Sales & Marketing for Talisman Wines. Talisman specializes in highly sought after single vineyard Pinot Noirs and this vertical is a Pinot drinker's dream.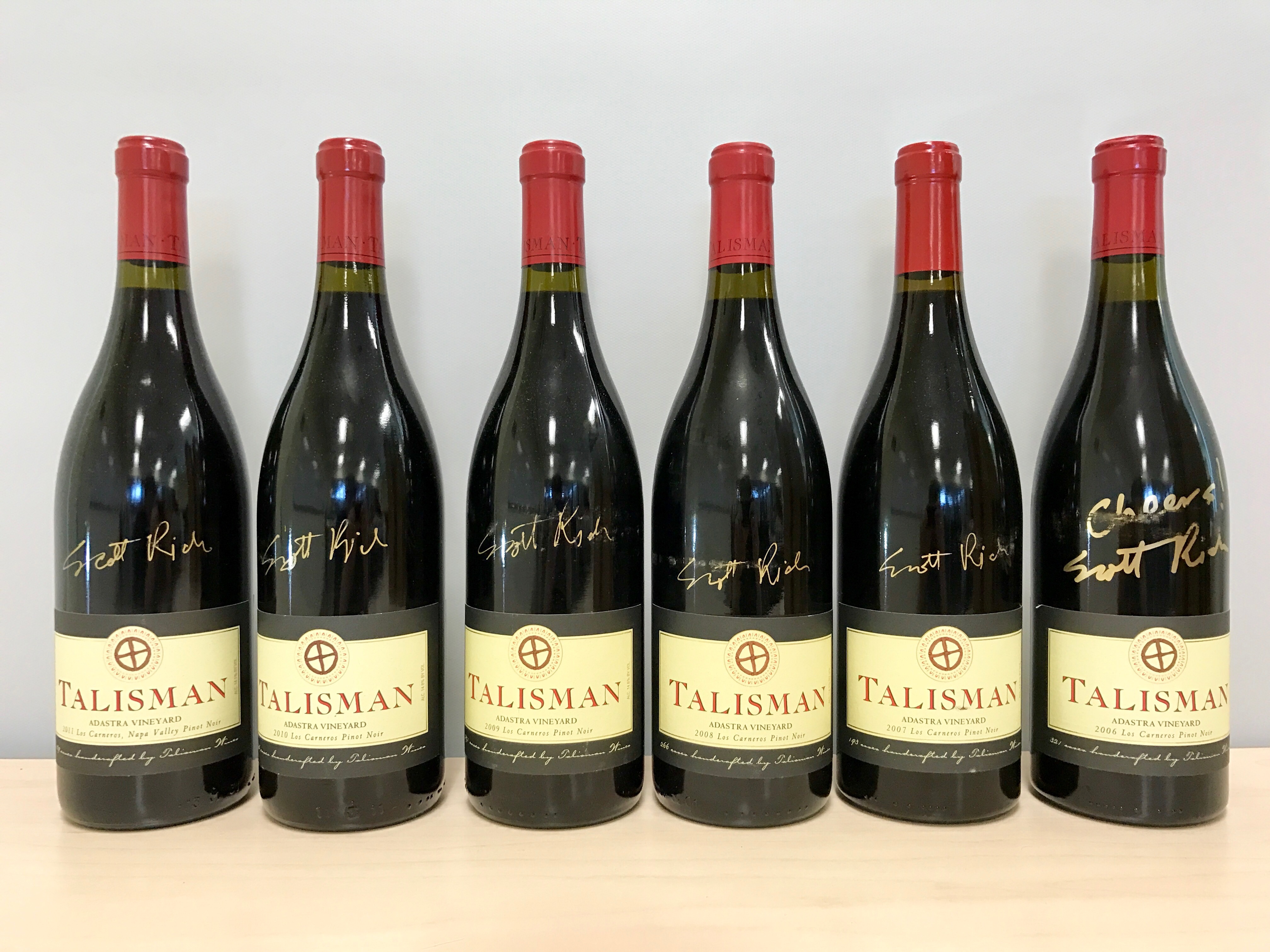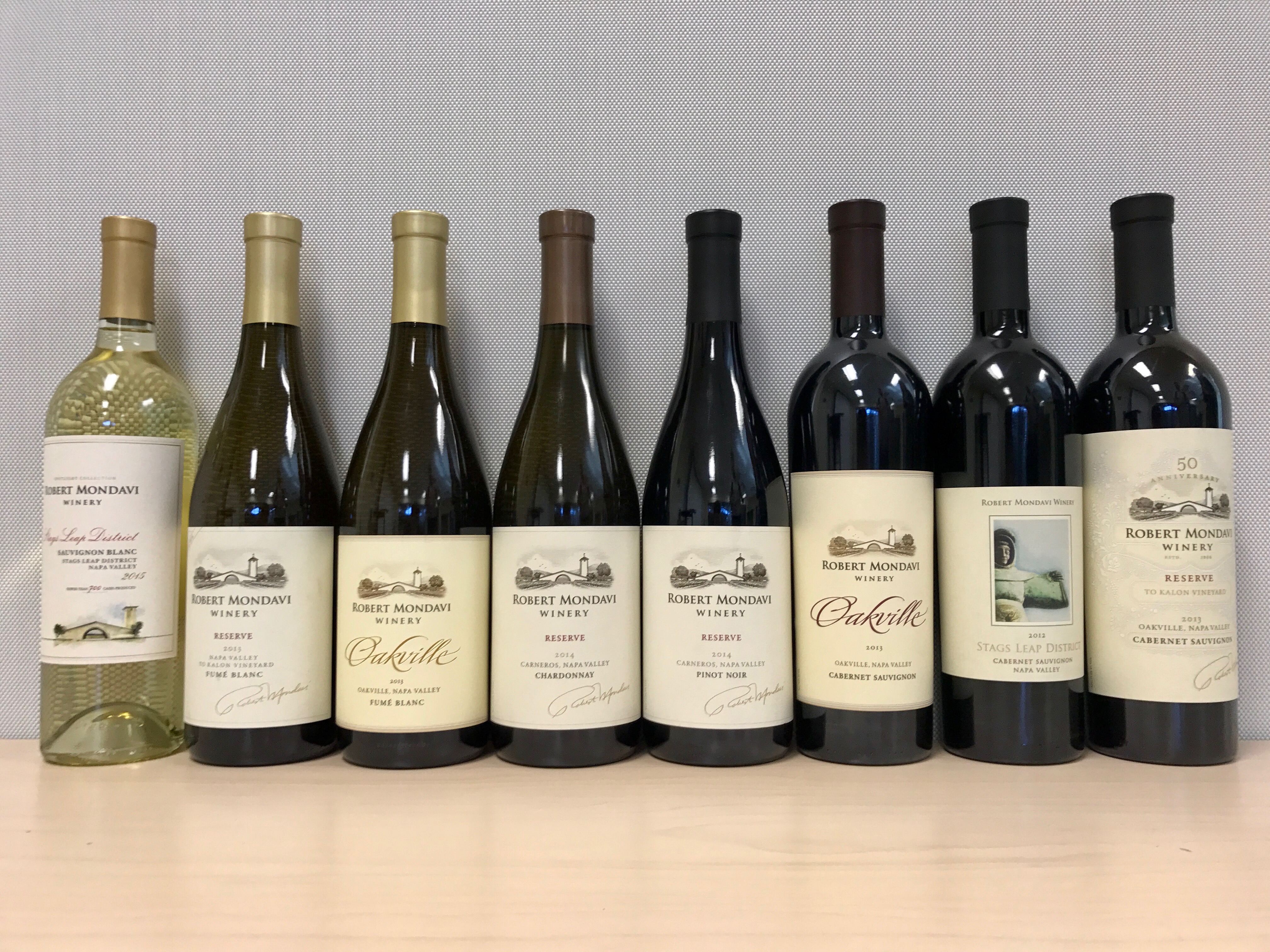 Robert Mondavi
8 Bottles (2012-2015) – Valued at $560
Robert Mondavi established his namesake winery in 1966 with a vision to create Napa Valley wines that would stand in the company of the world's finest. Located in Oakville, California, the Robert Mondavi Winery is situated on the renowned To Kalon Vineyard in the heart of the Napa Valley. Mr. Mondavi believed that wines should reflect their origins, that they are the product of the soil, the climate, and the careful stewardship of those precious resources. He also believed in combining the newest techniques and technology with time-honored winemaking traditions, and it was these philosophies led to a remarkable advancement of California wine, and the development of the facility at UC Davis that bears his name. The winemaking and vineyard teams proudly carry on the founder's mandate to always strive higher and pursue a goal of excellence, leading to wines with wonderful complexity and elegance.
Opus One Red
Magnum (2004) – Valued at $550
The dynamic history of California wine would not be complete without mentioning Opus One. The founding fathers, Lucien Sionneau and Timothy Mondavi, first met at the Robert Mondavi Winery in 1979 and soon after embarked on a journey which would end with the establishment of Opus One Winery. Nearing its fourth decade of production, Opus One continues to produce superbly high-quality wines that embody the spirit of Napa Valley. The 2004 vintage had the lowest per-acre yield since 1987 and resulted in a dark ruby red blend that is laced with aromas of violets, cedar, black tea leaves, and brioche. The complex symphony of aromas is met with bright acid and robust tannins, which promise resilience and longevity. Signed by the winemaker himself, this magnum of the 2004 vintage exemplifies the dedication to excellence that is the cornerstone of Opus One.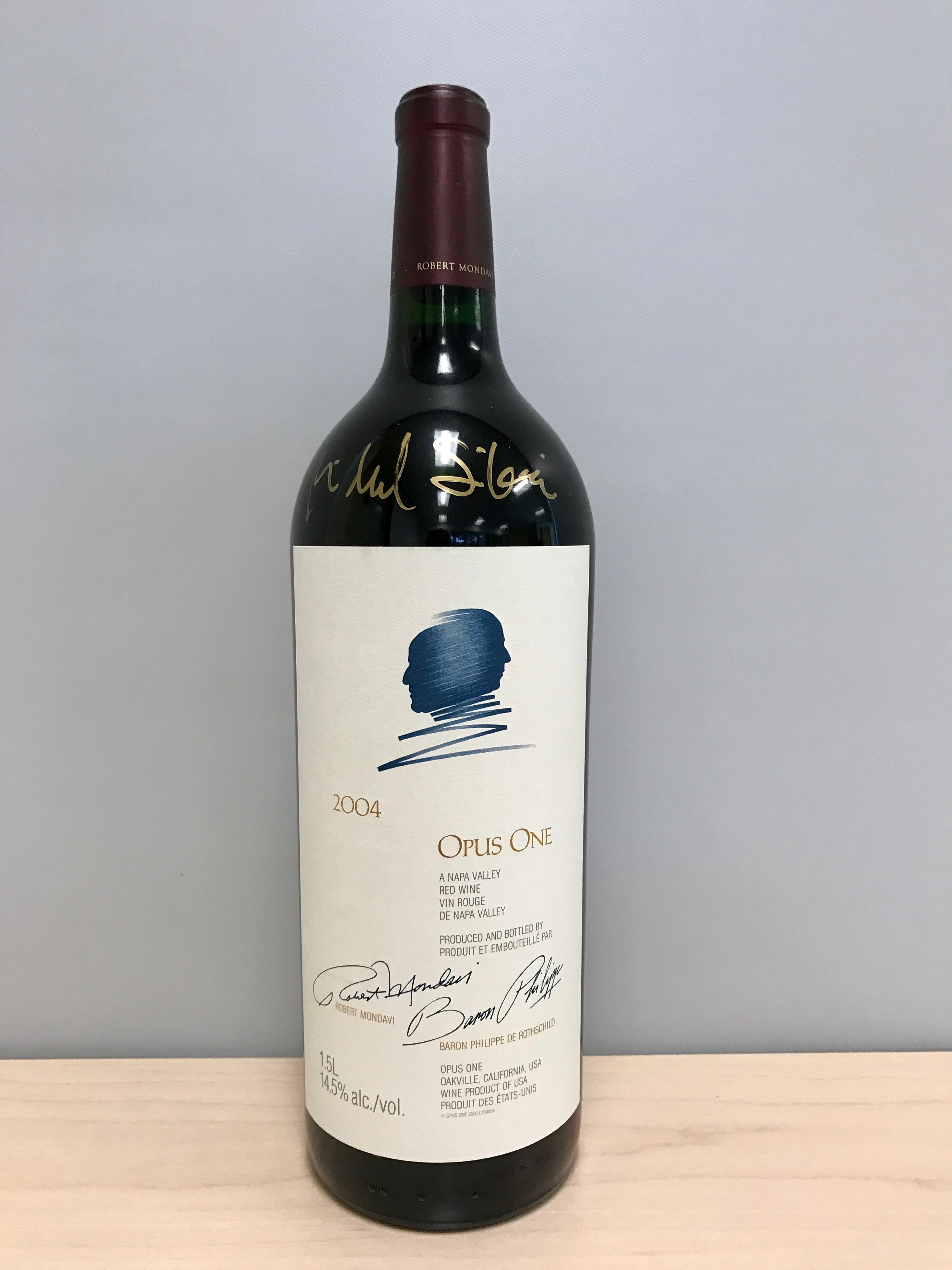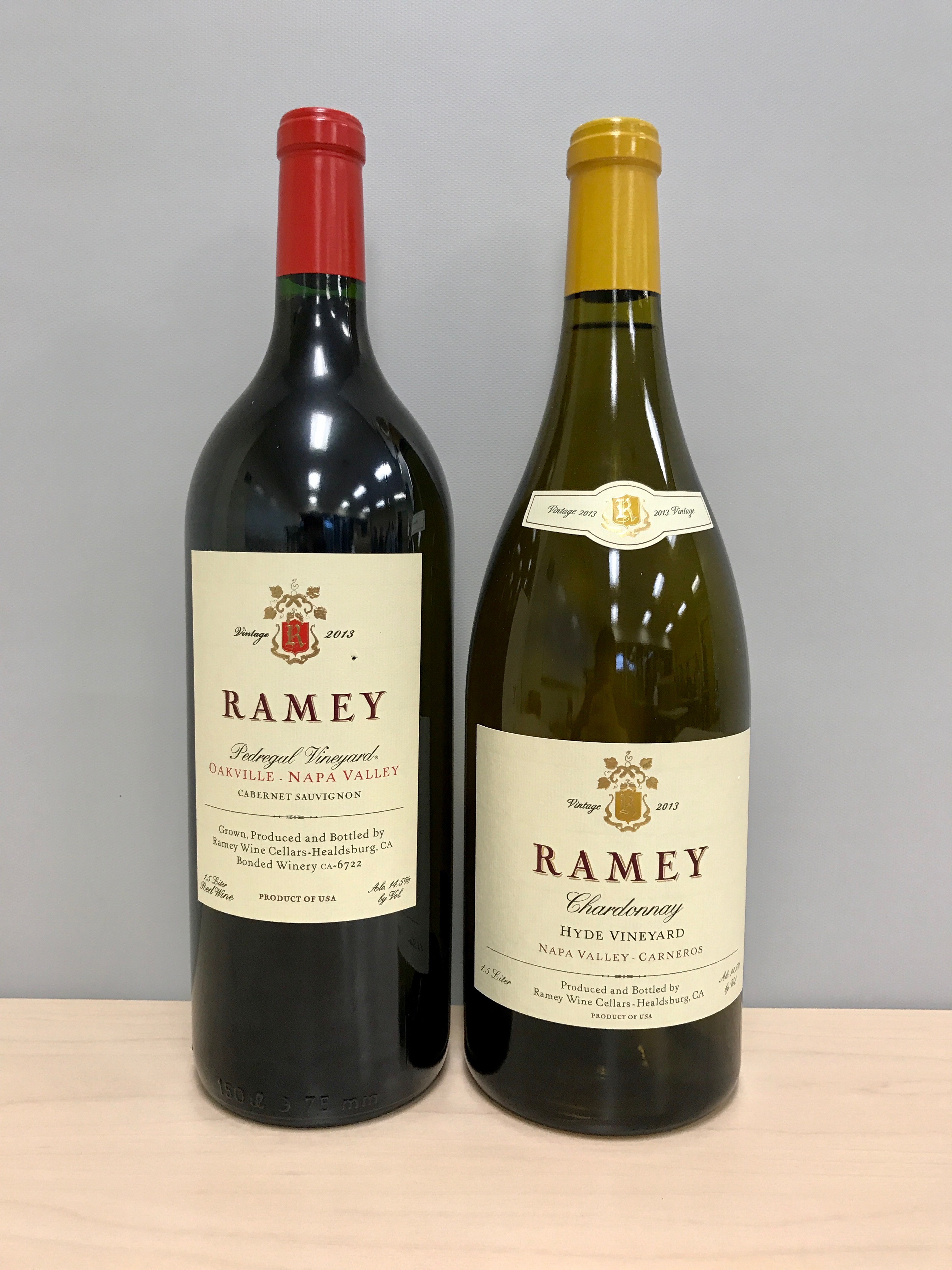 Ramey Cabernet Sauvignon & Chardonnay
2 Magnums (2016) – Valued at $545
Ramey Wine Cellars is dedicated to creating high quality, handcrafted wines with balance and richness from the area's finest vineyards. The Ramey wines are made with respect for the land where nature guides the process. The winemaker believes in the importance of terroir and so vineyards are selected for their ability to sustainably produce the highest quality fruit. The soil must be right for the climate, which must be right for the terrain, which must be right for the varietal-quite the puzzle to solve. The 2013 Pedregal Vineyard Cabernet Sauvignon is an example of a perfect vintage consisting of clear sunny days and cool nights with the absence of any untimely rain or heat spikes. This outstanding wine is a combination between Cabernet Sauvignon and Petit Verdot and expresses elegant notes consisting of forest floor, black currants, and cedar wood, combined with a full body and stunning intensity, earning it 95 pts from The Wine Advocate. The 2013 vintage compliments the Hyde Vineyard Chardonnay equally by yielding a wine with beautiful notes of dried herbs, orange peel, and buttery aromas.
Gundlach Bundschu Heritage Tasting for 6
Valued at $510
The property of the Gundlach Bunschu winery is tucked away from the business of the Sonoma foothills and serves as the perfect and picturesque gateway oasis from the rest of the valley. The first owner, Jacob Gundlach, purchases the property in 1858 and gives it the name Rhinefarm. The 320-acre vineyard is farmed sustainably, and is devoted to growing Cabernet Sauvignon, Merlot, Gewürztraminer, Chardonnay, Pinot Noir, Cabernet Franc, Zinfandel, Tempranillo and a few other gems tucked into the wines for depth and personality. The care and devotion from vineyard to winery delivers wines with balance, elegance and varietal expression.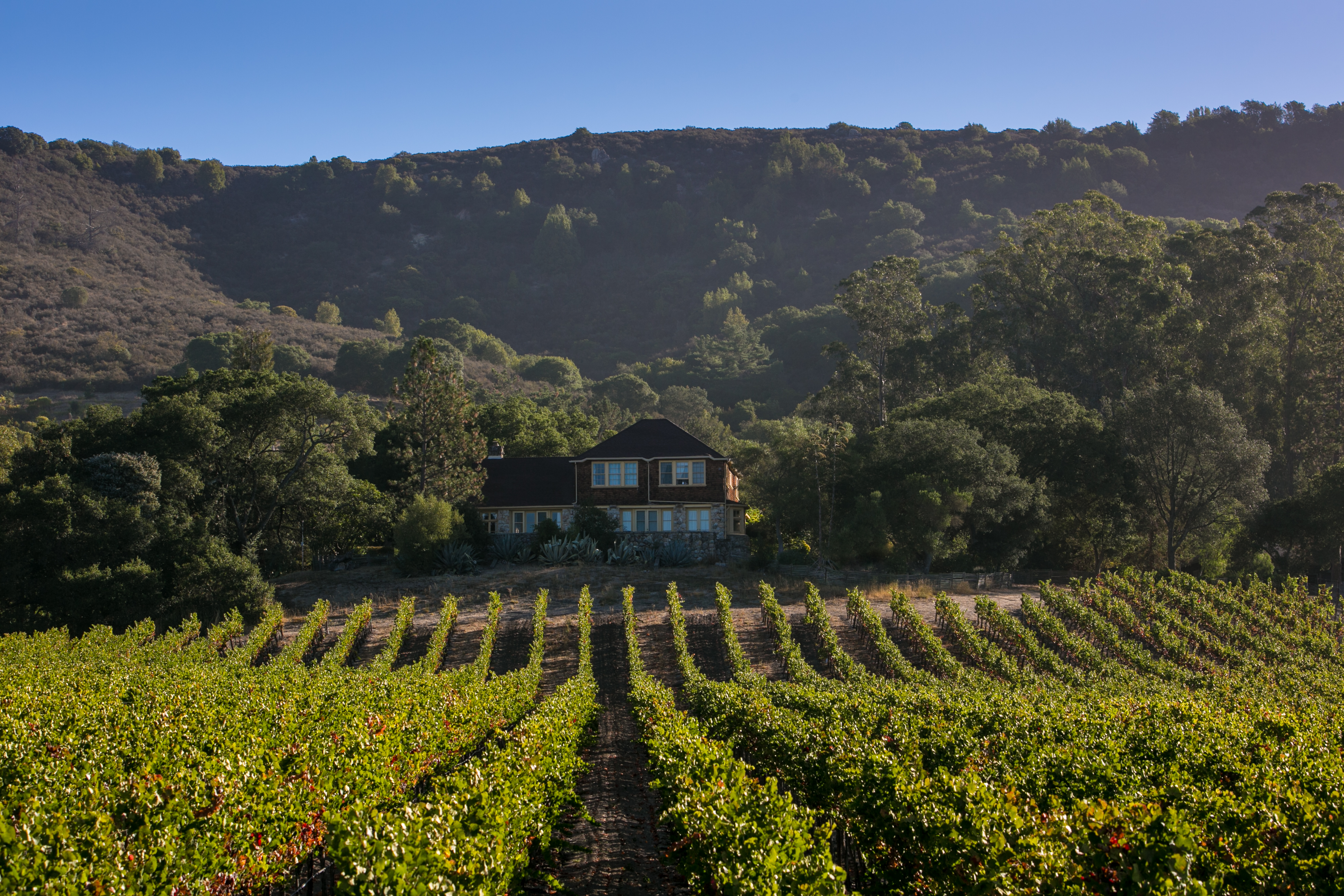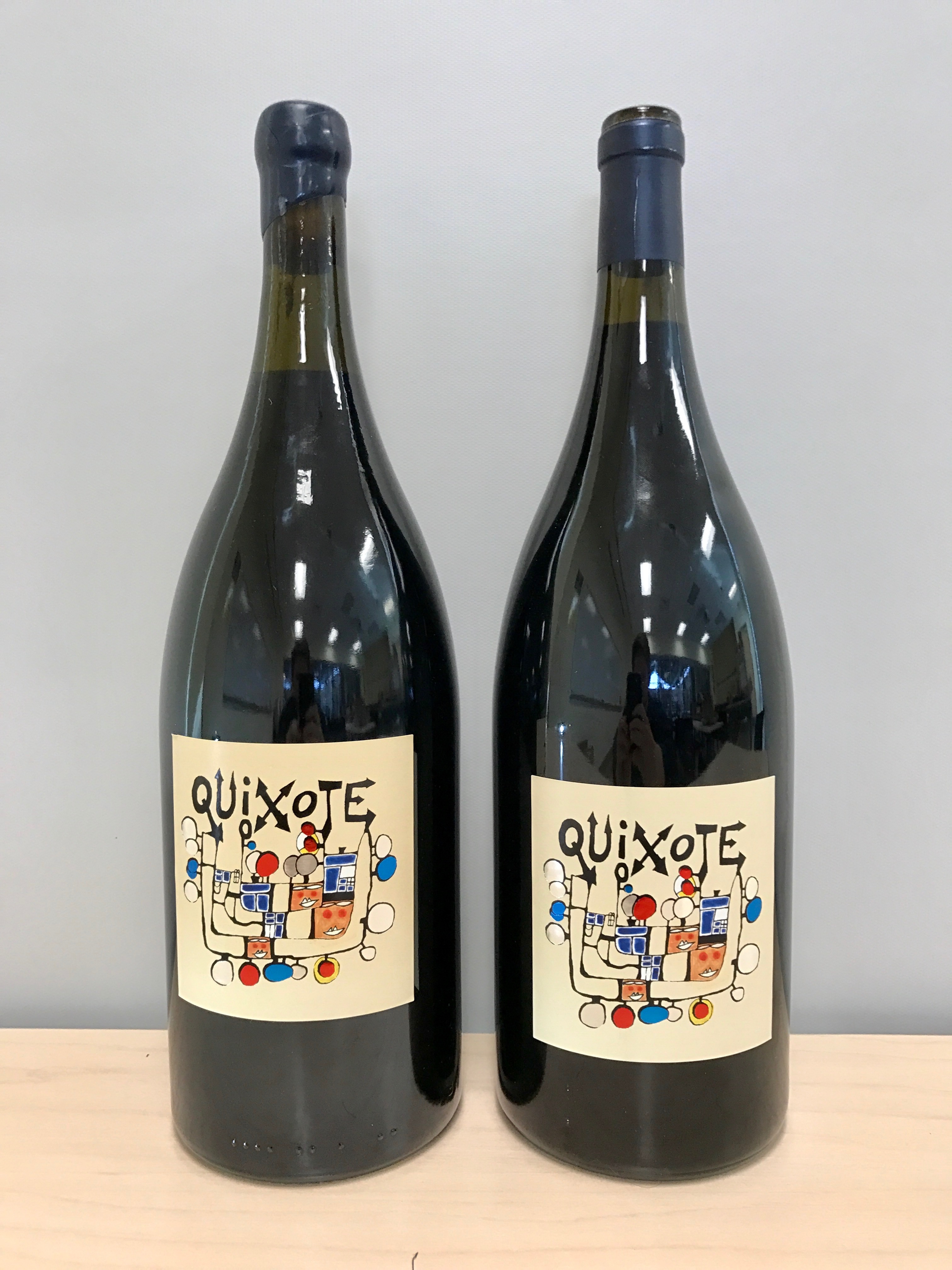 Quixote Petite Syrah
2 Magnums (2002, 2004) – Valued at $500
Although Quixote Winery is, from afar, a work of art, the true art is the wine produced within. The winery itself was designed and built in 1989 by Viennese painter, architect, and philosopher, Friedensreich Hundertwasser, who believed that the wine world had grown too serious. His rebellion to tradition is evident in his exuberant use of ceramic tile and gold leaf dome, which make this winery stand out amongst its peers on the Silverado Trail. As a boutique winery, Quixote only produces 2,000 cases annually; these wines can only be found on the estate and in some of the finest restaurants and hotels in Napa Valley. The winemaking of Quixote, Aaron Pott, aims to stay true to the characteristics developed in the vineyard and to let the wines express the terroir. Both vintages are a stellar example of the variety, displaying rich aromas of blackberry and dark fruits, with rich tannins that improve rather than overwhelm the delicate nature of Petite Sirah.
North Valley Pinot Noir & Chardonnay
5 Pinot & 1 Chardonnay (2014), Includes Tasting for 6 – Valued at $450
Located in the hills of Oregon's Northern Willamette Valley, North Valley Vineyards crafts artisan wines that are representative of their origin. The winemaking team seeks a noteworthy diversity of sources from within the six sub-appellations of the region, giving us a broad palate of flavors and profiles from which to assemble our blends. The "Origins" wines are limited production bottlings representing the sub-appellations of the Northern Willamette Valley: the Dundee Hills, Ribbon Ridge, Eola-Amity Hills, Yamhill-Carlton District, Chehalem Mountain area, and McMinnville AVA's. These"Reserves" are simply the very finest wines the Oregon has to offer. From each harvest, the best quality fruit is selected to produce one Pinot Noir and one Chardonnay of truly exceptional character.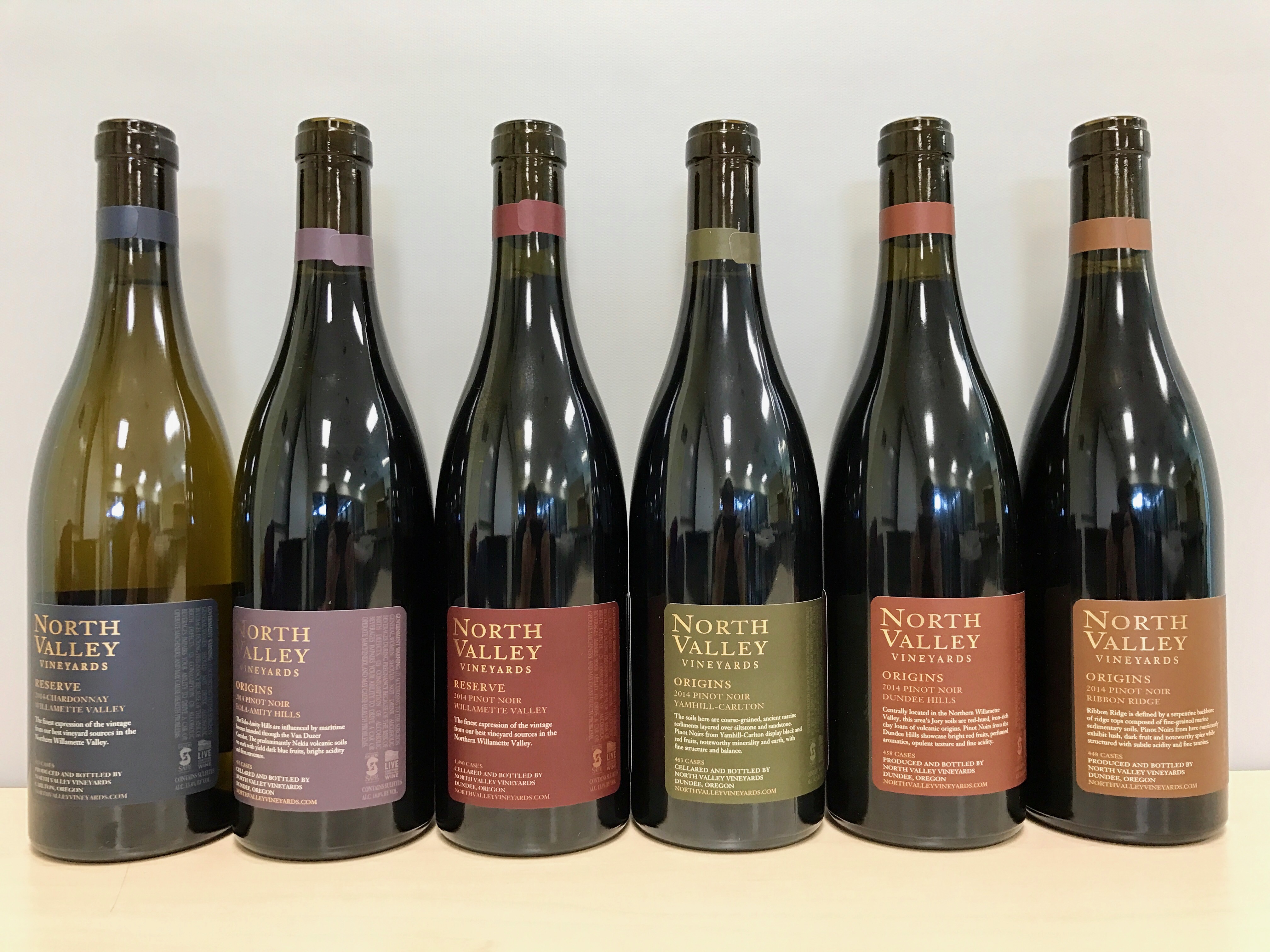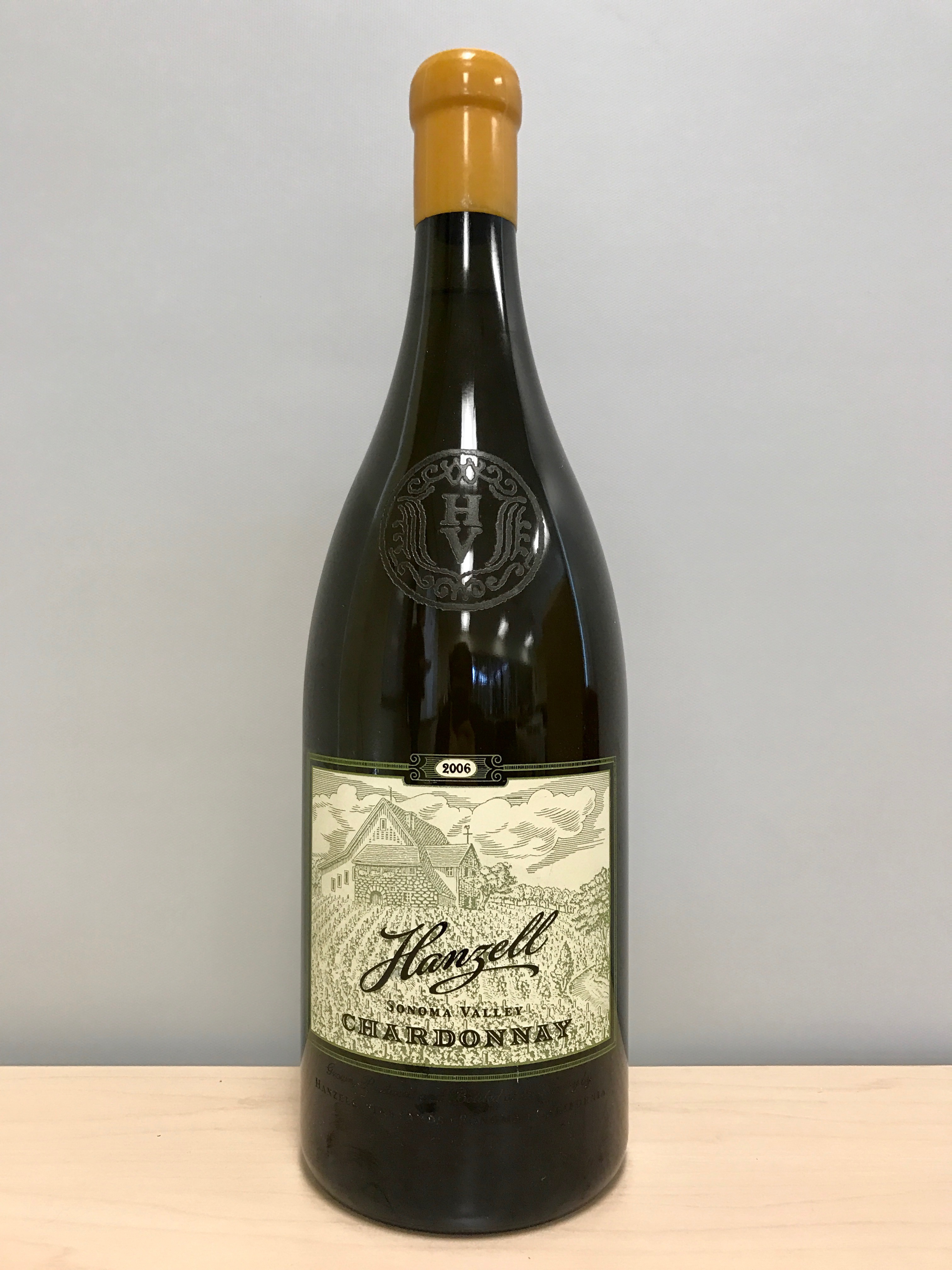 Hanzell Chardonnay
3L Bottle (2006), Includes Tour and Tasting for 2 – Valued at $450
Hanzell Vineyards in California's Sonoma Valley was founded in 1957 by James David Zellerbach, who hired Brad Webb to make Burgundian-style Chardonnay. Hanzell is renowned for a number of winemaking firsts including the use of small new French oak barrels in North America, implementation of temperature-controlled stainless steel fermentors and controlled malolactic fermentations. The estate vineyard also contains the oldest continuously producing Chardonnay and Pinot Noir vines in North America. Hanzell's Chardonnay and Pinot Noir are held in high regard by collectors for their age-worthiness.
Four Guests for a Private Tour & Tasting with a Bouchon Plate
Valued at $440
Kenzo Estate is set atop the majestic Eastern hills of Napa Valley. Encompassing 3,800 acres of lush wilderness and rolling terrain, the sprawling estate is proudly presented by proprietor and vintner, Kenzo Tsujimoto. The gem of the estate is Kenzo's state of the art winery, designed by Howard Backen, which is beautifully constructed of rough hewn stone and timber. Famed viticulturist, David Abreu, has been cultivating a portion of the estate for the past 15 years, elevating it to its impeccable stature. The wines crafted here by celebrated winemaker Heidi Barrett, express the terroir of the place, with a finesse and focus unique to the site. Enjoy a private tour and learn the winemaking techniques employed by the winemaking team to produce their exquisite wines, then enjoy a tasting of their finest wines accompanied by fare prepared by celebrated Chef Thomas Keller.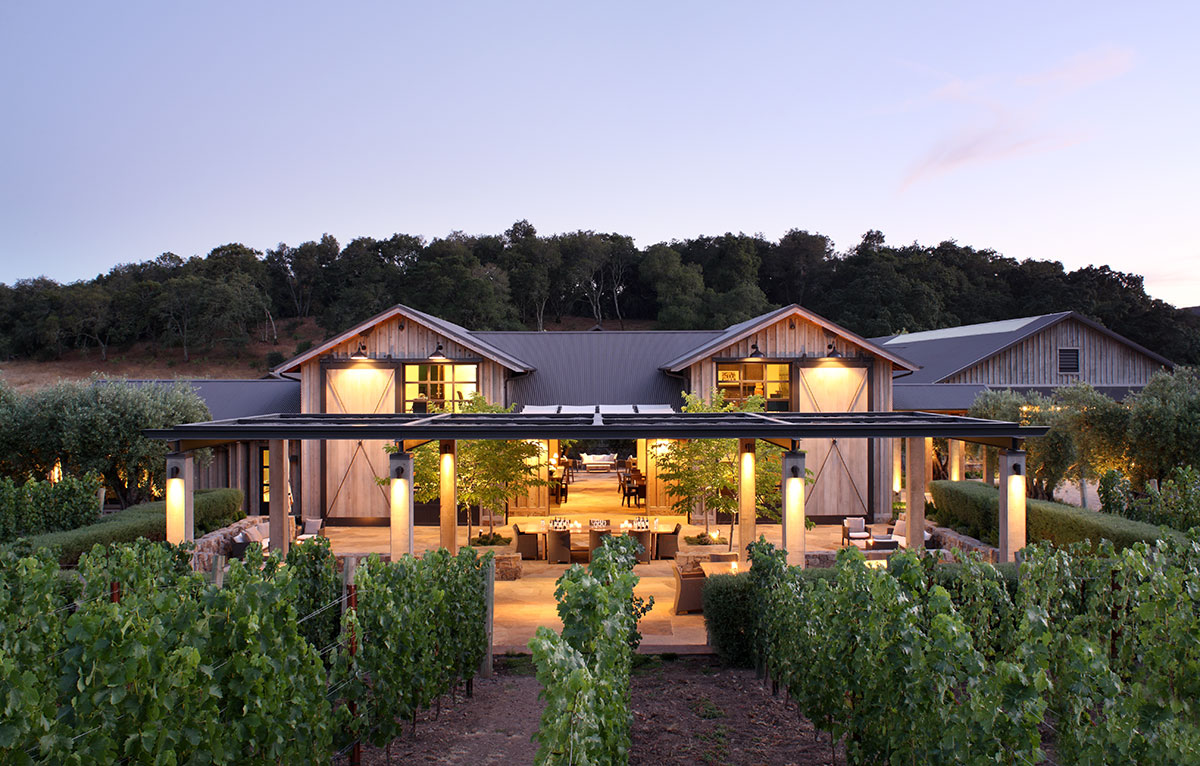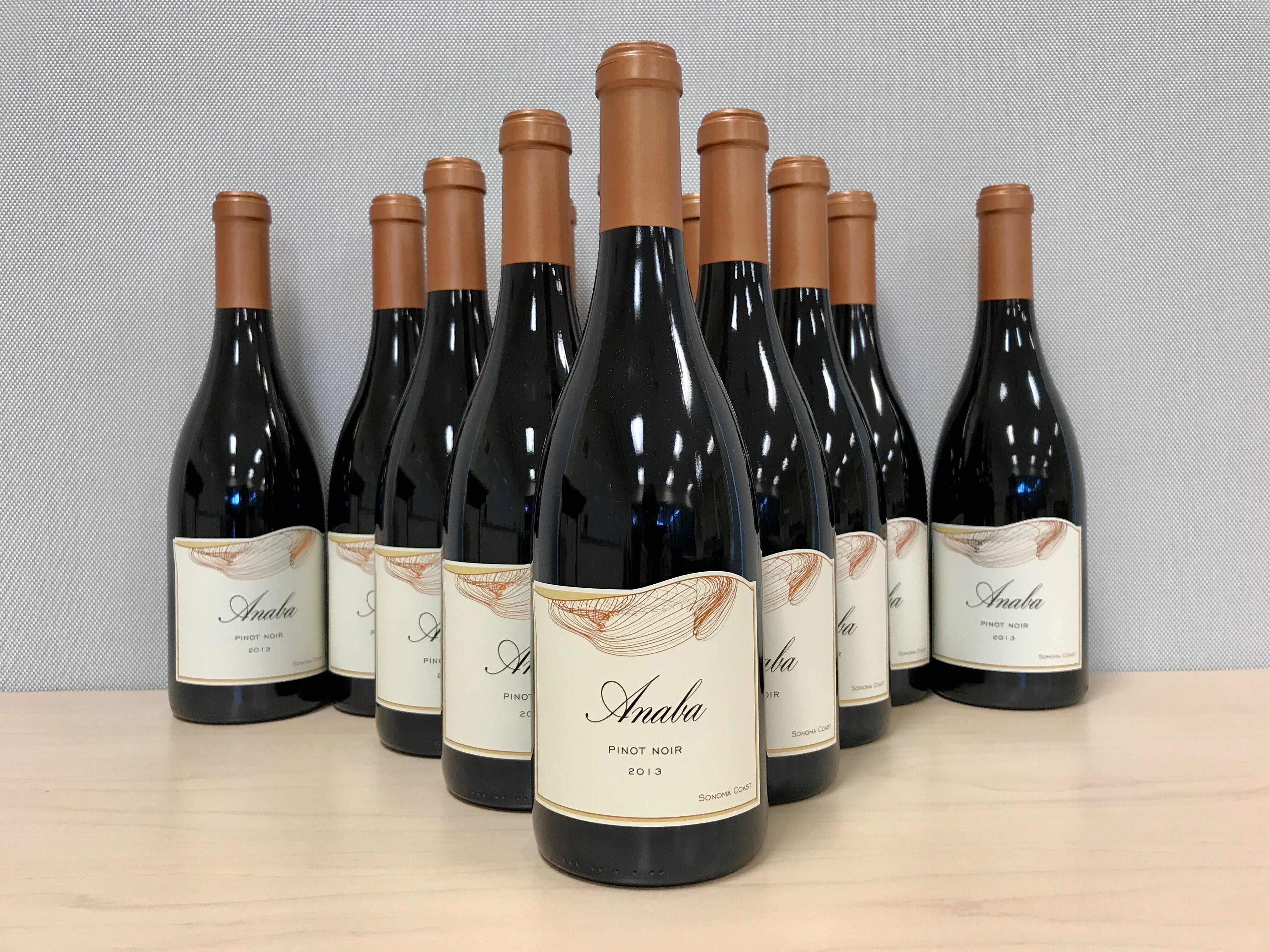 Anaba Pinot Noir
Case (2013) – Valued at $432
Anaba wines are handcrafted from the best Rhône and Burgundian grape varieties grown at our Carneros Estate vineyard and in selected outstanding vineyard properties throughout Sonoma County. Our Rhône-style wines are artistic blends, inspired by the rugged earthiness of France's Rhône Valley and replicated in the rocky Sonoma soils. Our Chardonnays and Pinot Noirs reflect the elegance and grace of the gently sloping vineyards found in Burgundy, crafted from similar sites in the Sonoma Coast and Carneros appellations. With the 2014 vintage of Sonoma Coast Pinot Noir, we lean toward the cooler regions of the Sonoma Coast appellation. The vineyards sourced to make this flagship wine come from Green Valley, the sub-appellation of Russian River Valley, as well as other cool areas of Russian River Valley this vintage. Bud-break was early but the growing season was even, allowing for full flavor development from each of these vineyards—Kozlowski (farmed by Joe and Steve Dutton) in glorious Goldridge soil and the coolest and foggiest of the three vineyards, Starscape (formerly known as Floodgate Vineyard) in the flat middle reach of the valley, and Confidant to the North (with its western facing slope for great sun exposure). The trio comes together to create a balanced, bright and vibrant expression of the Sonoma Coast AVA. Complex and beautiful layered aromas of plum, cherry, and ripe strawberry combine with cola and cedar box. Nice tension and supple tannins complement this richly textured wine entwining flavors of juicy cherries, dried sweet cranberries, and spice. It is bright and vibrant with a lasting finish.
Merry Edwards Chardonnay
3 Magnum Vertical  (2010-2012) – Valued at $420
One of California's first women winemakers and the first female graduate of the UC Davis V&E Masters Program, Merry Edwards began her career at Mount Eden Vineyards in the Santa Cruz Mountains in 1974. She went on to become the founding winemaker at Matanzas Creek in 1977 and remained there until 1984. For the next decade, Merry consulted for numerous wineries, large and small, in Oregon and many diverse appellations of California. Merry Edwards began making Chardonnay from this vineyard in 1991 as consulting winemaker for the Pellegrini family. Over the next decade, she explored the vineyard and matched techniques to blocks. In 2010, her friend Robert Pellegrini made her an irresistible offer: she could select grapes from my favorite rows on the west side of the property. That 2010 vintage was the first in a string of exceptional wines she has been privileged to make from this 1973 planting. The opulent aromas of violets, blackberry, rose, and cassis are fully translated into the palate, supported by bright tannins and the creaminess of new French Oak.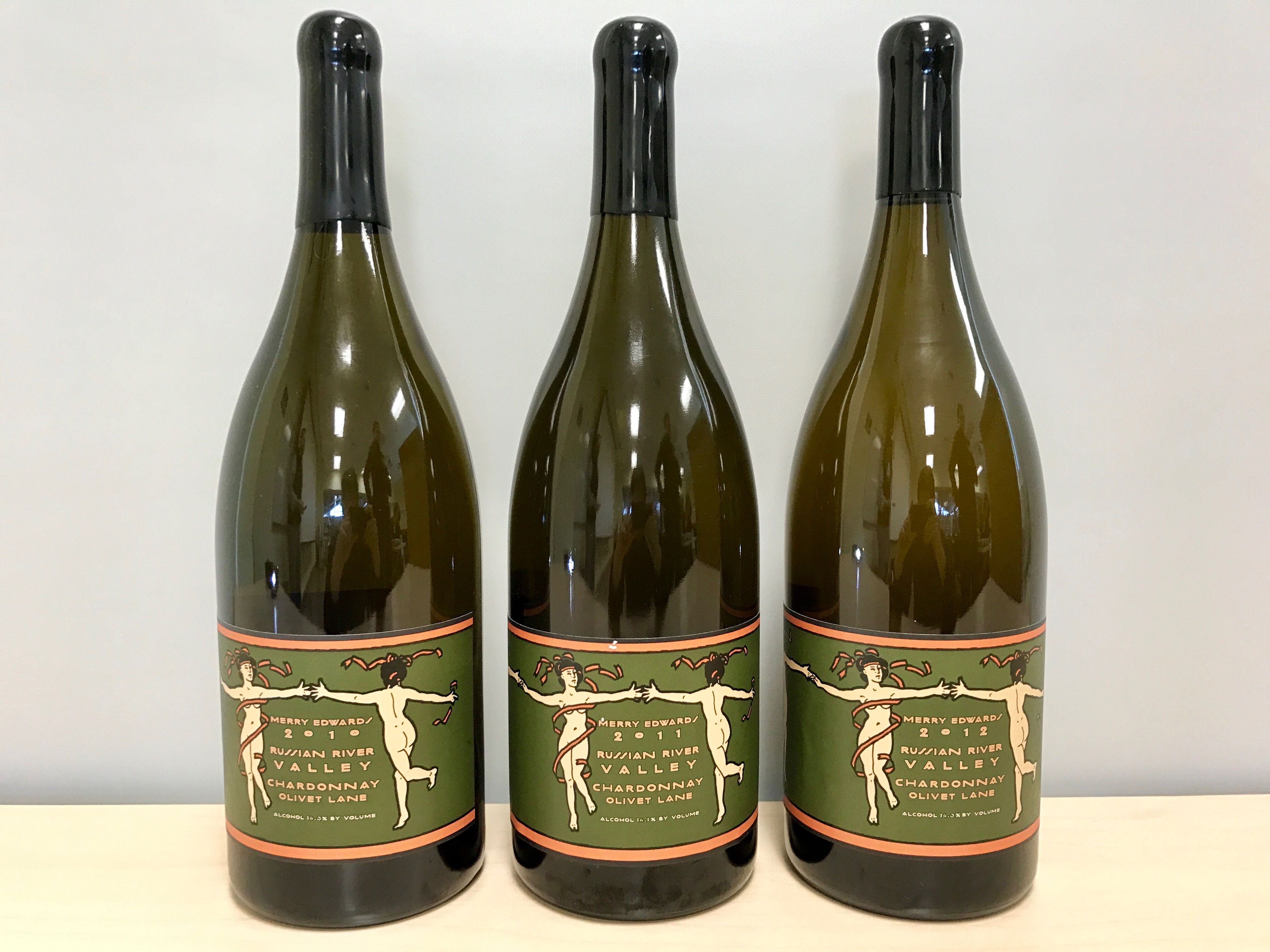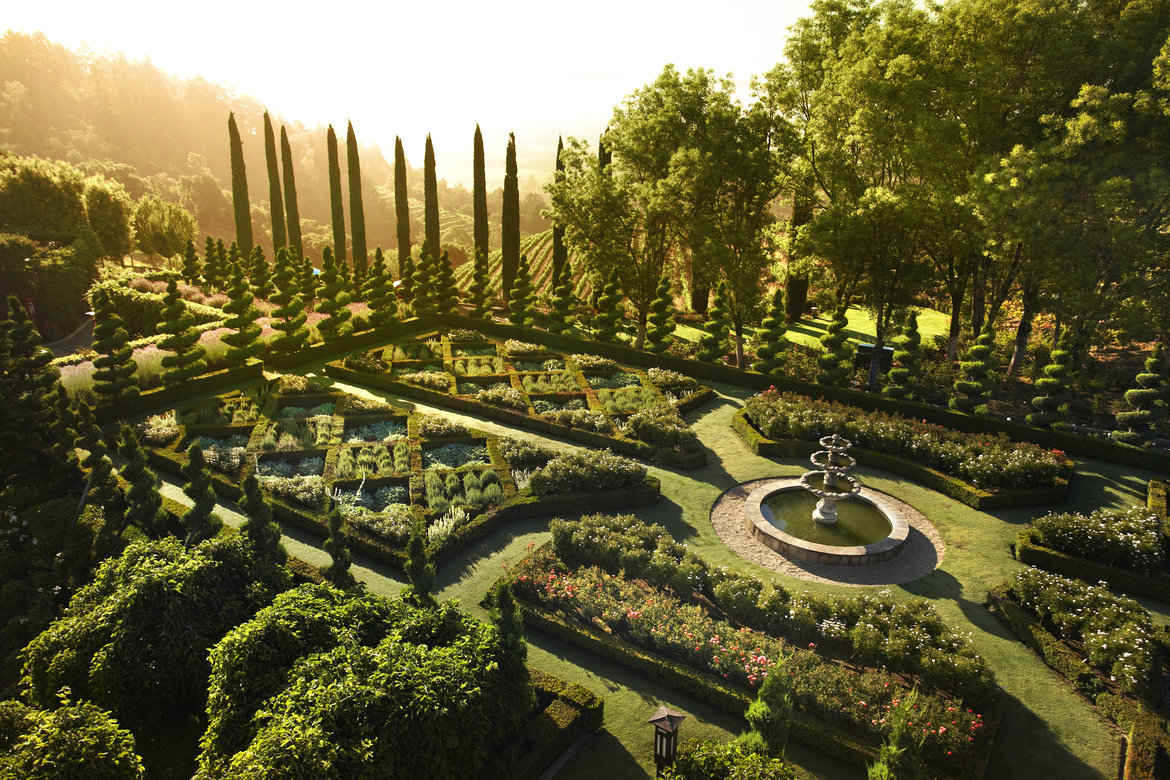 Newton Tour and Tasting for 4
Valued at $400
Nestled in the hills of St. Helena is Newton Vineyards, whose heartfelt philosophy is "Nature by Design". The one square mile vineyard is terraced and divided into blocks, each of which is home to a Bordeaux variety. By using natural water irrigation systems, cover cropping, and various other viticultural techniques, Newton Vineyards is an illustration of sustainability. The winery itself was designed to minimize handling of the fruit, from the use of gravity flow systems to small batch fermentation. The minimal interference in the production of these Bordeaux-style wines allow for the finished product to retain the natural fruit essence gained in the growing season. Now in their fourth decade of production, Newton's guiding philosophy is still held close to heart to preserve the purity of the terroir. Enjoy a tour of this uniquely designed winery while enjoying the fruits of their labor.
Rediscovering Livermore's 'Other' Side at Sidewinder Spirits
Valued at $400
You might not know that the original James Bond martini called for vermouth from Livermore's most famous winery, or that Livermore was once home to some of the world's finest brandies, port wines, and bootleggers in the nation. Now, up to eight lucky guests can join distiller Dave Hendrickson and owner John Kinney for a private tour through Livermore Valley's newest distillery, Sidewinder Spirits, where these classics are being rediscovered and reinvented for today's enjoyment. The tour will begin with a display of the hybrid column/pot still and copper alembic still, where guests will learn about the science and art of distillation. Afterwards, guests will proceed to the Sidewinder Lounge where they will find a recreation of a historical saloon from Livermore's golden age, and taste through a flight of our current spirits. The tasting will continue with a discussion of vermouth wine, and a tasting of the first vermouths to come out of Livermore Valley in sixty years. Light appetizers provided.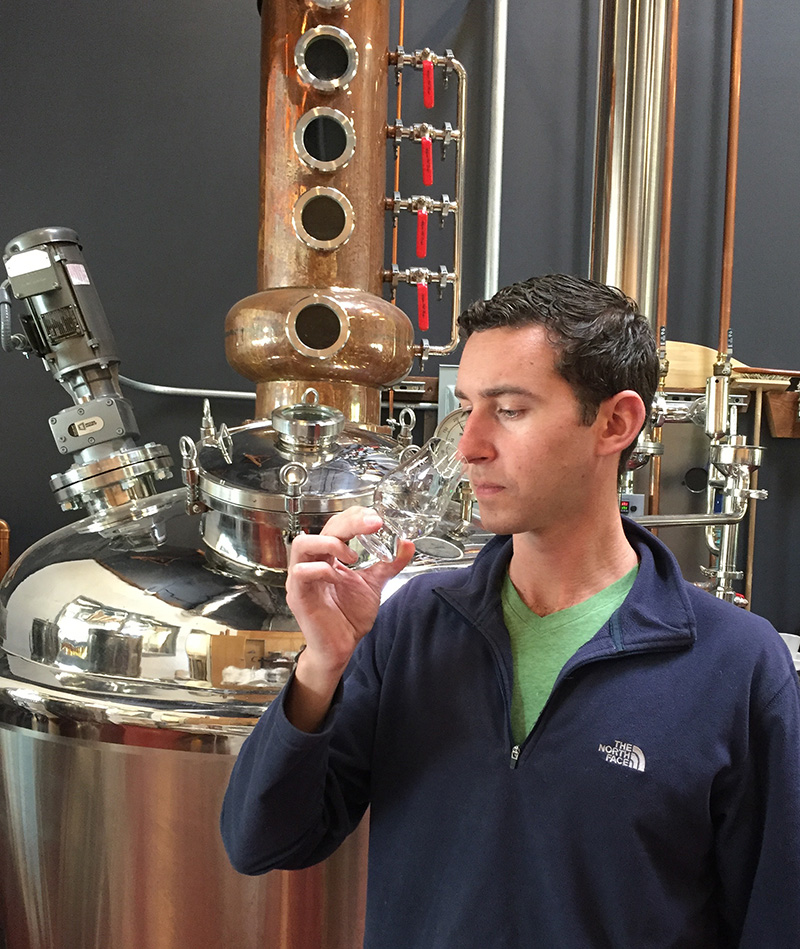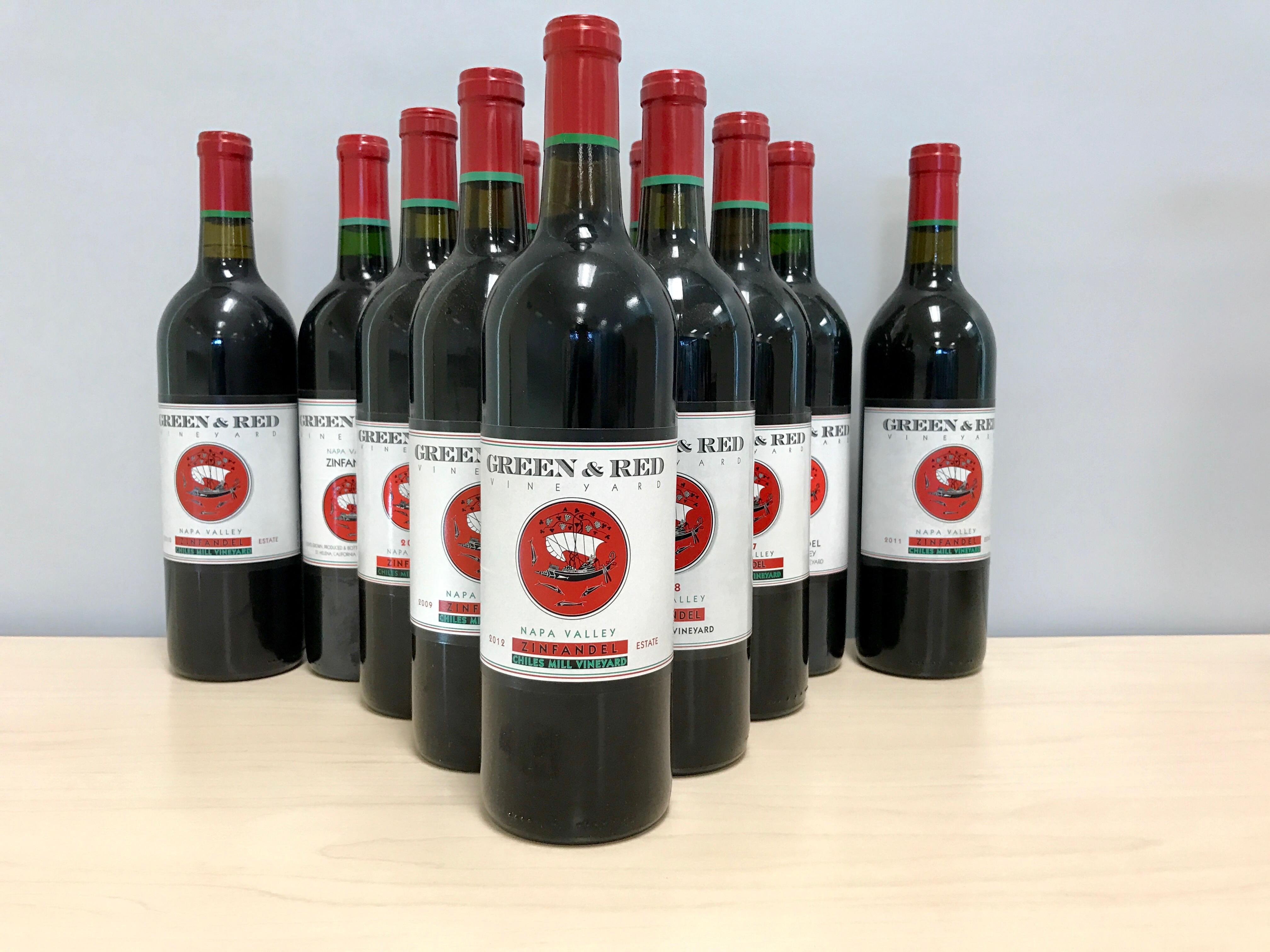 Green & Red Zinfandel
12 Bottle Vertical (2001-2012) – Valued at $380
Green & Red Vineyard, named for its iconic red iron soils veined with green serpentine, is located in the steep hills on the east side of Napa Valley. The planting was started in 1972 on ground originally in vineyards in the 1890's. Thirty one acres of vineyard are planted within the 200 acre parcel. Three separate mountain vineyards- Chiles Mill, Tip Top and Catacula- are located at different elevations and different exposures, bringing added diversity to the fruit as it matures. All of their wines are made from these estate vineyards. After being destemmed, the whole fruit is allowed 3 days cold soak and 9 days in open top fermenters to bring about the naturally luscious flavors developed in the vineyard. Aged 13 months in 50% American oak (20% new) 50% French oak, the wine finishes off with a smooth, distinct aroma and mouthfeel. Experience the progression of 12 successive years of Zinfandel's beautiful expression.
Clif Family Rte Blanc
Case (2016) – Valued at $340
The story of Clif Family begins with Gary and Kit's cycling adventures through Italy where long days of cycling would end in leisurely evenings of good wine, food, and hospitality. As great lovers of food, wine, and adventure, Gary and Kit sought to bring these memorable experiences to their Napa Valley home with their Clif Family tasting room and Bruschetteria food truck. The fruit for the 2016 Rte Blanc is sourced from three vineyards across the Napa Valley, with a majority of it coming from a dry-farmed 1.5 acre vineyard just north of downtown St. Helena. Composed of 100% Sauvignon Blanc, and aged in 23% neutral oak for four months, the 2016 Rte Blanc has notes of passion fruit, green apple, white peach, ripe cantaloupe and hints of coconut.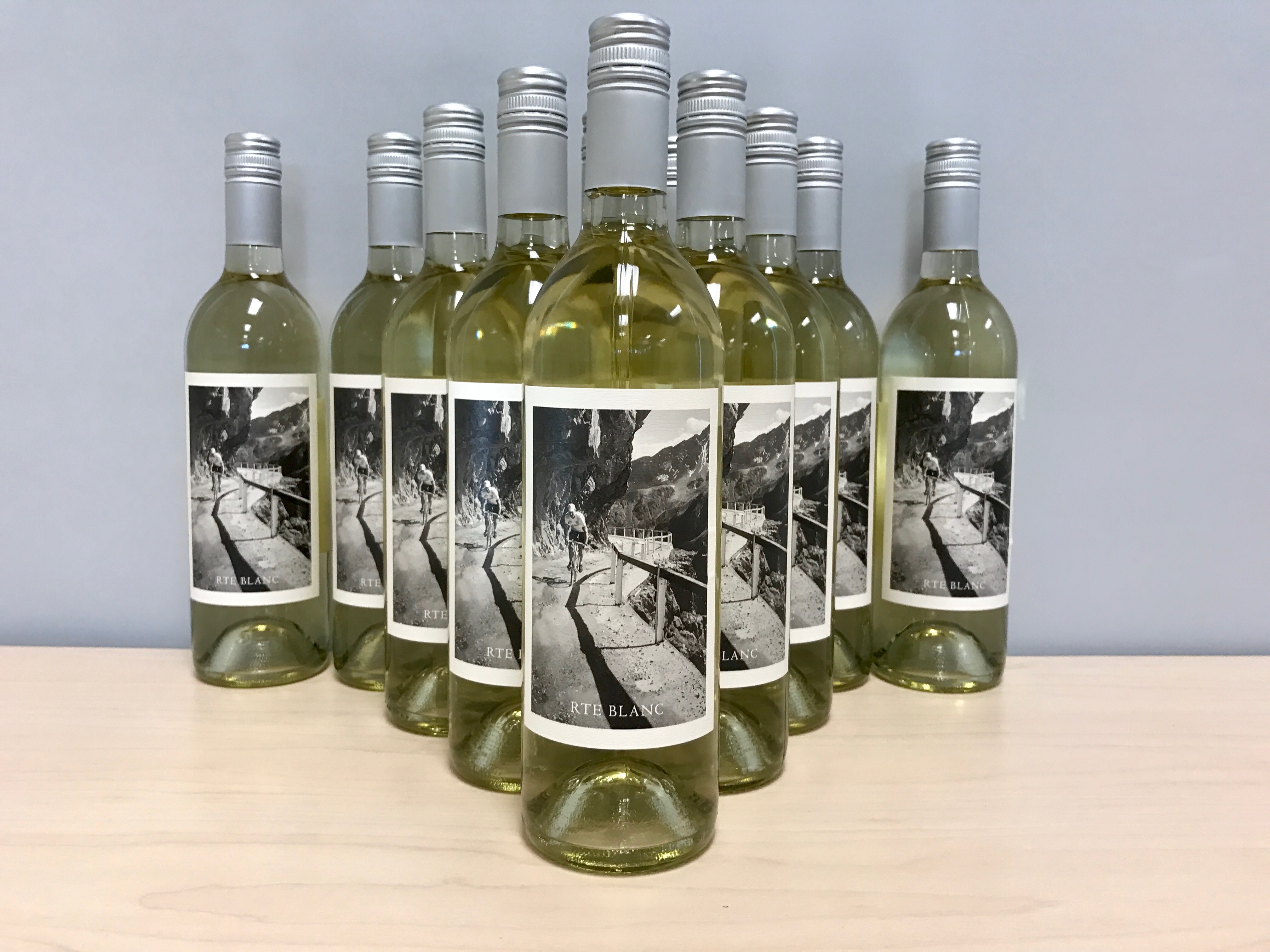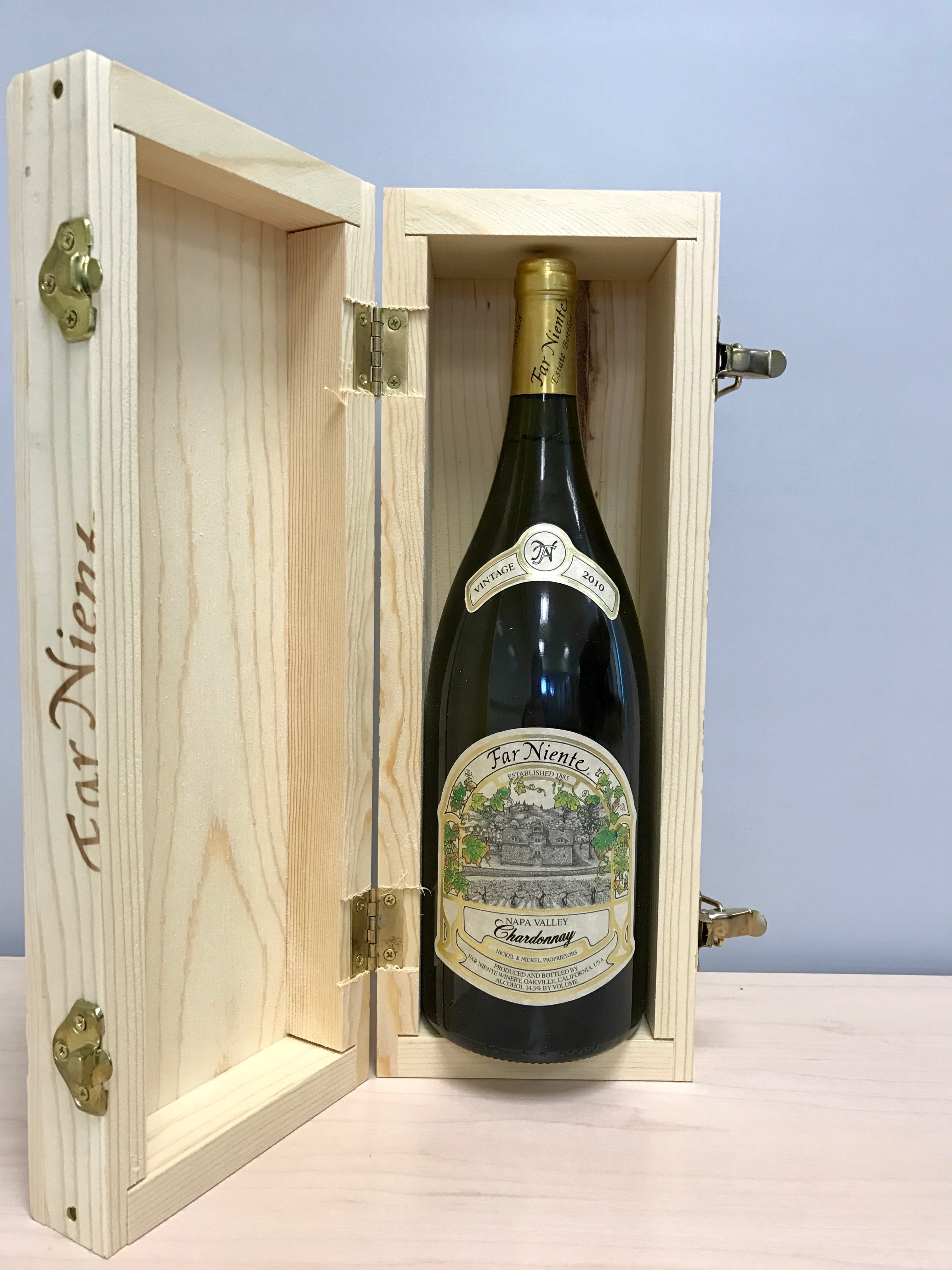 Far Niente Chardonnay
Magnum (2010), Includes Tour and Tasting for 4 – Valued at $330
During restoration of the original 1885 property, this winery's name, Far Niente, which comes from an Italian phrase that romantically translated means "without a care," was found carved in stone on the front of the building where it remains to this day. The year 1982 marked the return of winemaking for Far Niente, with the harvest of the winery's first Cabernet Sauvignon and the first Chardonnay produced at the winery that year. Far Niente Chardonnay is a blend of superlative Napa Valley vineyards, many of which are located in a little-known area of Coombsville, a cool growing region nestled in the rolling countryside and protected by the hills east of the city of Napa. The combination of these spectacular vineyards results in the subtle, tropical flavors, complex aromas and uncommon richness that we have long associated with Far Niente Chardonnay. The 2010 Chardonnay presents aromas of Meyer lemon, toasted nuts and fig are supported by the underlying sweetness of honeysuckle. The entry is honeyed with ripe citrus, light melon and well-integrated nuttiness and a touch of mineral. A rich, full midpalate with balanced acidity draws out into a long finish.
Soter Brut Rose & Pinot Noir
2 Magnums (2011 & 2014)- Valued at $300
Tony and Michelle Soter share an uncompromised commitment to their ideals in managing Mineral Springs Ranch. Tony Soter has demonstrated a genius in crafting award winning wine over his four decades of innovative winegrowing. Within the Willamette Valley, Soter Brut Rosé is a cult classic. The perfection of this wine, a beautiful expression of Oregon Pinot Noir, has inspired wineries throughout the valley to follow suit and create their own. This magnum of Brut Rose, signed by Tony Soter, is an incredibly rare item. The Soter Mineral Springs Pinot Noir is another renowned wine of the Willamette Valley. This wine is a true expression of their hilltop Mineral Springs vineyard in Yamhill-Carlton, and rightfully received 98 points from James Suckling, who also rated it one of the top 100 wines in the world.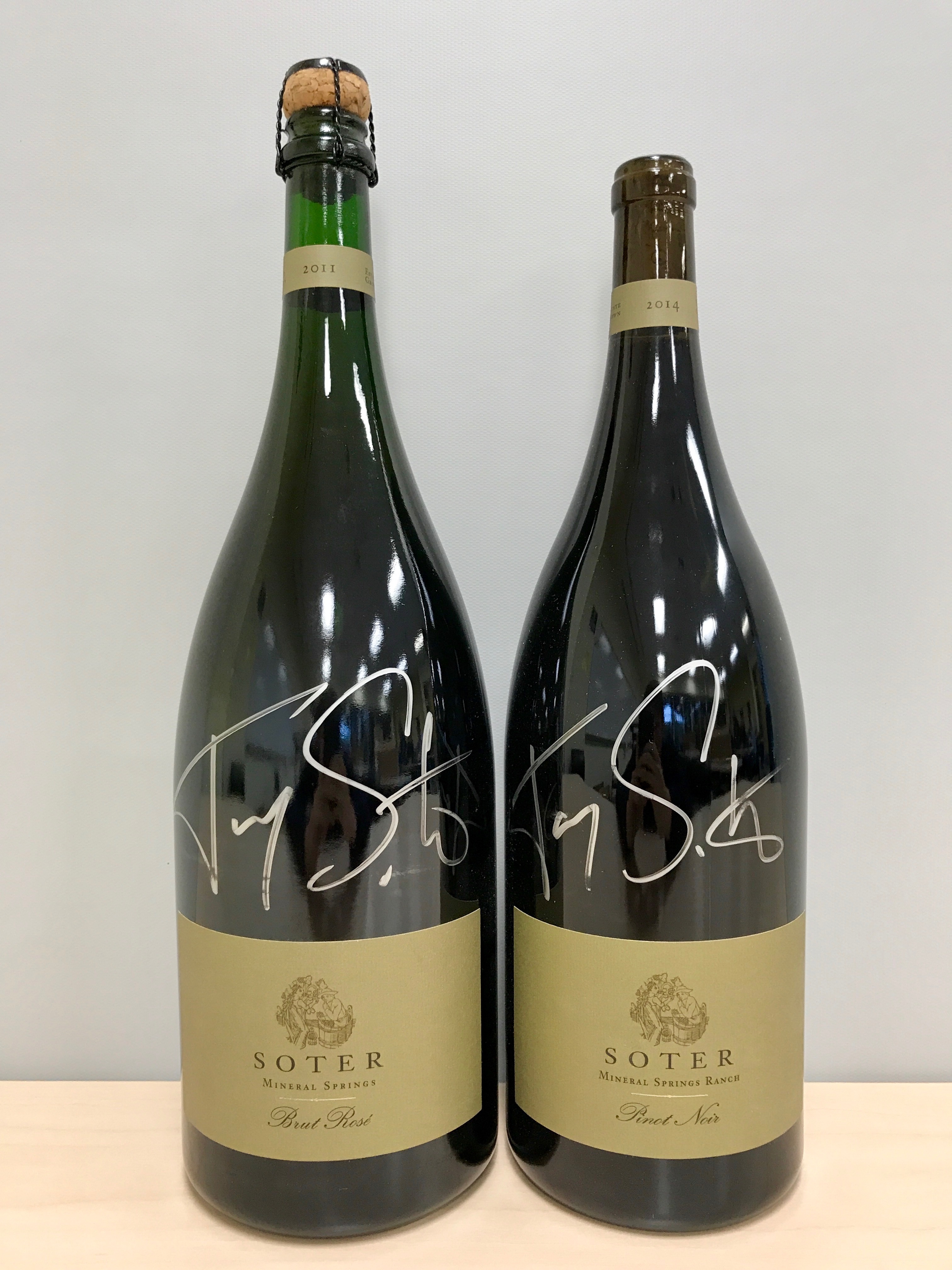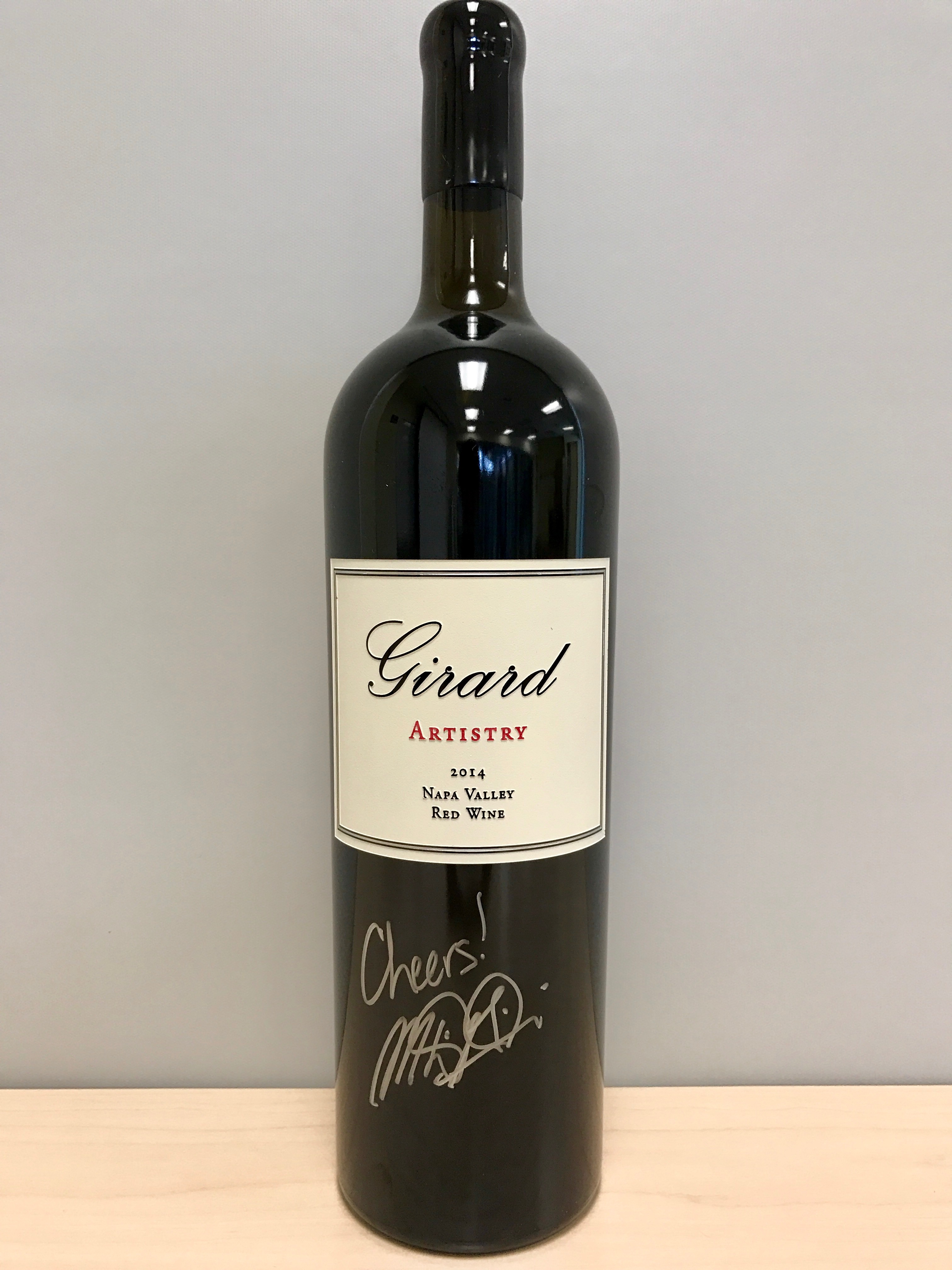 Girard Red
3L Bottle (2014) – Valued at $300
Owing tribute to the classic Bordeaux blend, the 2014 Girard Artistry harmoniously combines a myriad of red varieties sourced from Napa Valley. The unique characteristics of the individual varieties meld together to create a wine that is altogether different and really quite spectacular. The winemaking team uses a combination of precision and technology to bring forth the natural ripe fruit characteristics in the winemaking and aging processes. Aromas of black, red, and blue fruits are accompanied by leather, cedar, and spice. Mocha and vanilla add to the rich tannins and provides a long finish. This bottle, signed by Winemaker Glenn Hugo, is another addition to the long line of exceptional wines in Girard's flagship blend.
Ledson Cabernet Sauvignon
3 Bottle Vertical (2012-2014) – Valued at $300
The Ledson family winery, located in the heart of Sonoma Valley, emerges like a gothic blast from the past out of acres of rolling vineyards and pastoral calm. Their 16,000 square foot French Normandy winery is known as "The Castle" around the world. The Ledson Winery specializes in small varietal lots that reflect the genuine diversity of their select vineyards and appellations. Ledson's Napa Valley Cabernet Sauvignon can be described as quintessential Napa: lifted, soft and voluptuous. These three Cabernet Sauvignon vintages could allow for a memorable vertical tasting or could stand alone each with its own Rich ripe flavors and mouth filling texture.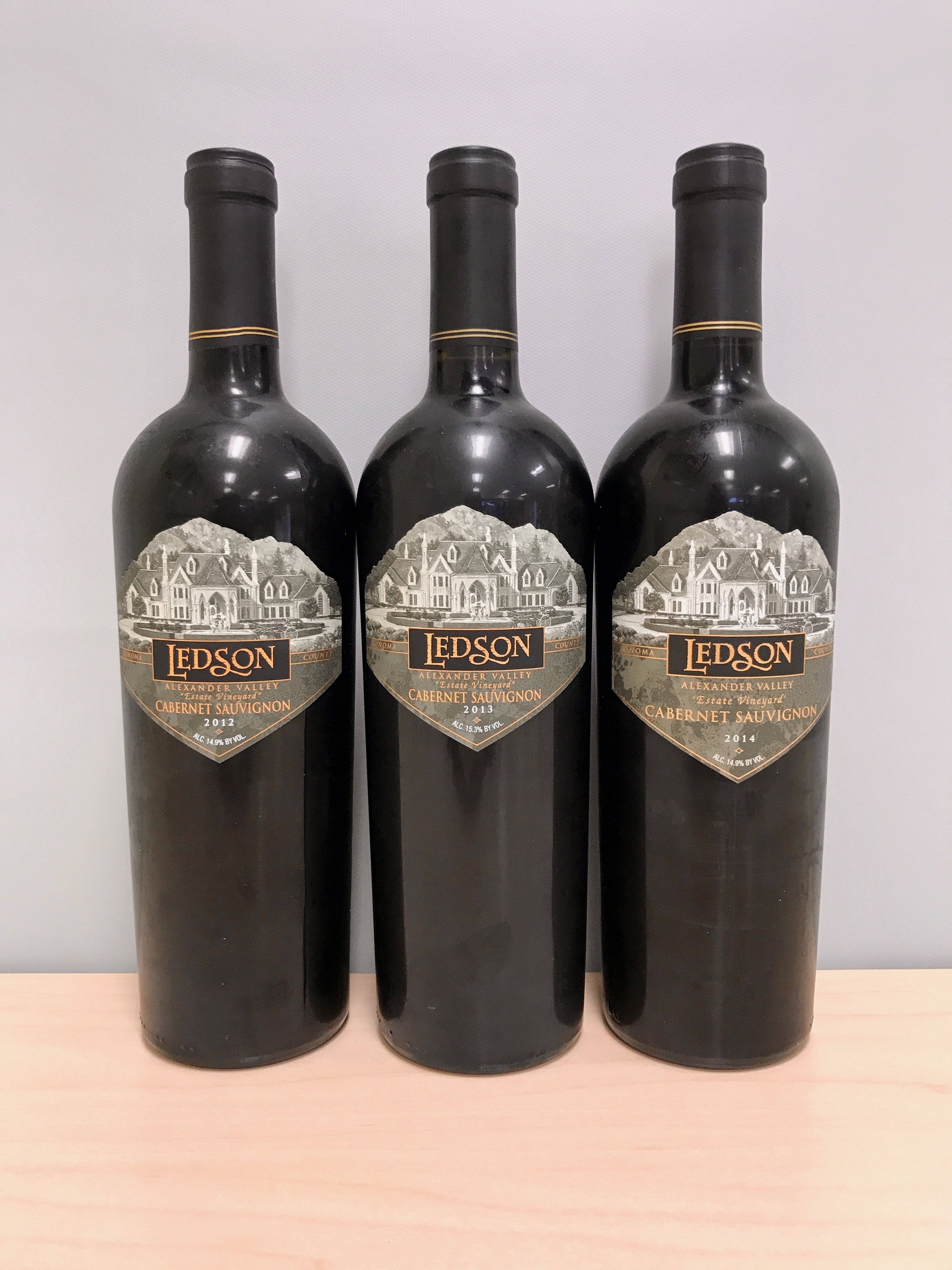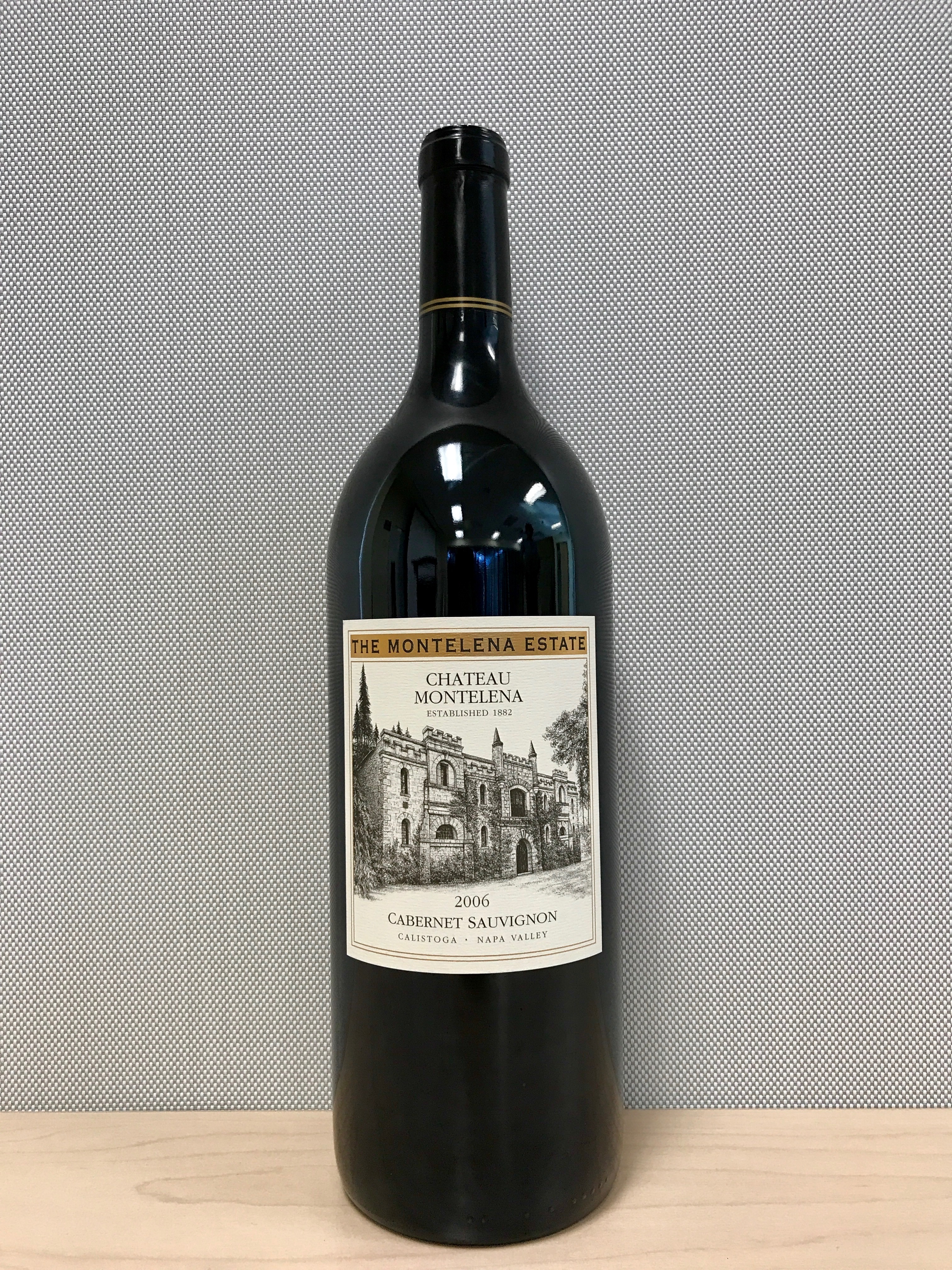 Chateau Montelena Cabernet Sauvignon
Magnum (2006) – Valued at $300
Duality in nature is everywhere – night & day, birth & death– but it isn't very often that one may observe two distinctive phenomena at the same time. That duality is the most prominent feature of the 2006 harvest in that it showed characteristics of both a warm and cool vintage, and nowhere was that more pronounced than here on the Montelena Estate. The 2006 Estate Cabernet Sauvignon has an enticing deep garnet red color in the glass. On the nose there are complex notes of blackberry tart, clove, cinnamon, and cocoa, along with dried black currants. The mouth has a soft supple entry, youthful crisp acidity, juicy plum and rich bright red fruit notes, all complimented by loads of fine grain tannin and an under-layer of dried black currant.
Regusci Cabernet Sauvignon
3L Bottle (2011) – Valued at $300
With five generations raised on the Regusci family Ranch, farming runs in their blood. During their century on this property, they have planted and grown just about everything, from prunes and hay to citrus and olives. Knowledge about their land has been passed down from father to son and generation after generation, their passion and commitment only strengthen. Through this, they are able to grow and make world-class wines. Sweet spice, briar fruit and toast on the nose pull one towards an expectation of a leaner vintage. And then, the palate unfolds with tart black currant, anise, a little pencil lead but with more dark berry fruit following right after. The mouthfeel is lively, brisk and sharp thanks to the cooler 2011 growing season, but with an abundance of depth and structure.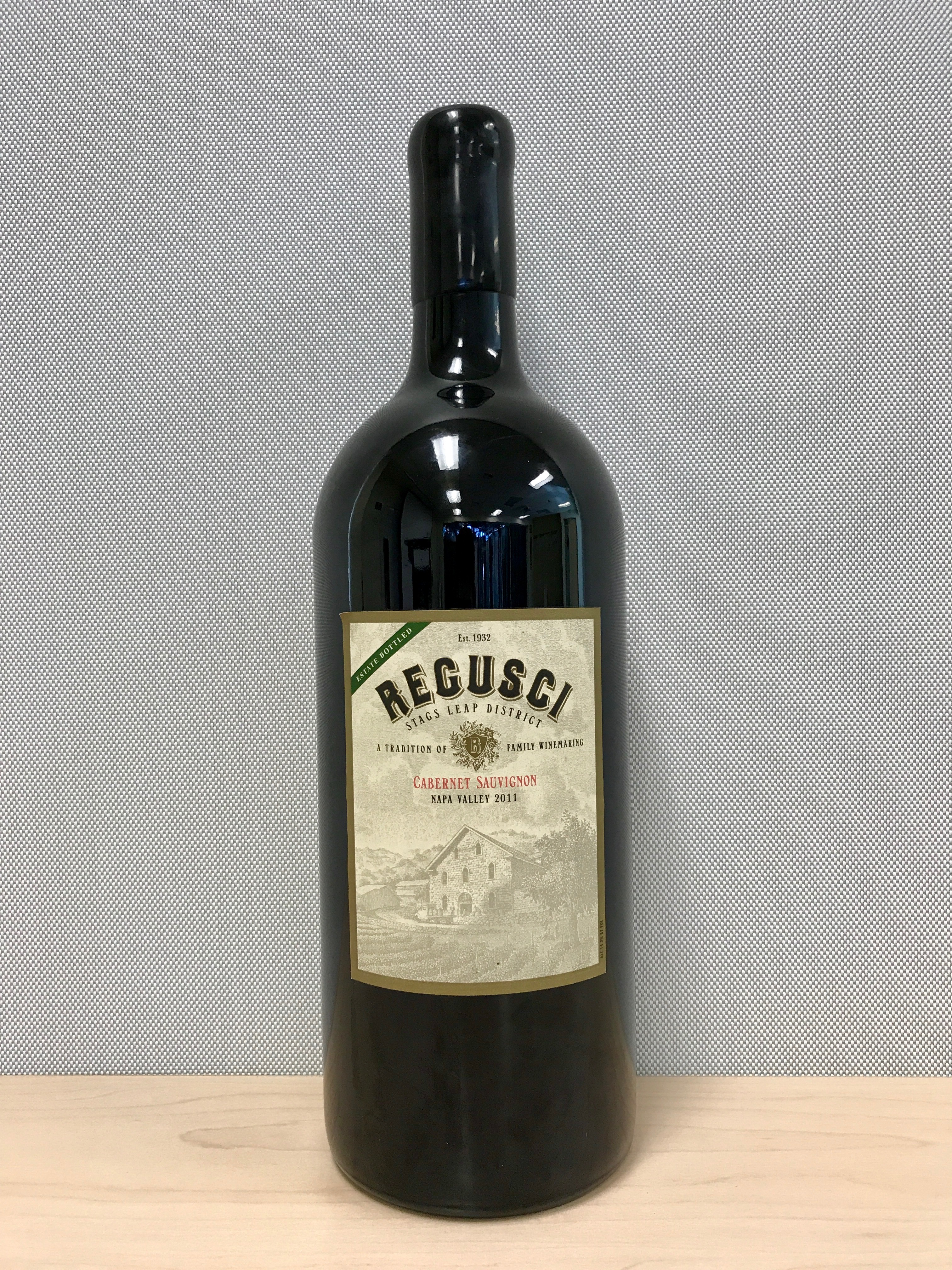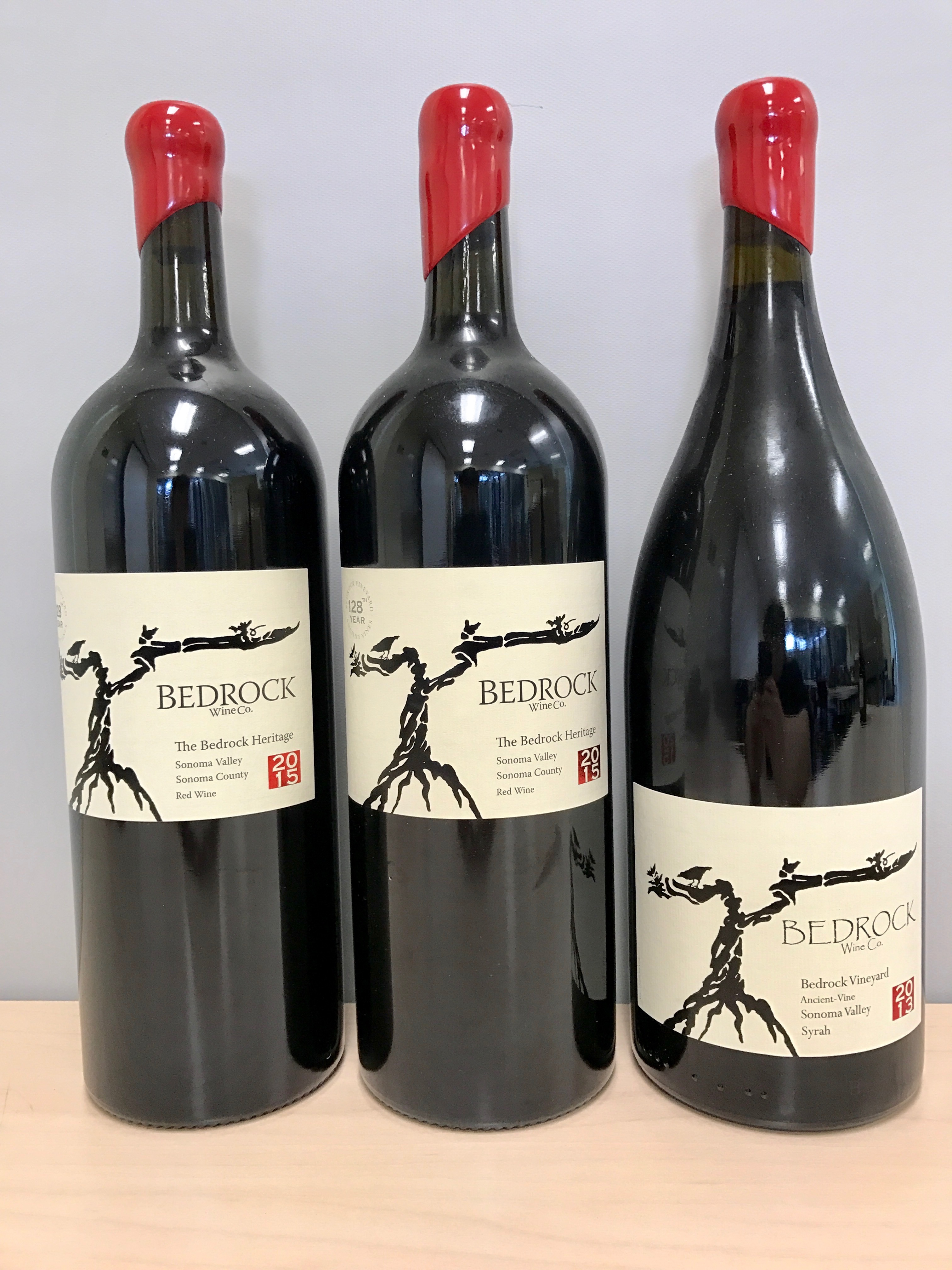 Bedrock Red
3 Magnum (2013, 2x 2015) – Valued at $300
Bedrock Vineyard is one of the most historically and qualitatively gilded plots of land in Sonoma Valley. Taking up 152 acres of the heart of the valley, the vineyard occupies a large section of one of the best growing climates for grapes on Earth. Founded in 1854 by General William "Tecumseh" Sherman and General "Fightin' Joe" Hooker, Bedrock Vineyard has grown grapes for over 150 years. Following the first epidemic of phylloxera in the mid-1880s, the vineyard was replanted in 1888 by Senator George Hearst – a mining magnate, early father of California, and the father of publisher William Randolph Hearst. It is from those 120-year-old vines that the Bedrock Heritage Wine is crafted. The ancient-vine Syrah comes from vines scattered throughout Bedrock Vineyard's old vine blocks. Syrah has a tendency to not set particularly well on this vines so it is only every few years that there is enough to be able to make a barrel or two – happily 2013 was one of those years! Along with the scattered Syrah up at Gibson Ranch in Mendocino County (which is a field blend of Syrah, grenache, Trousseau Noir, Petite Sirah, Peloursin and others), this is the oldest vine bottling of Syrah I know of in the US. Bottled in magnum only, this wine deserves some time in the cellar – it is dark, delicious stuff. The Heritage Blend is a wine that is well-built, a little gruff at first, but full of nuance, soft eyes, and a well-hewn heart. Composed of the 27 different varieties found in the old vines at Bedrock Vineyard, the wine is dominated by the classic California field blend of Zinfandel, Carignane, Mataro, Petite Sirah, Syrah, and Alicante Bouschet. However, it also has Cabernet, Merlot, Castets, Trousseau Noir, Grenache, Bequignol, Mondeuse, Semillon, Tempranillo, Muscadelle, and more. From the heart of Sonoma Valley, this is the wine closest to our hearts.
St. George Spirits
Basket with 10 Person Tour and Tasting – Valued at $290
Since St. George Spirits was founded in 1982, we've grown from a dedicated eau de vie distillery into a diverse operation that makes a range of craft spirits. We've grown slowly over the last 35 years, hiring one person at a time, adding one copper still at a time. We don't have a marketing team or a big advertising budget. What we do have are passion, ideas, and access to superlative raw materials. We're passionate about distillation in all its forms, but we don't release a spirit unless we feel we have something new and valid to contribute to the conversation. We want to be able to pick our spirits out of a lineup on smell and taste alone because they're exceptional. We pledge to craft quintessential spirits to delight hedonists and genius bartenders alike—and when you taste our spirits, we hope that the character and quality of what's in your glass will convey to you what we're all about. This sample basket includes three distinct gins, absinthe, and two unique liqueurs, along with a private tour and tasting for 10 guests.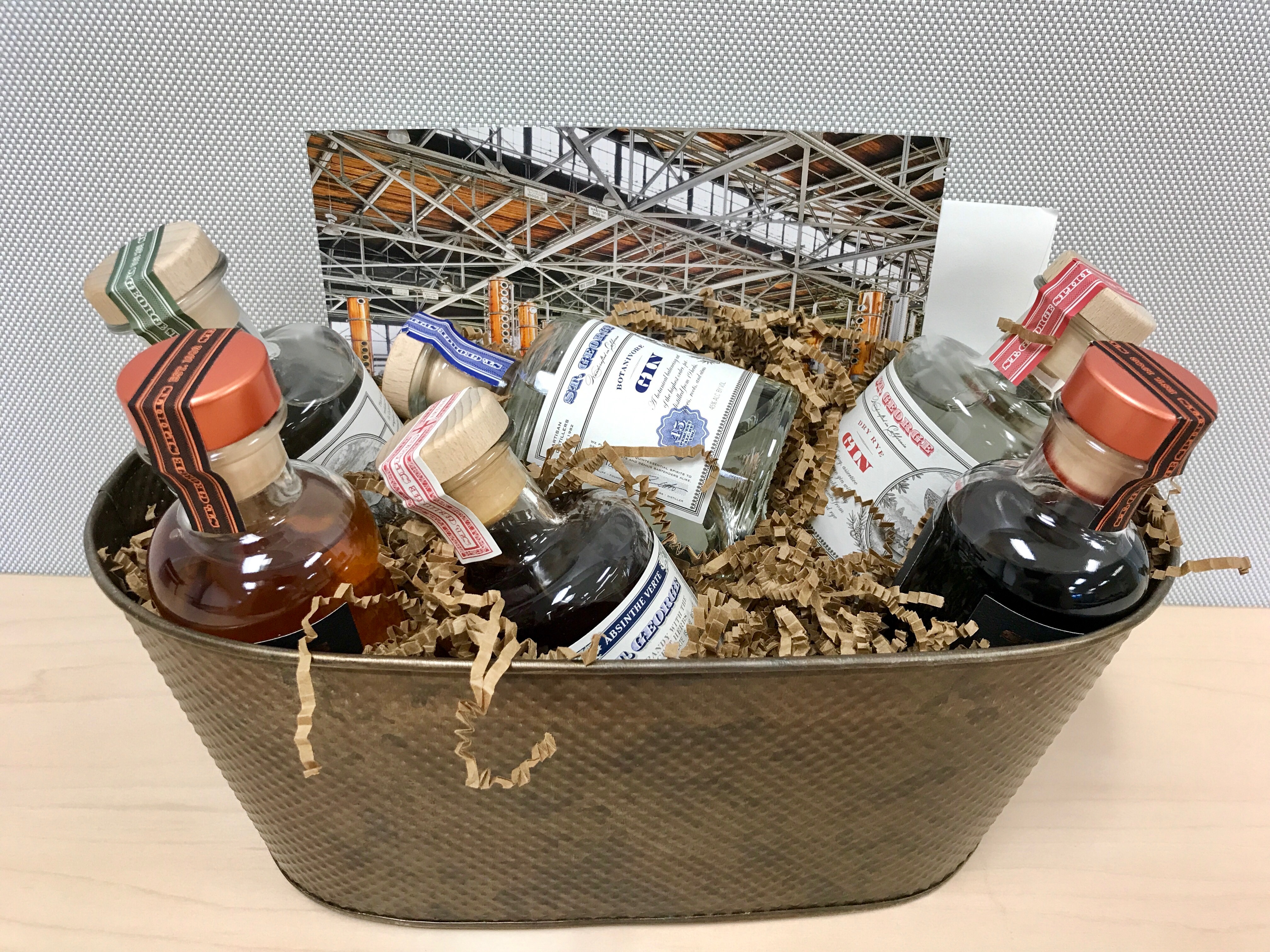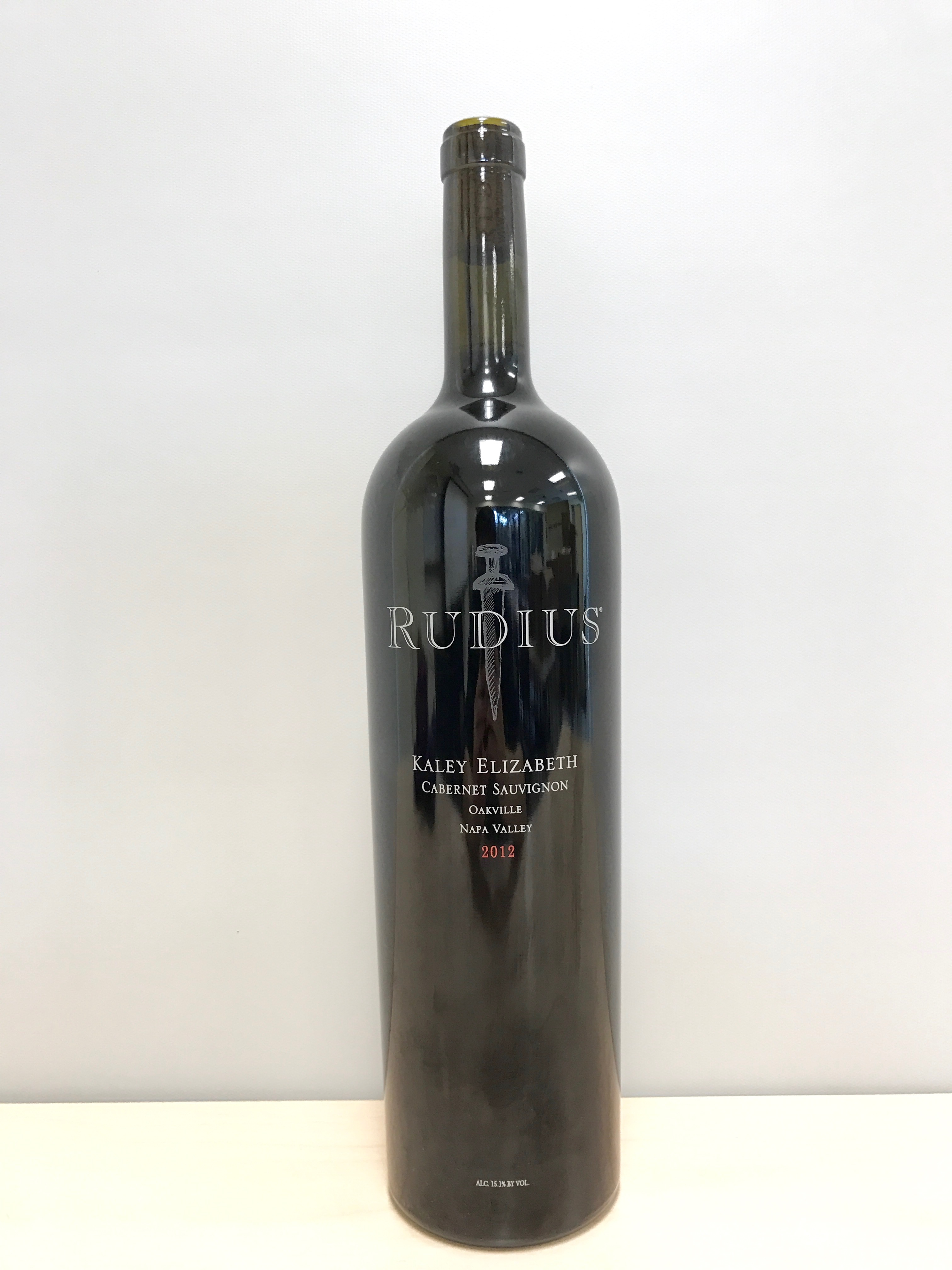 Rudius Cabernet Sauvignon
Magnum (2012) – Valued at $280
Rudius embraces a back to basic approach to winemaking, allowing winemaking decisions to be decided by their sense and relying on the quality of the land to guide their progress. 'Kaley' is beautifully fruit forward, with luscious red fruits and a velvety palate that speaks both to the ease of the growing season and the iconic character of the eastern Oakville hills. The vineyard that produces the Kaley Elizabeth Cabernet is truly one of a kind. Planted in 1988 on terraces cut into the brick-red clay soils indicative of this sub-appellation, the vines have been painstakingly maintained over the last nearly three decades. Made of one hundred percent clone seven, which is known for delivering consistently rich, bold fruit from year-to-year; meanwhile the incredibly well-drained, fractured soil of the terraces adds just the right amount of stress over the growing season. The result is a wine that is both plush and complex, every bit a modern Napa Cabernet, with bold dark elements that harken back to the days of old California.
Linda's Former Student Basket of Pinot Noirs
6 Bottles (2013-2015), Includes Anne Nobel's Wine Glasses – Valued at $270
The contributions of Dr. Linda Bisson and Dr. Ann Noble to the Viticulture and Enology Departments at UC Davis, and to the wine world as a whole, cannot be overstated. The work of Linda Bisson has advanced the understanding of the complex world of microbiological systems in winemaking. Ann Noble developed a standardized system of wine descriptive terminology, inventing the "Aroma Wheel", and advanced the discipline of sensory science through her research in on the applications of multivariate statistical analysis of sensory data. These six wines are all Pinot Noirs created by former students of Dr. Linda Bisson. The wine glasses were donated by Dr. Ann Noble. Own a piece of UC Davis Viticulture and Enology history.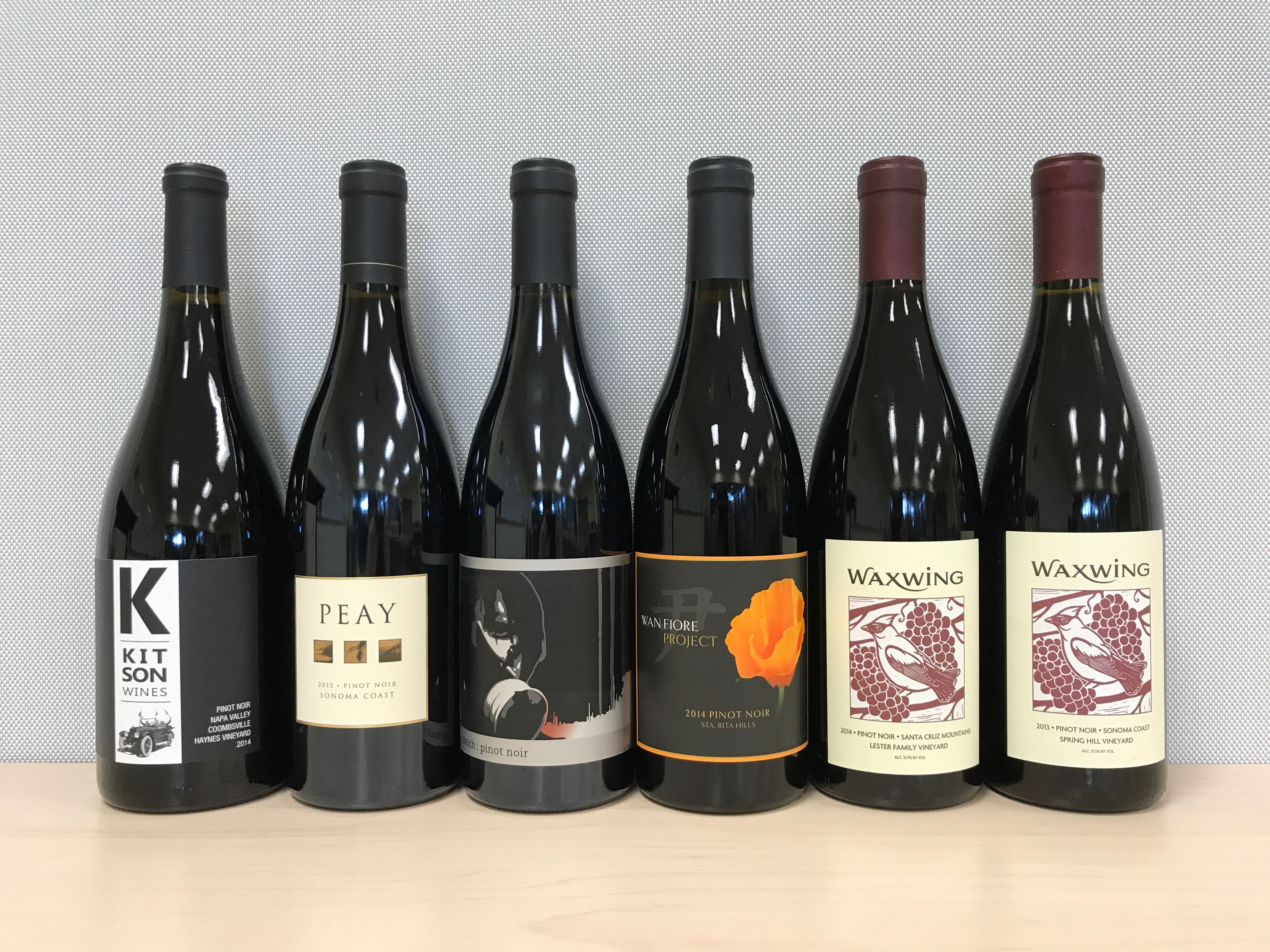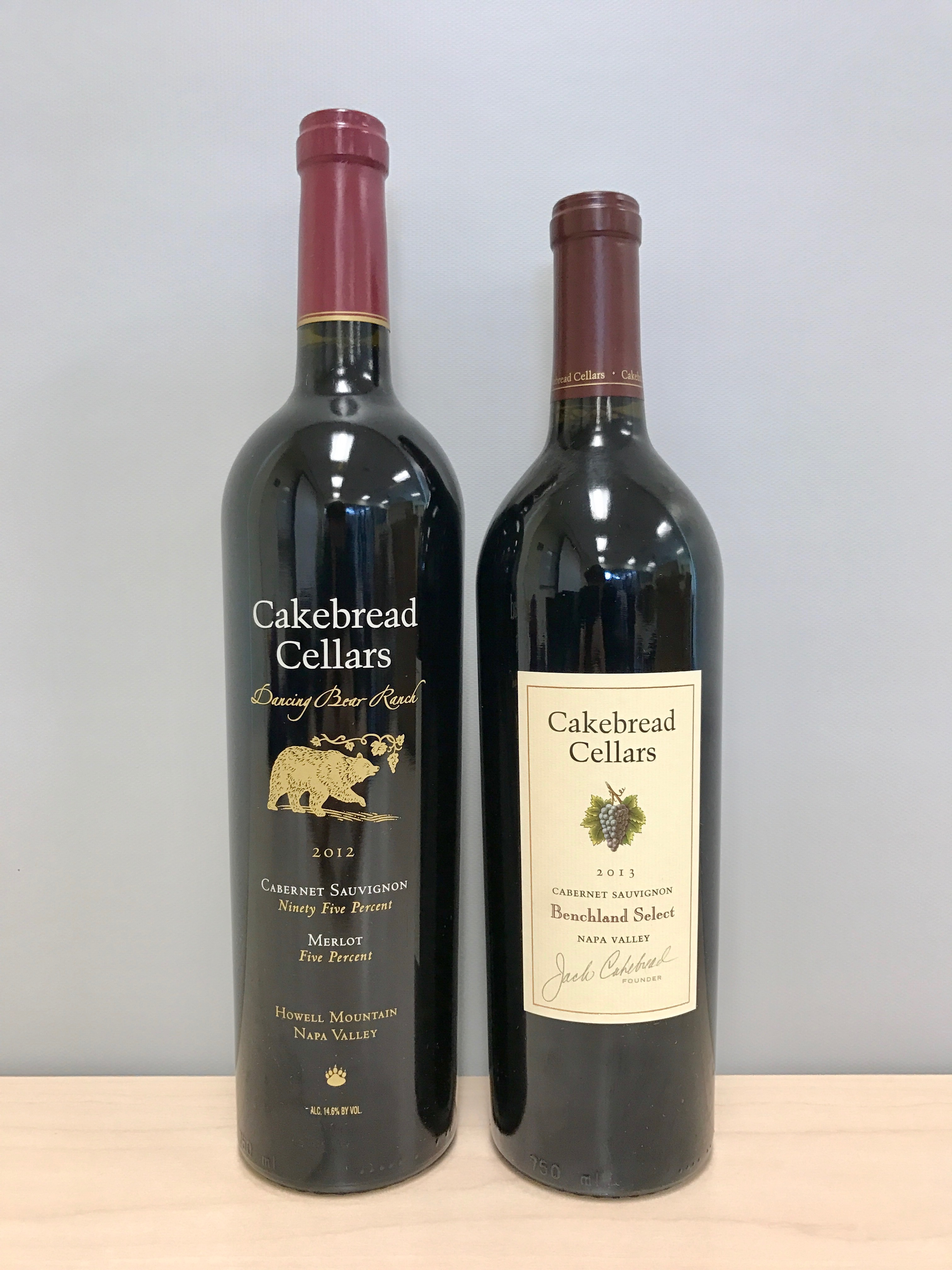 Cakebread Cellars Cabernet Sauvignon
2 Bottles (2012, 2013) – Valued at $266
Planted in shallow, rocky, volcanic soils, the vines of Dancing Bear Ranch are routinely stressed throughout the growing season, yielding small crops of intensely flavorful grapes. To ensure the fruit reaches full physiological maturity, vines are individually and carefully managed. 2012 was a truly spectacular growing season in Napa Valley, with a warm, dry spring fostering early bud break and trouble-free flowering and grape set. The ideal conditions of this season are appropriately mirrored in the 2012 vintage. At harvest, the fruit was at peak maturity with a perfect balance of deeply concentrated fruit flavors, bright acidity, and ripe, supple tannins. The 2012 Dancing Bear – a blend of 95% cabernet sauvignon and 5% merlot representing six of the vineyard's distinctive clonal selections – spent a total of 21 months aging in barrels, 54% new, prior to bottling on July 29, 2014. Characteristically dense, perfumed aromas of bright black cherry, blueberry, and blackberry, mixed with floral and forest floor scents, introduce amazingly bright, vibrant and concentrated red and black cherry, plum, spice and dark chocolate flavors framed by round, ripe tannins. Beautifully balanced and structured for long-term aging, this complex mountain cabernet is just beginning to unfold its many splendors and will age beautifully in bottle for at least a decade.
Teac Mor Pinot Noir Vertical & Chardonnay Vertical
6 Bottles (2010-2012, 2012-2014) – Valued at $240
Teac Mor is estate grown, passionately made wine from the Russian River Valley, yielding only a limited number cases each year. In this lot, you will experience their phenomenal wine through two thoughtfully arranged vertical tastings devoted to Chardonnay and Pinot. Teac Mor, above all else, consider themselves farmers first and their passion for growing exceptional fruit is apparent in every vintage. These wines encapsulate the distinctive terroir of the Russian River Valley vineyard as well as the vintage differences that highlight the variation climate produces in wine. Their hand-crafted Chardonnay will take many by surprise. This unoaked white wine is unlike anything you may expect from Northern California. The Chardonnay wines are not masked with heavy oak or secondary fermentations and are allowed to display their true character in full force. They are briefly aged on lees and bottled to preserve their freshness, acidity, and balance. These Pinot Noir wines are allowed to take their time through fermentation so as to ensure that the perfection is not rushed and result in a wine that is classic, brilliant, and bright, with aromas of peppermint and tobacco with a clean finish.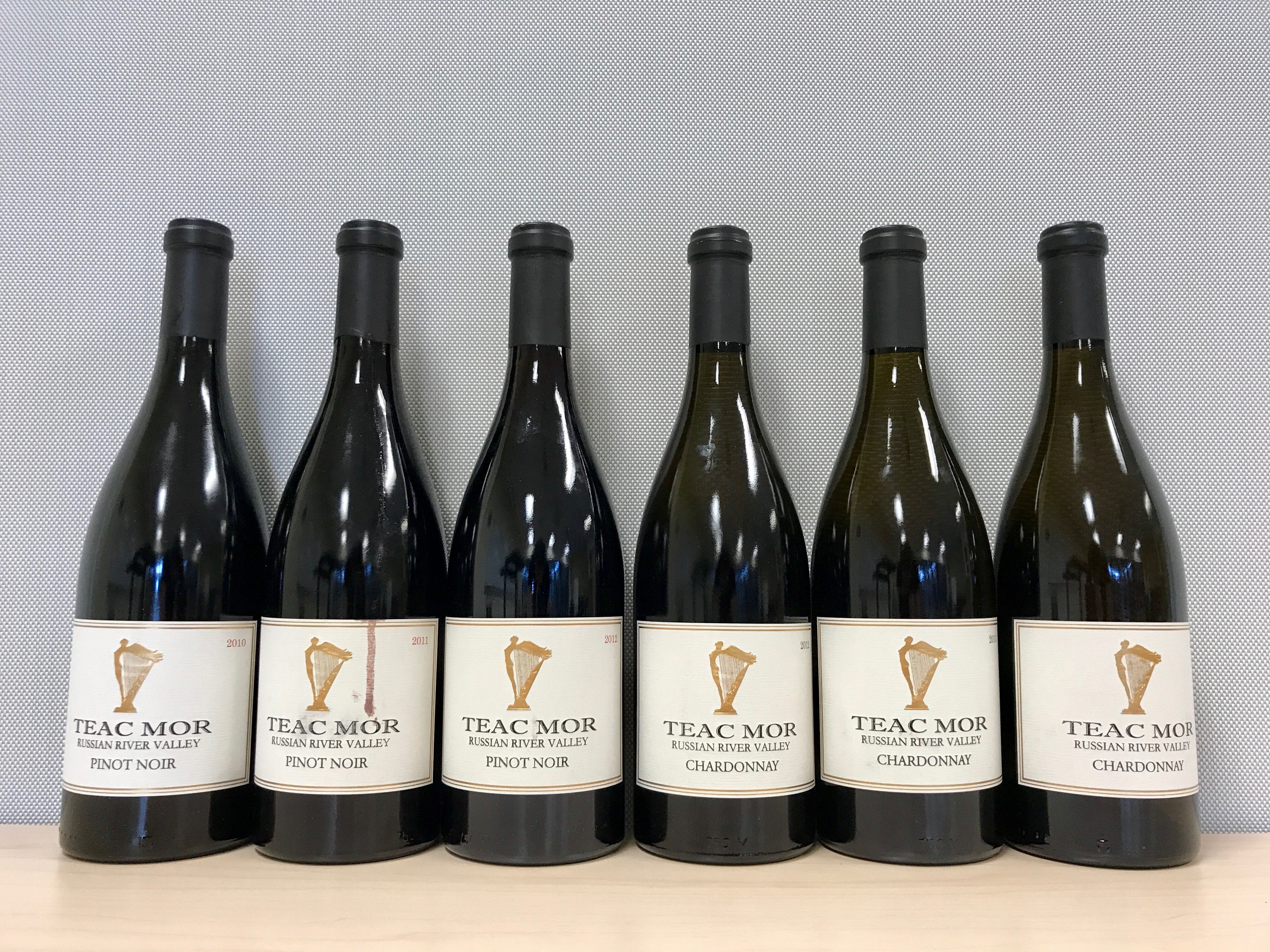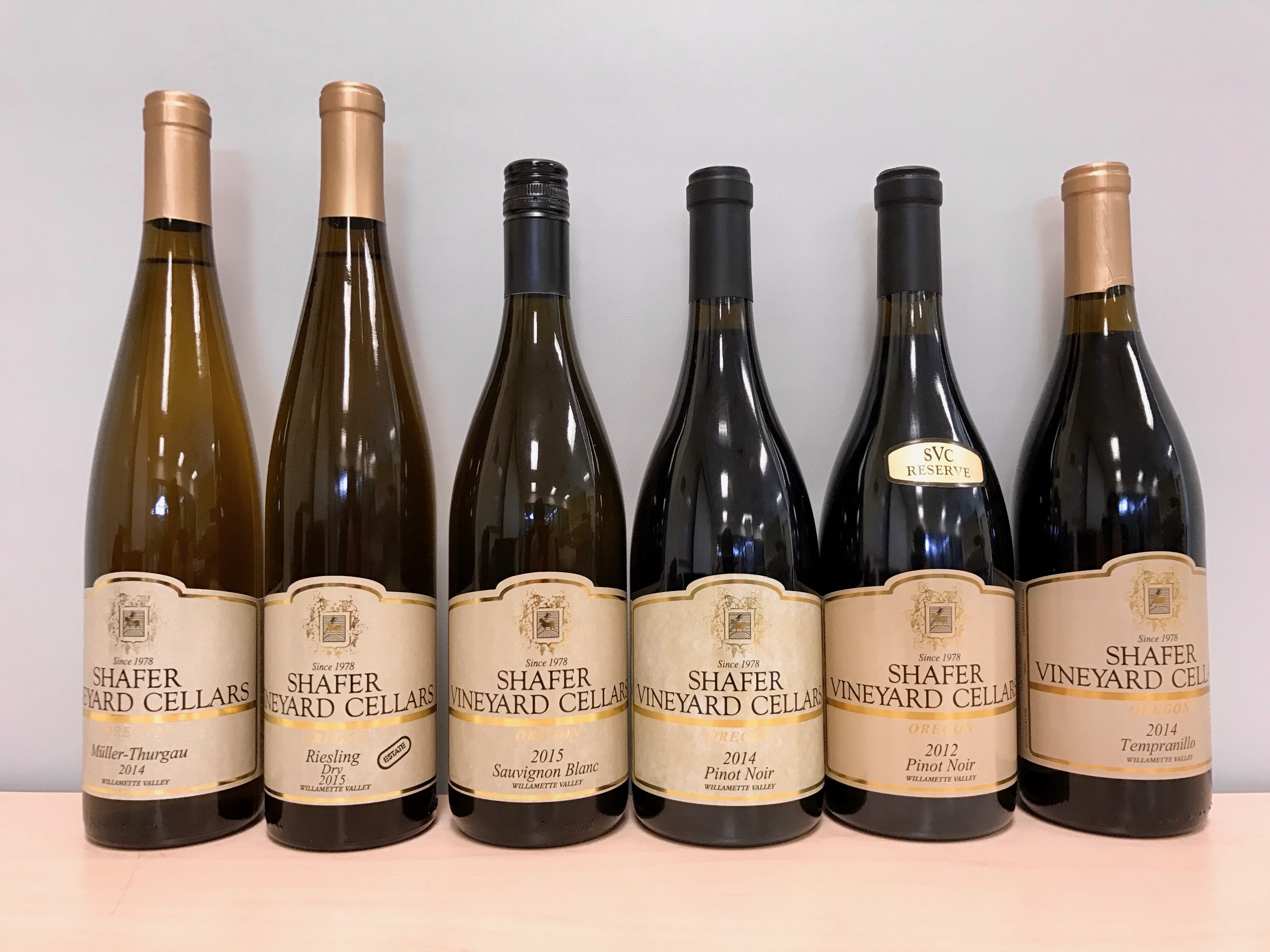 Shafer Vineyard Cellars
6 Bottles (2012, 3x 2014, 2x 2015) – Valued at $220
At Shafer Vineyard Cellars the rolling hillsides of lush vineyards were established in 1973 and the first wines in 1978 with the emphasis always being on, "attention to detail." In the cellar, traditional methods and state-of-the-art equipment are used to produce sparkling wine "methode champenoise," Pinot noir, Chardonnay, Sauvignon blanc, White Riesling, Muller-Thurgau, and two dessert wines. The former Shafer Vineyard Cellars are now the location of Risdall Ranch Winery. These few bottles from Shafer Vineyard Cellars are a rare find.
Pina Cabernet Sauvignon
Magnum (2008) – Valued at $220
Pina Napa Valley is one of Napa Valley's best kept secrets. Tucked away on the Silverado trail just east of Rutherford, this winery is devoted to perfecting its single-vineyard Cabernet Sauvignon. Founded in 1856 by Bluford Stice, Pina is one of eight generational wineries still producing in the Napa Valley. This 2008 Cabernet Sauvignon is sourced from the Firehouse vineyard, which covers 30 acres of hillside along the Silverado trail. This single-vineyard vintage is striking in its flavor and aroma, which are both earthy and fruity, and is a tribute to traditional Napa Valley Cabernet Sauvignon. When decanted, this wine's bouquet of black currants, cherries, graphite, and roasted sage become evident. This wine packs a punch with big, broad tannins and is accompanied by flavors of cocoa and oak.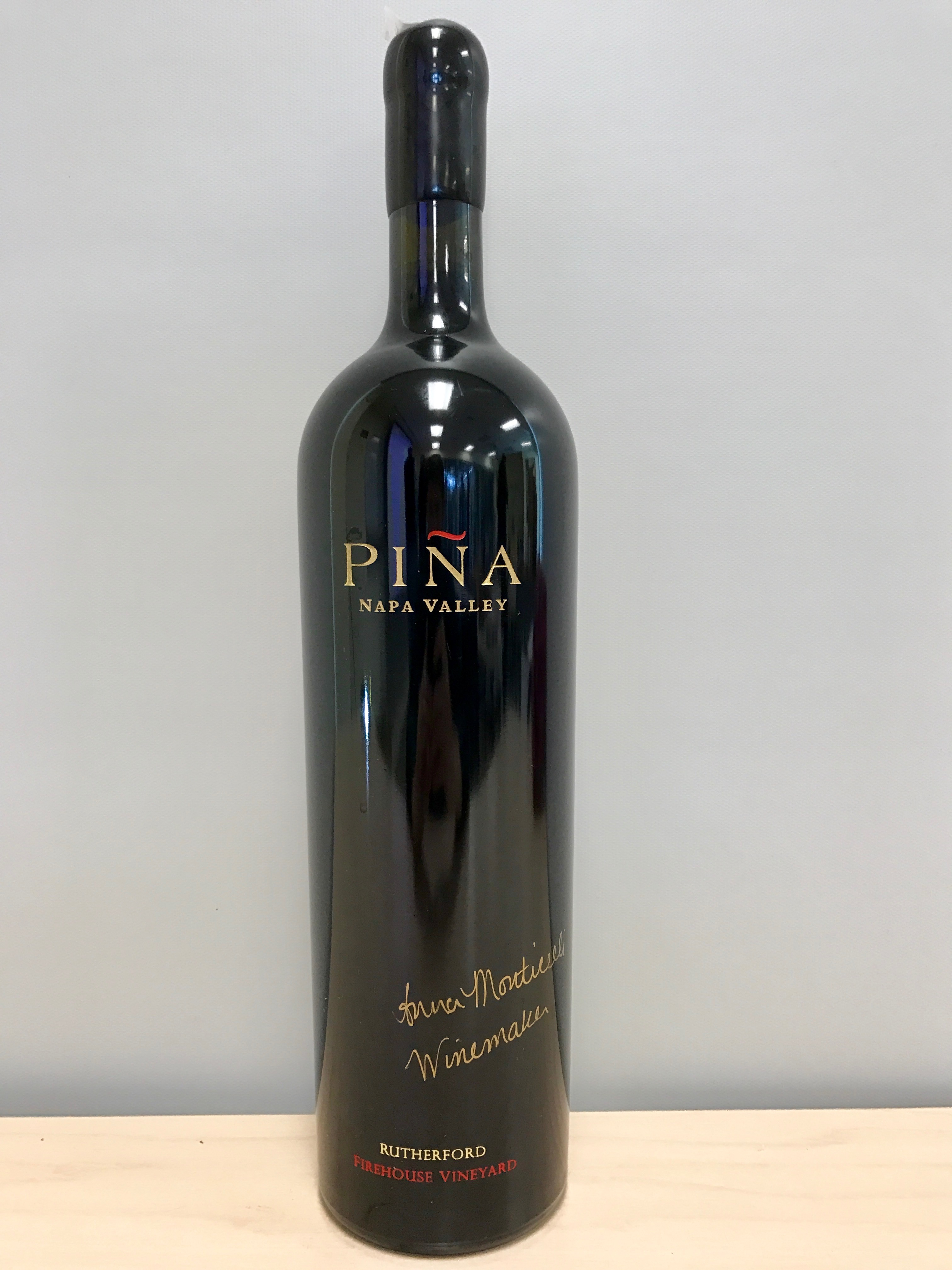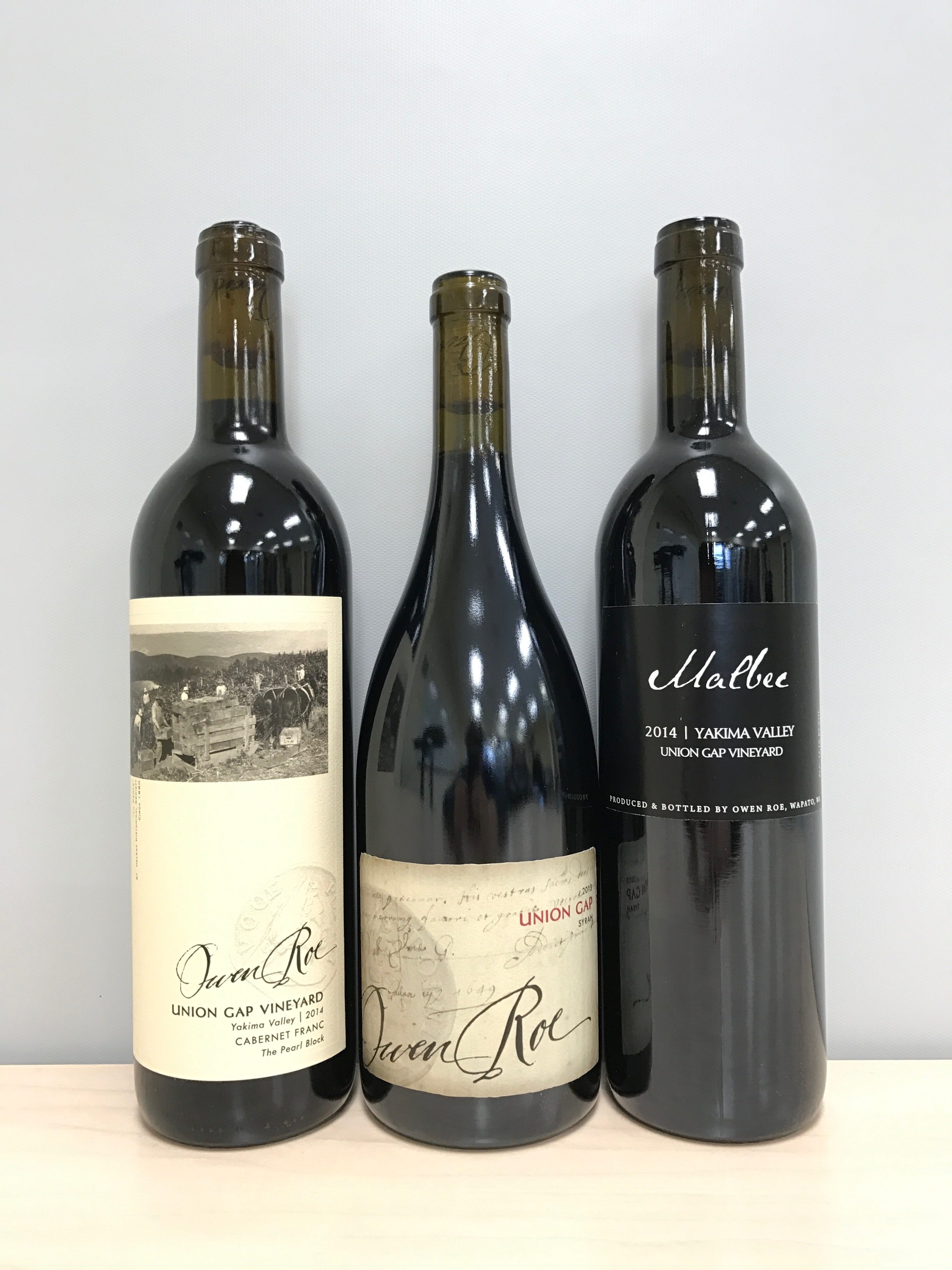 Owen Roe
3 Bottles (2013, 2x 2014) – Valued at $200
Hailing from Yakima, Washington, Owen Roe Is committed to practicing the highest standards of winemaking. While the goal of producing high-quality wines may seem a simple one, Owen Roe has never taken this mission lightly. In the Pacific Northwest, the grapes are allowed to ripen slowly and to fruition so that, at harvest, the berries are excellently balanced in acidity and sugar. This item includes one bottle each of the Owen Roe Cabernet Franc, Syrah, and Malbec, each of which is unique in its aroma, flavor, and body. The Cabernet Franc is superb with its aromas of strawberry, green pepper, cocoa powder, and spice; these are complemented by a soft palate of dried fruit and vanilla. After a particularly long and hot growing season, the Syrah was found to be ideal for its mouthwatering acidity and sweet but spicy finish. The Malbec displays a profile of brambleberry, plum, and leather, flooding and delighting the senses. This trio perfectly represents the passion, quality, and precision of Owen Roe winemaking.
Spoto Enrico's Red
Bottle (2014), Includes Tasting – Valued at $200
Spoto Family Wines, the first boutique winery in the Sacramento region, considers winemaking to be a family affair. Stuart Spoto, the head winemaker of Spoto Wines, was trained by his father, who was honored by Wine Spectator Magazine for his award-winning wines. The father-son duo has been working for thirty years to perfect their Oakville Cabernets and Bordeaux-style blends. Guided by their natural passion for wine, and with some help from the UC Davis Department of Viticulture and Technology, Spoto Family Wines have risen to be one of the premier ultra-boutique wineries in northern California. The Enrico's Red is named after the family founding father, Enrico Rodolofo Spoto, who immigrated to the United States from Sicily in 1913. His memory is brought to life in this lively red blend, which is a fine example of the heart and soul which goes into every vintage of the Spoto Family Wines.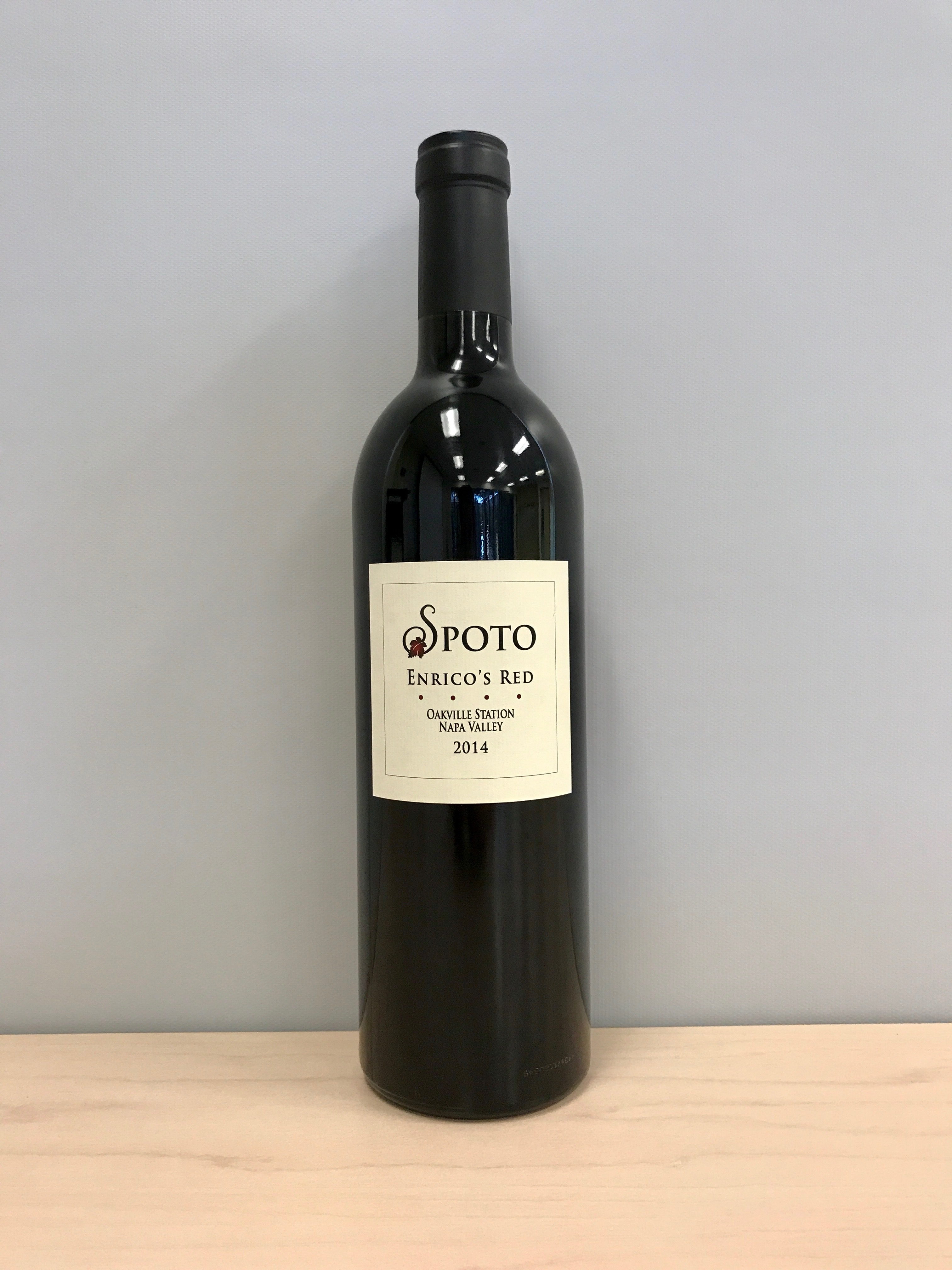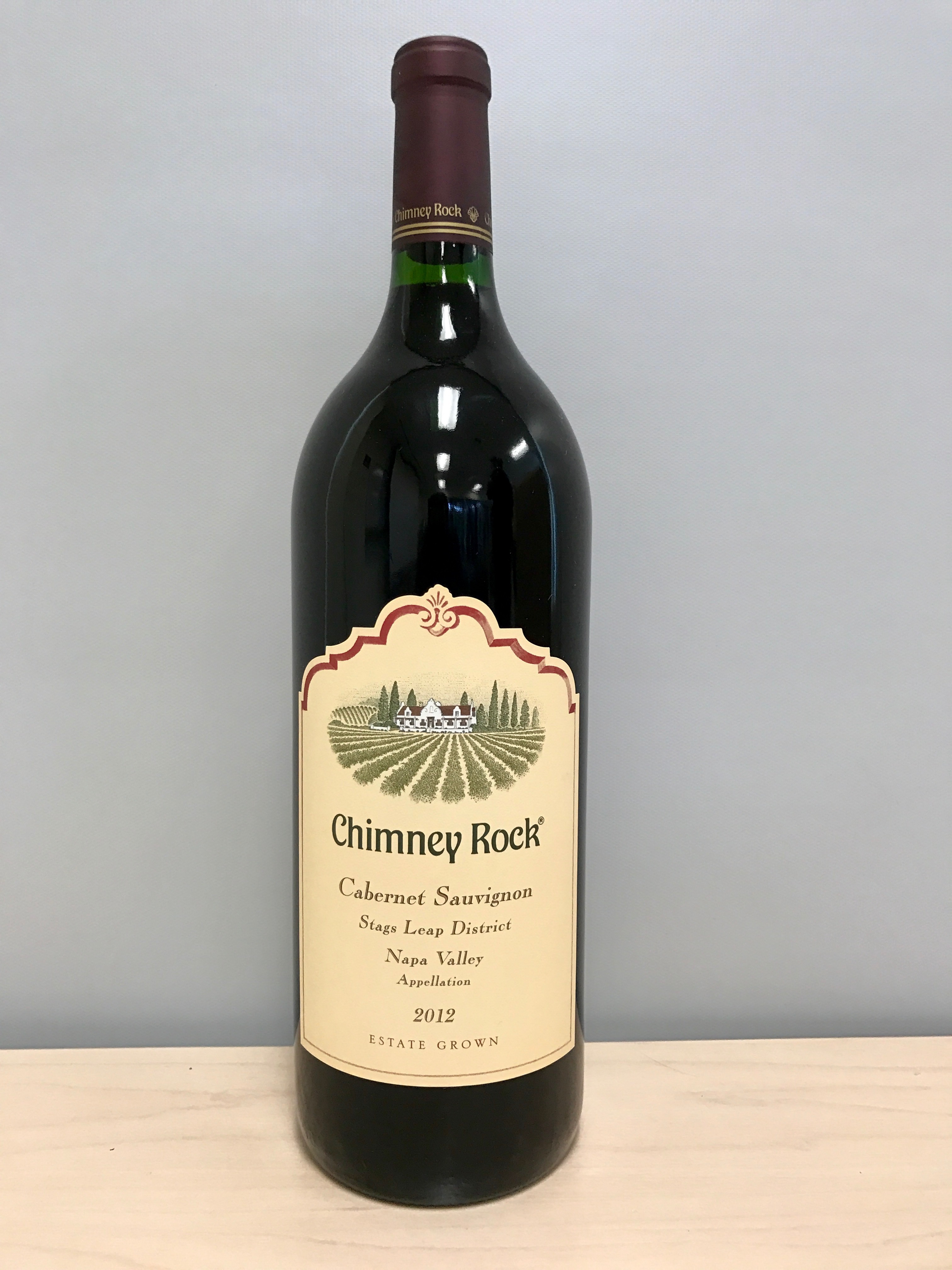 Chimney Rock Cabernet Sauvignon
Magnum (2012) – Valued at $195
This wine is an example of a standard bearer for the Stags Leap District. The Chimney Rock estate spans 134 acres and is located in the middle of the AVA, which is the first approved viticultural area in the United States based on its soil composition. Chimney Rock's vineyard consists of 28 different blocks showcasing a diverse variety of Cabernet Sauvignon clones, different rootstocks, and a diversity of soil types. The flavor of Chimney Rock's wines represents the complexity of this region by incorporating its diversity in artful blends, such as this 2012 Cabernet Sauvignon. The lush texture and tremendous ageability of this wine has earned it 94 points by Wine Enthusiast.
Trefethen Cabernet Sauvignon
Magnum (2011) – Valued at $185
The Trefethen Family has been pioneering winemaking in the Napa Valley since the 1960s. Their contribution to California winemaking is immeasurable, through their support of the Viticulture and Enology Department at UC Davis and by creating internationally renowned wines for decades. Trefethen's Cabernet Sauvignon vines are planted in gravelly soils in the northwestern quadrant of their estate vineyard in the Oak Knoll District of Napa Valley. These well drained soils combined with limited yields produce Cabernet Sauvignon fruit with bright and complex flavors. This 2011 Oak Knoll Cabernet Sauvignon, presented in a beautiful pine box, features aromas of coffee and dark berries with hints of bay leaf carry through onto the palate. Firm tannins build alongside flavors of ripe plum fruit, sweet toffee and creamy oak in this classic Napa Cabernet.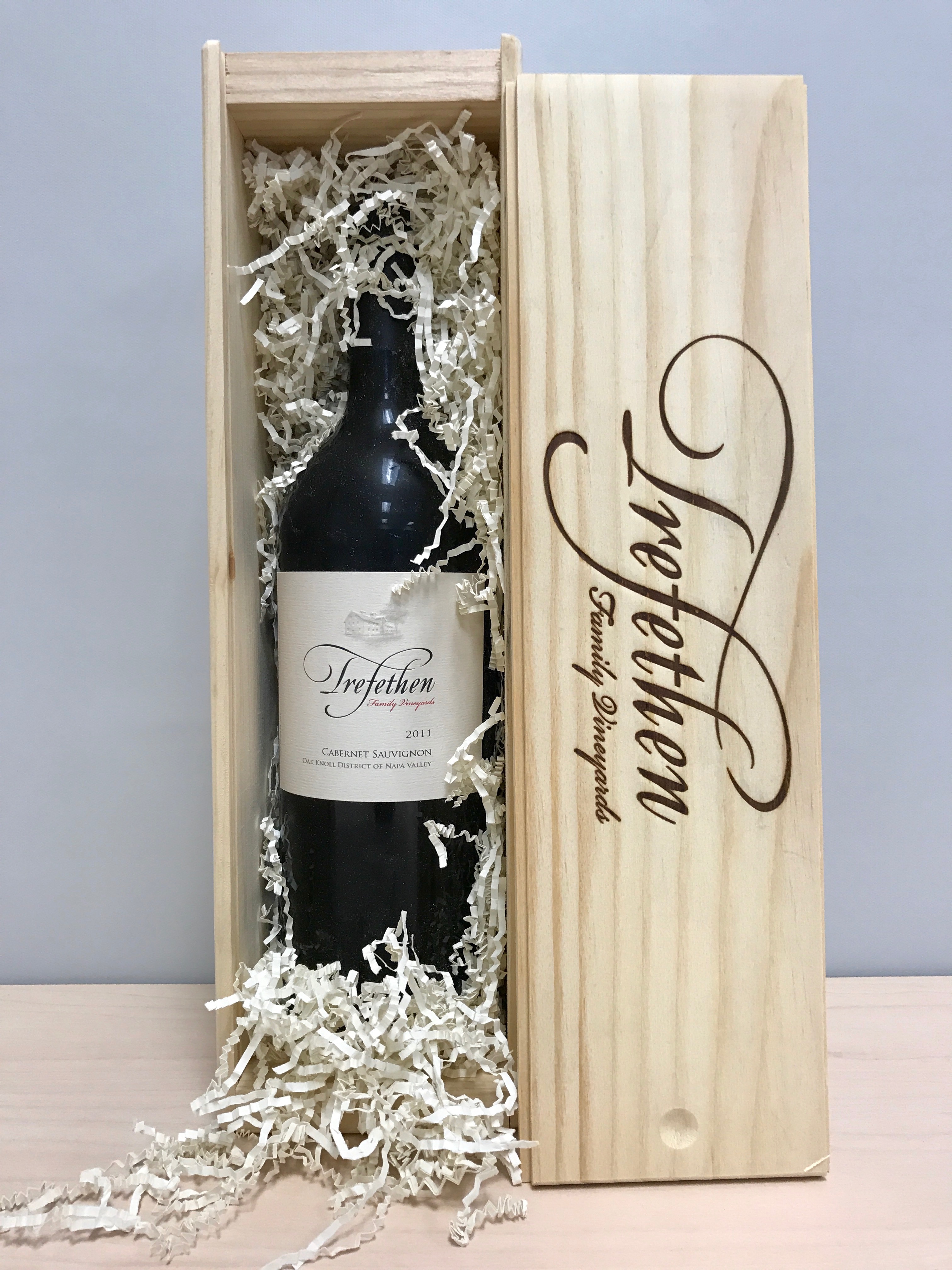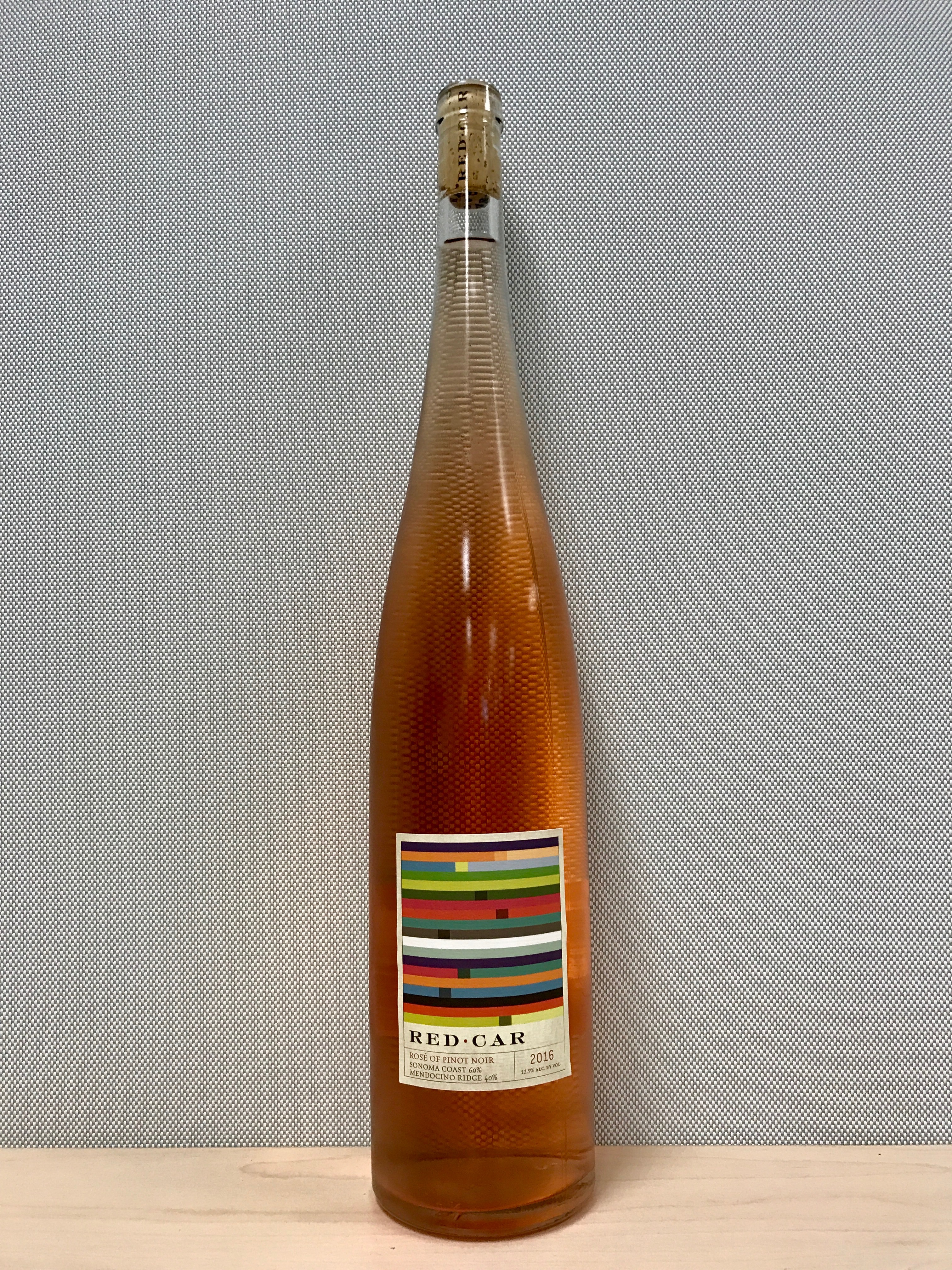 Red Car Rose
Magnum (2016) – Valued at $185
All of Red Car's wine is grown in cold-climate vineyards on the edge the Pacific. The band of mountains along the west coast offers the ideal climate for Red Car's winemaking pursuits. Self proclaimed hands-on farmers, Red Car is part of a small cadre of wineries in the West Sonoma Coast who are fortunate to grow a large majority of their own fruit. For several years they have worked hard to go beyond sustainability and have integrated the concepts and principles of organic, biodynamic and permaculture systems into their farming practices.The 2016 Rose of Pinot Noir taste of wild strawberries, tangerine, pink grapefruit, Bing cherries and rose petals. Cool-climate West Sonoma Coast vineyards give the wine its hallmark style, with the biodynamically-farmed Bybee Vineyard in Sebastopol Hills making up the backbone for this wine.
Zaca Mesa Syrah
Magnum (2010), Includes Tasting for 2 – Valued at $165
Zaca Mesa's wines are made from sustainably farmed grapes that are 100 percent estate grown, produced and bottled. With over 40 years of grape growing experience in the Santa Ynez Valley, their winemaking and vineyard teams meticulously farm the vineyard producing terroir-driven wines. The Mesa Reserve Syrah represents the best of the mesa top vineyard, focusing on younger blocks, which offer a great contrast to the older Syrah vines on the property. The high-density vine spacing and new clonal material in these blocks give the wine a brightness of fruit and richness that is unique to the Mesa Reserve. All hand harvested, the grapes are de-stemmed and placed into small open top bins to ferment. Once dry, the wine was placed into new French oak barrels for 21 months to age. In addition to Reserve Syrah, two guests would obtain the opportunity to taste more of Zaca Mesa's handcrafted wines.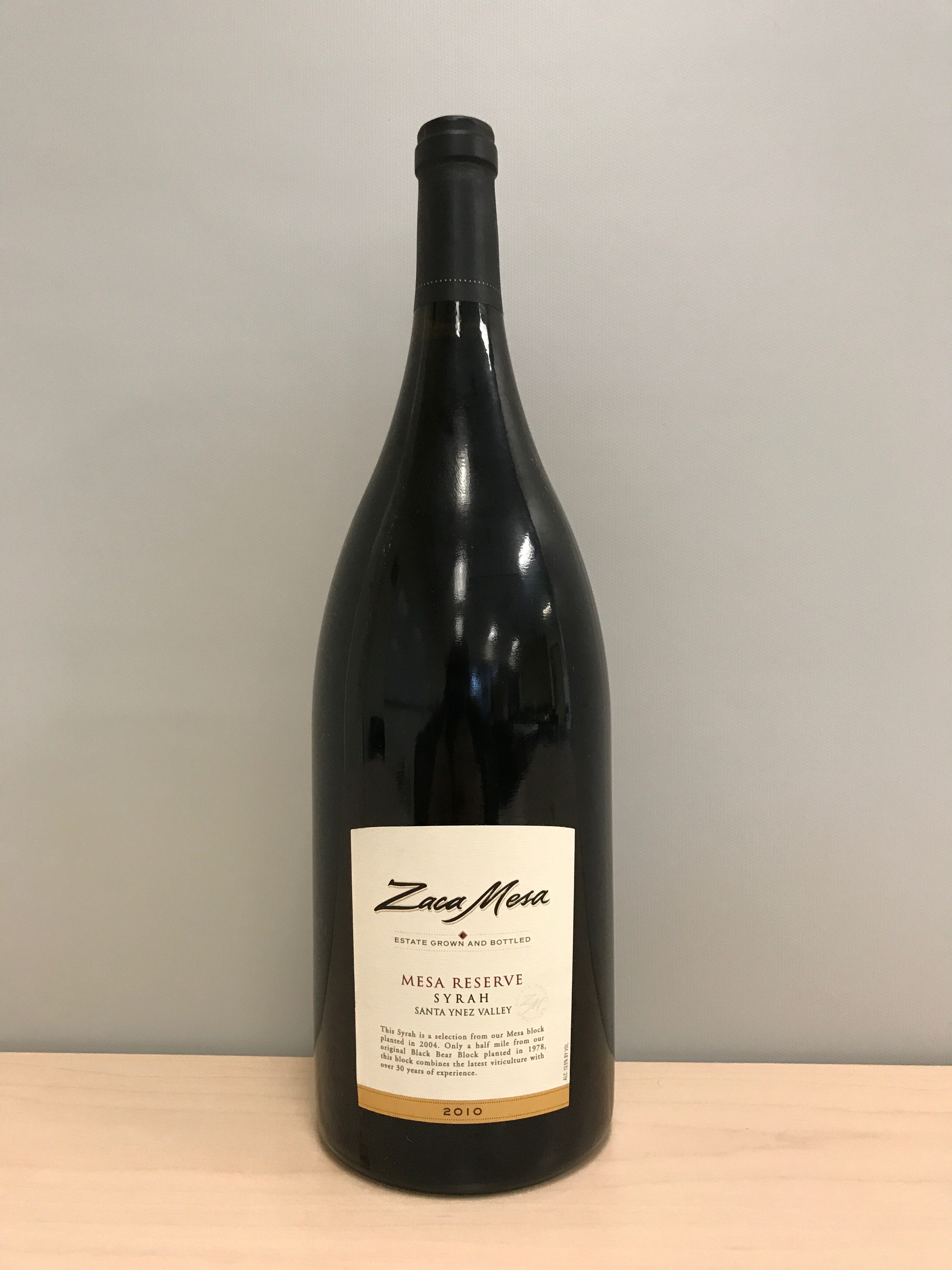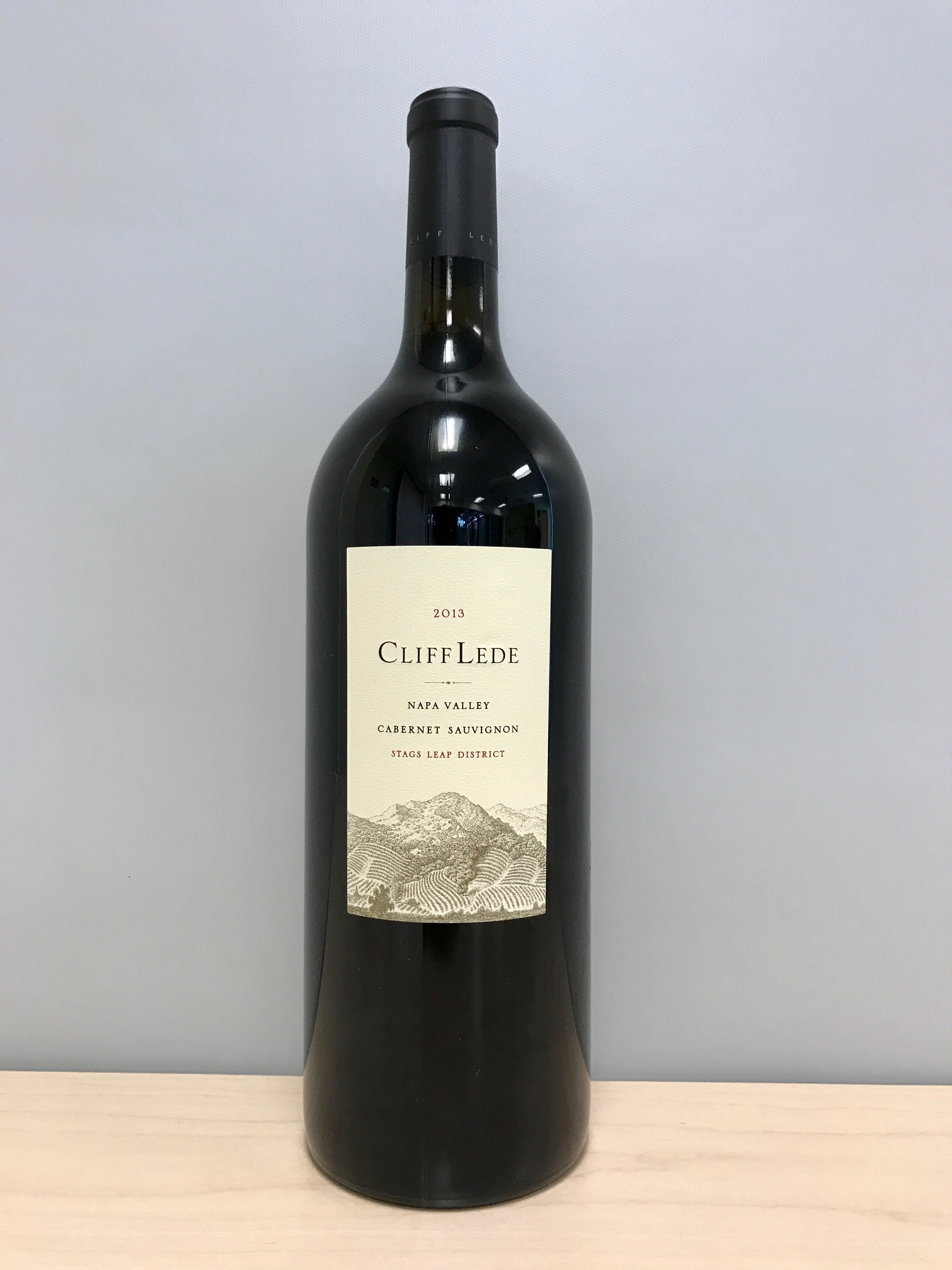 Cliff Lede Cabernet Sauvignon
Magnum (2013) – Valued at $165
Cliff Lede Vineyards was established in 2002 when Canadian born Bordeaux enthusiast, Cliff Lede, acquired a sixty acre estate in the Stags Leap District of Napa Valley. In 2005, a state of the art, 25,000 square foot winery and cave system was etched into a hillside overlooking the estate vineyards. Christopher Tynan is the residential winemaker who crafting Cliff Lede's Cabernet Sauvignon and Sauvignon Blanc. The 2013 Stag Leaps District Cabernet Sauvignon has a dark purple appearance with a vermillion-tinged edge. Plush and refreshing, this Cabernet Sauvignon lures the taster with a multidimensional perfume that fills the glass with notes of jasmine, lavender, and spring flowers. The fruit for this wine was sourced from the hillside terraces of our Poetry Vineyard, a Twin Peaks Vineyard estate surrounding the winery, and a few neighboring vineyards in the Stags Leap District.
Banshee Pinot Noir
3L Bottle (2015) – Valued at $150
Banshee Wines launched in 2009 with just nine barrels of highly coveted Sonoma Coast Pinot Noir. Their dynamic winemaking team blazes on, delivering a range of distinctive vineyard expressions. Marine Layer is crafted as Banshee's Sonoma Coast reserve and a tribute to the unique climatic and geological conditions that make up the extreme Coast. The 2015 vintage will likely go down as one of the best in the past decade for the Sonoma Coast. It was the fourth consecutive drought year that brought on extremely early bud-break and flowering, followed by a warm and dry summer resulting in profound depth. Grapes were hand harvested and hand sorted and fermentation was conducted by native yeast in small, open top vats with manual punchdowns, carefully trying to avoid over-extraction in this vintage. The attention to detail for the 2015 Pinot Noir results in a wine that is honest, vivacious, and complex.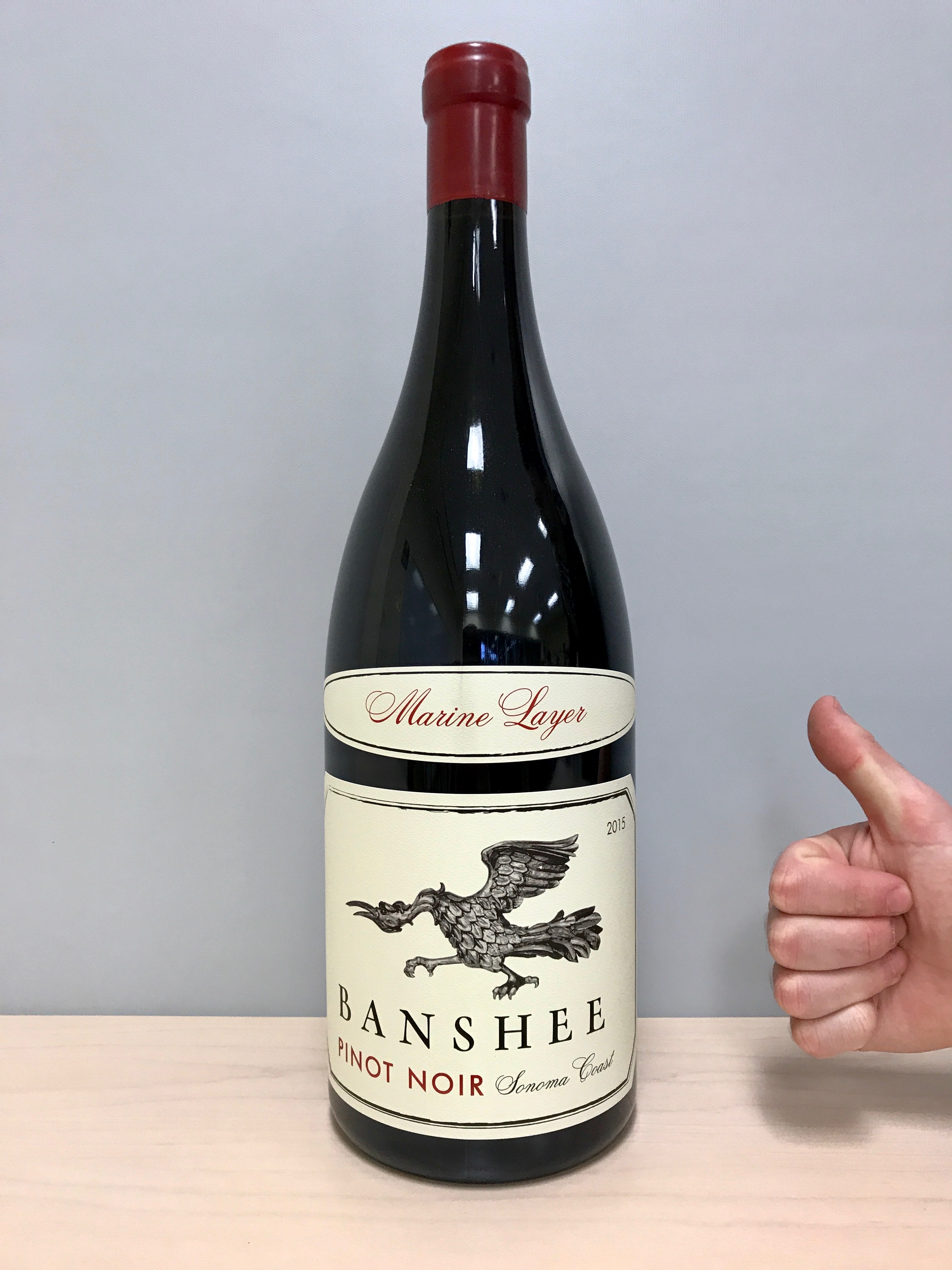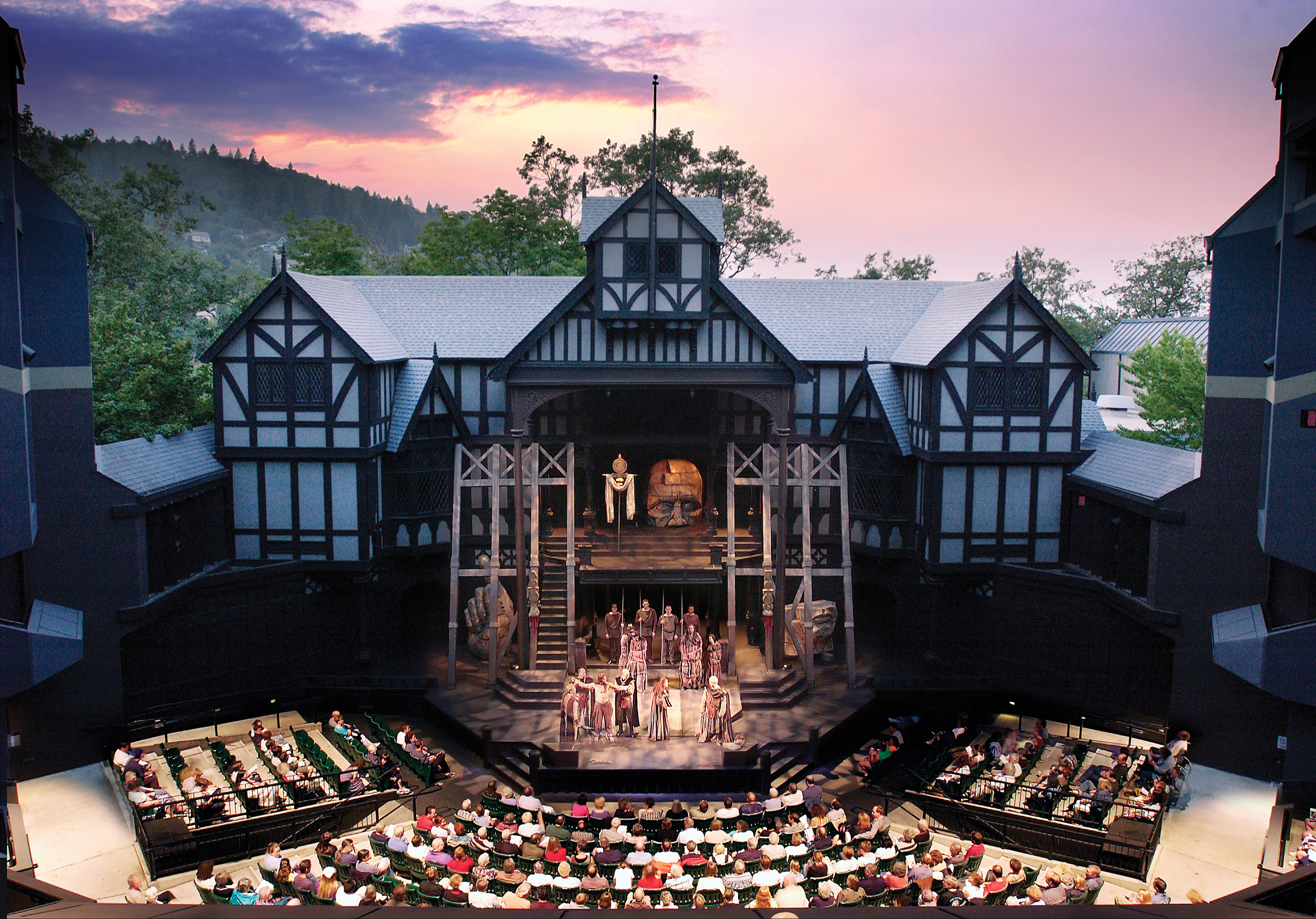 Oregon Shakespeare Festival – 2 Tickets
Valued at $150
Located in the beautiful Ashland, Oregon, the Oregon Shakespeare Festival is a not-for-profit professional theatre founded in 1935. Our season runs from February through early November, and we have three theatres: our two indoor stages, the Angus Bowmer Theatre and the Thomas Theatre, and our flagship outdoor Allen Elizabethan Theatre, which opens in early June and runs through mid-October. We offer 11 different plays that include three or four by Shakespeare and seven by other classic writers, as well as modern and contemporary work and world premieres. When you visit you can see one or two plays or up to nine plays in one week! This voucher is redeemable for 2 complimentary tickets, valid from February 17th to October 29th, 2017.
Silver Oak Cabernet Sauvignon & Twomey Merlot
2 Bottles (2012) – Valued at $140
Silver Oak began over a handshake between two friends with a bold vision: focus on one varietal, Cabernet Sauvignon, aged exclusively in American oak and worthy of cellaring for decades to come. At Twomey, they combine this philosophy, experience, and a sense of curiosity to craft Pinot Noir, Merlot and Sauvignon Blanc from outstanding vineyards and growing regions from California to Oregon. The Silver Oak 2012 Alexander Valley Cabernet Sauvignon is a lively and full-bodied expression of Alexander Valley Cabernet Sauvignon from an exceptional vintage. It has a lovely garnet color and opens with aromas of black currant, orange zest and raspberry. These aromas are framed by nuanced notes of vanilla, marshmallow and cocoa, eliciting an effect reminiscent of chocolate-covered berries. The attack is rich and gives way to a mid-palate with breadth and depth, supported with refreshing acidity and integrated, dusty tannins. This wine has power with an unusual vitality and structural balance. Given proper cellar conditions, this wine will provide drinking pleasure through 2034. The Twomey Soda Canyon Ranch Merlot from the Napa Valley combines the refinement of old world winemaking with the expressiveness and generosity of California fruit. This textural wine has a garnet color and a nose of blackberry, licorice, graphite, tar, dark chocolate and cloves. The velvety mouth-feel of this wine is remarkable. The palate begins with a hint of blackberry fruit and builds to a long finish of fruit compote, chocolate and fine-grained tannins. Given proper cellaring, this wine will give drinking pleasure through 2030.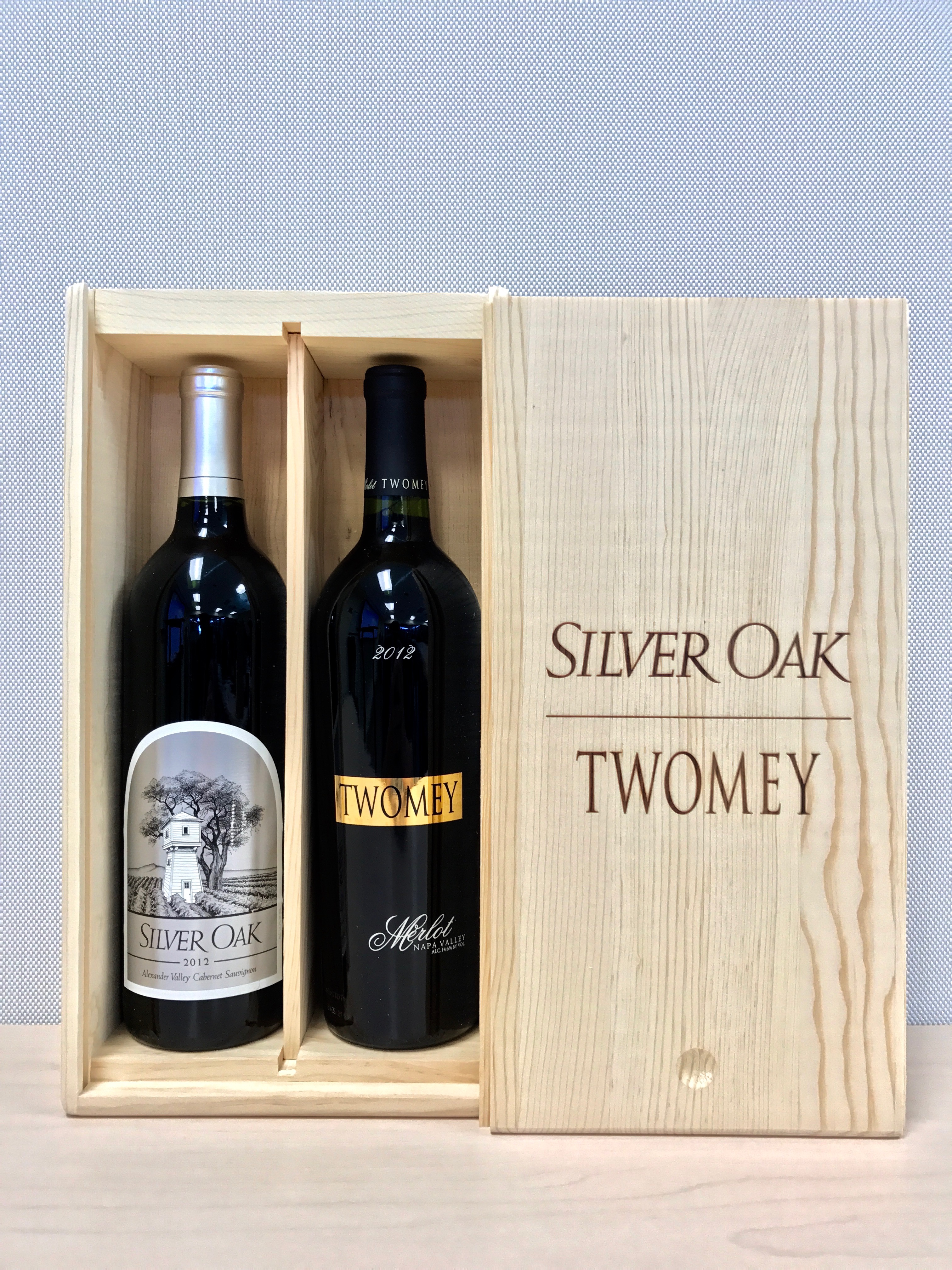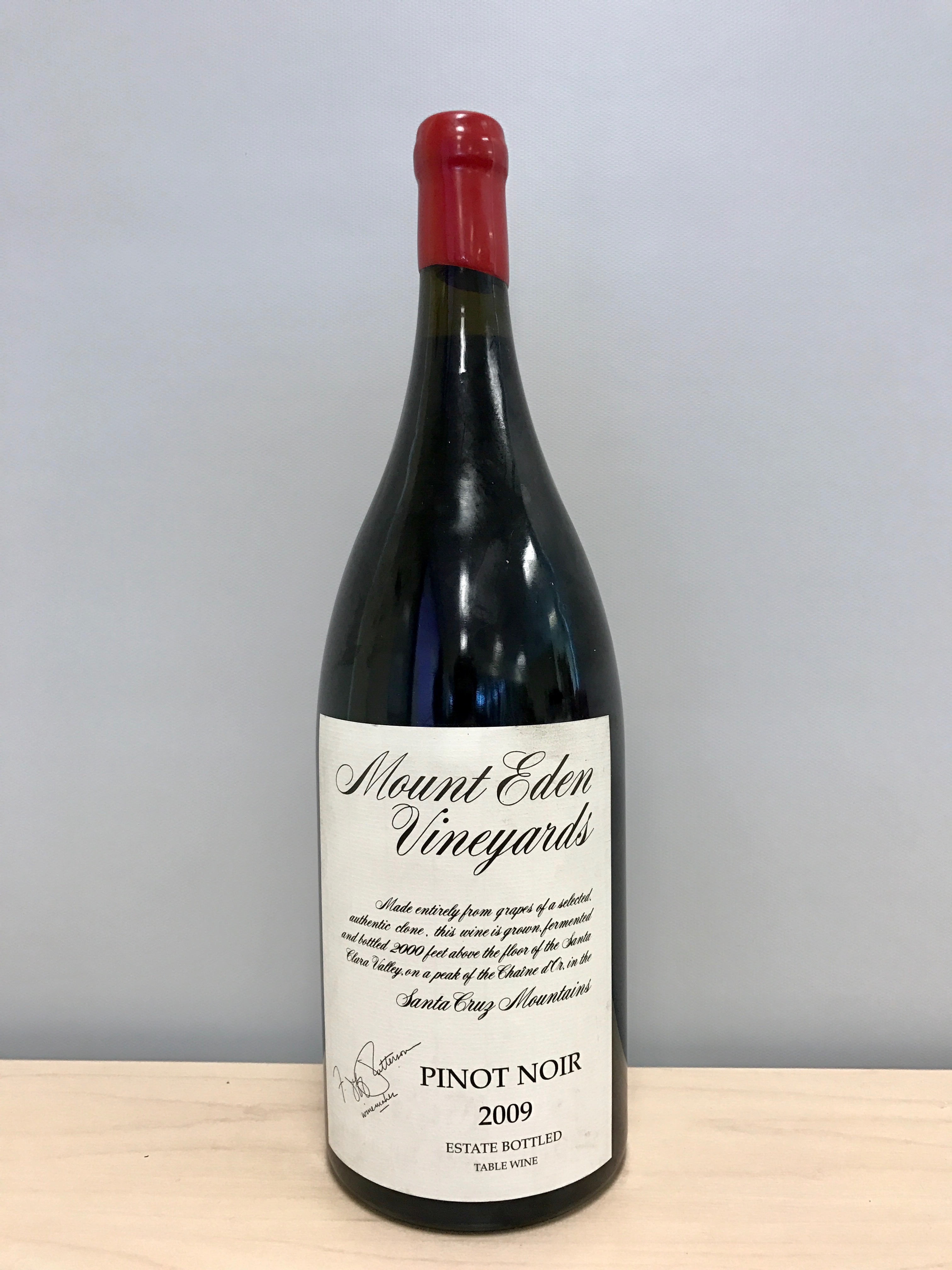 Mount Eden Pinot Noir
Magnum (2009) – Valued at $140
First released in 2011, the Mount Eden Vineyards 2009 Pinot Noir thrived under the stress of the California drought to produce a truly sublime wine. Despite the long, harsh growing season, the end result for this Pinot Noir was a complex marrying of earthen and floral aromas, and a sweet yet tart flavor. The robustness of this wine even in the harshest of conditions can be attributed to the longevity of its vineyard, which was originally planted in 1945 by Martin Ray, who used plant material directly from Burgundy. The release of this wine was met with great applause from wine critics, who praised it for its stunning aromatics and it was deemed "an American classic" by Robert Parker. This wine is crisp and lean in its youth but has great potential to mature over time.
Domaine De La Solitude
1 Bottle (2001) – Valued at $135
Domaine de la Solitude belongs to one of the most ancient families originating from Chateauneuf du Pape. The Martin family name is found in Italian records as far back as the 15th century and is traced back to the Barberini family, made famous by Maffeo Barberini who was made Pope in Rome in 1623. This Chateauneuf du Pape red wine is a blend of Syrah, Grenache, Mourvèdre and a light note of Cinsault. The body of this wine is full with rich texture. The wine aromas vary depending on the vintage, and consists mainly of sweet black and red fruits, such as kirsch and ripe plum, with notes of spice, leather, and smoky, making for an unusual but intriguing impression.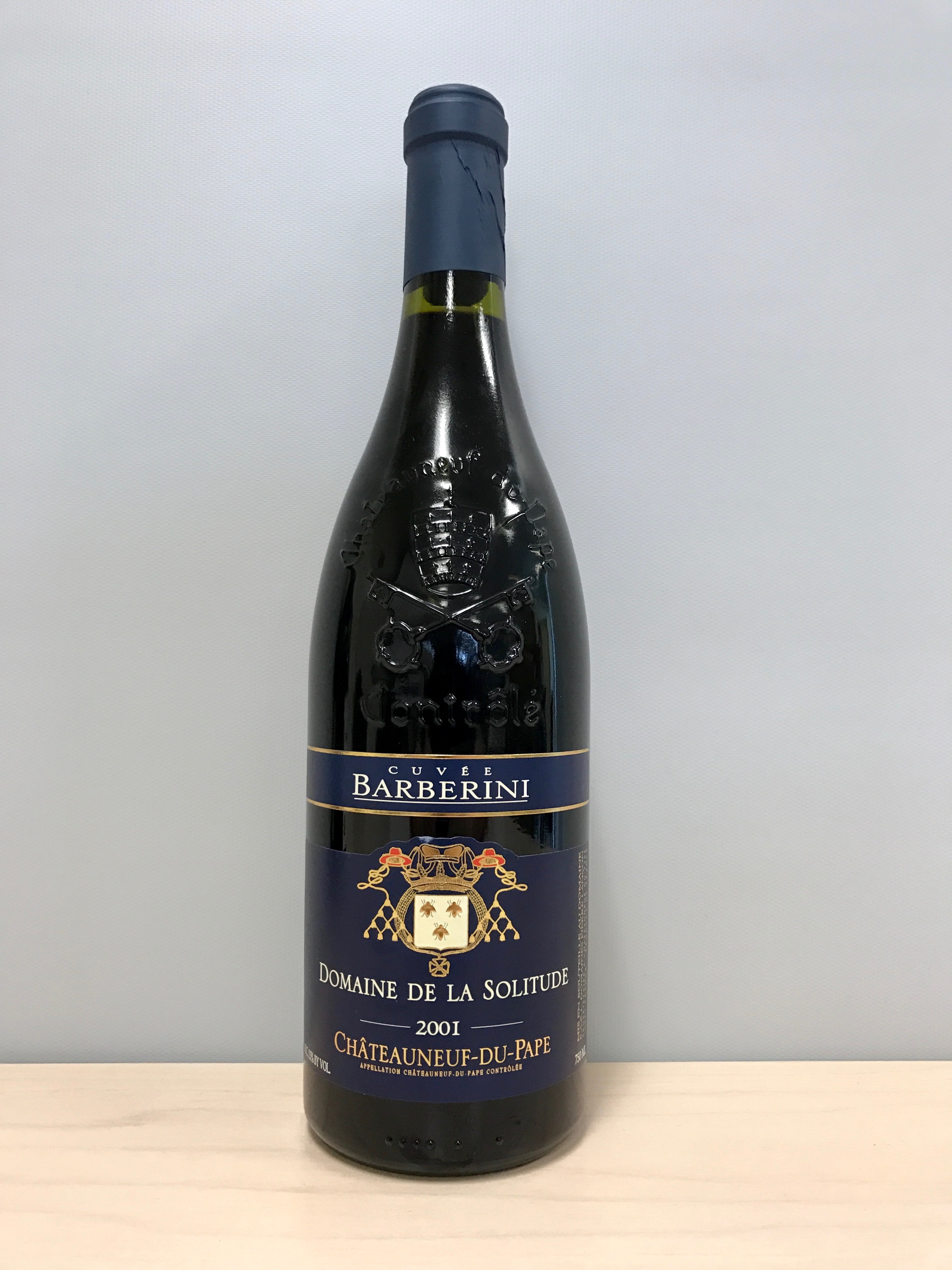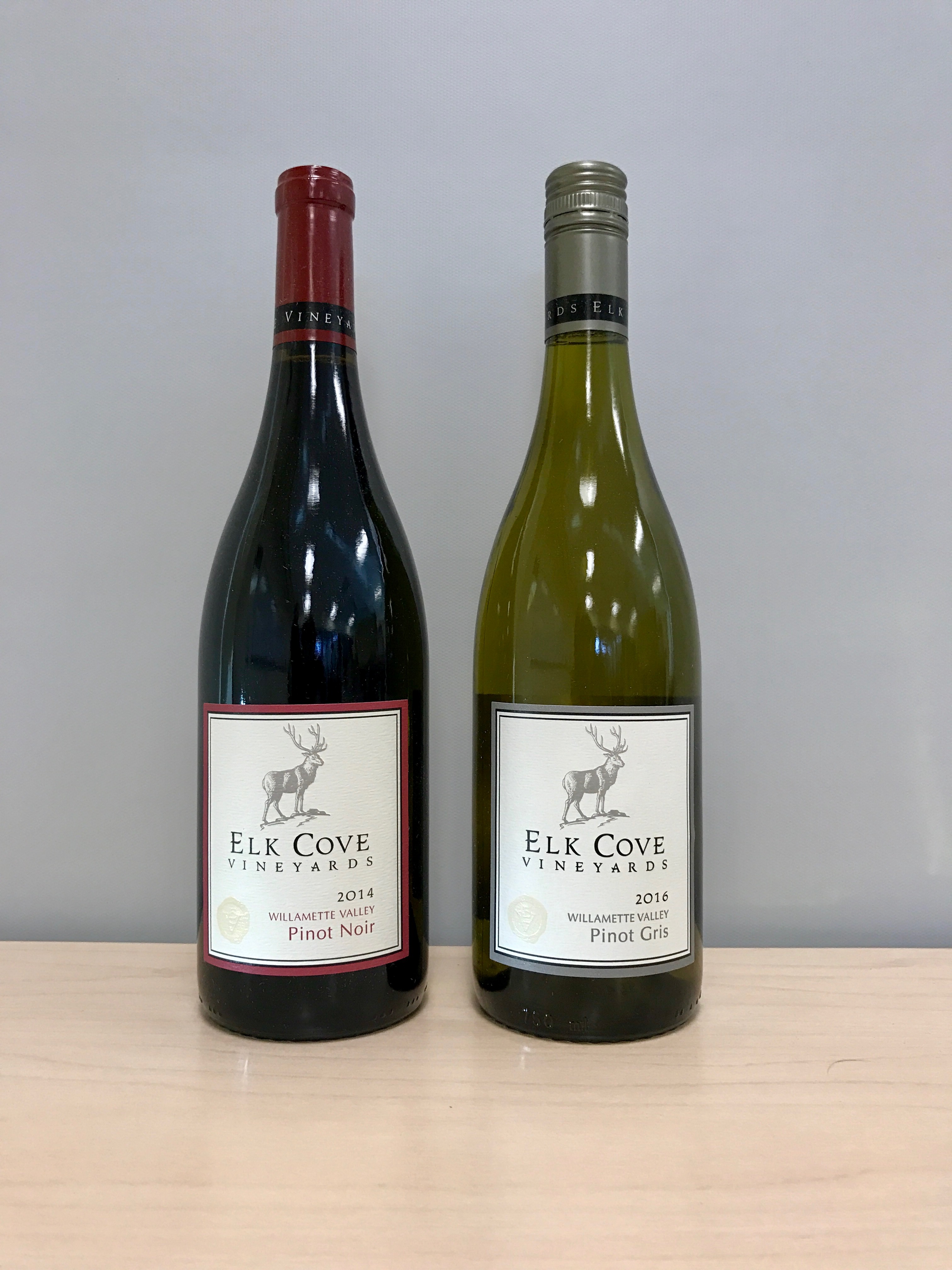 Elk Cove Pinot Noir & Pinot Gris
(2014, 2016), Includes Tasting for 6 – Valued at $135
In the winter of 1974, a herd of 40 Roosevelt elk bedded down in the clearing by the Campbell family's trailer. Their presence, along with the protective bowl shape of the property, inspired Pat and Joe to name their property Elk Cove Vineyards. The Campbell's goal has always been hand-crafted, estate-grown cool climate ­wines that rival the best in the world. As a second-generation winemaker and a 5th generation Oregon farmer, Adam Campbell is proud to continue that tradition. The 2014 Willamette Valley Pinot Noir presents full aromas of dark spicy raspberry and Bing cherry fruit with wafts of cedar, leather and warm baking spice that round out the nose. The 2016 Willamette Valley Pinot Gris is a golden straw in color, with aromas of Asian pear, honeydew melon and hints of lemon thyme and ginger. The palate bursts with starfruit, tangerine and apple pie mingling with notes of pithy lemon peel and white tea. Please enjoy these wines, along with a complimentary 6 person tasting at the beautiful Elk Cove Vineyards in Oregon's Willamette Valley.
DuMOL Chardonney
Magnum (2010) – Valued at $130
Since their first harvest in 1996, DuMOL has thoughtfully assembled an unparalleled collection of vineyard sites that they individually farm to capture their full beauty. The Green Valley district of the Russian River is their home and specialty. DuMOL viticulture emphasizes soil and vine health through minimal external inputs. Their hand work in the vines is extensive, crop levels moderate and fruit selection strict. Each year, they 'follow the vintage'; intensively focused on the perfect day to harvest – neither too early nor too late. DuMOL winemaking is intuitive and concentrates on the needs of each wine, employing the least 'technique' that is necessary. Their strong stylistic vision is precise, consistent and their driving force – they strike their own path and do not follow trends. DuMOL's ultimate quality is evident in every glass. The DuMOL Isobel Chardonnay is brilliant pale gold color, with an intriguing mix of savory and sweet aromas: pear, fennel, cut grass, crisp apple, lemongrass, quince, complex herbal notes. Generous palate entry, but quite delicate, round and mellow. Tangerine, lemon and almond. Lovely progression along the palate, subtle richness, but always vibrant pin-point acidity. Complex truffle/hazelnut finish. Hand harvested grapes sorted in the vineyard then slowly whole cluster pressed. Barrel fermented with native yeast. Complete malolactic fermentation and 15 months aging in 40% new French oak. No filtration at bottling.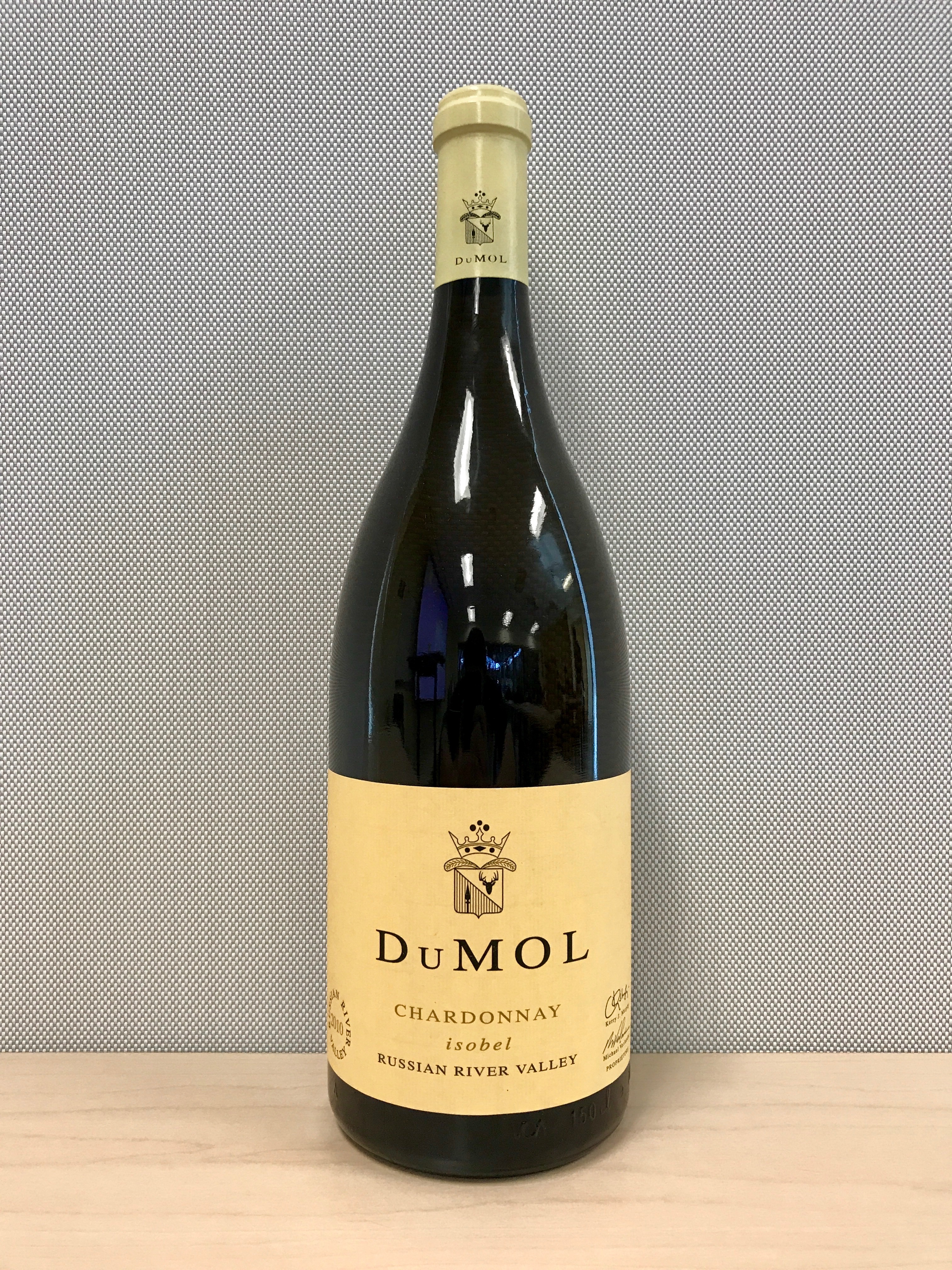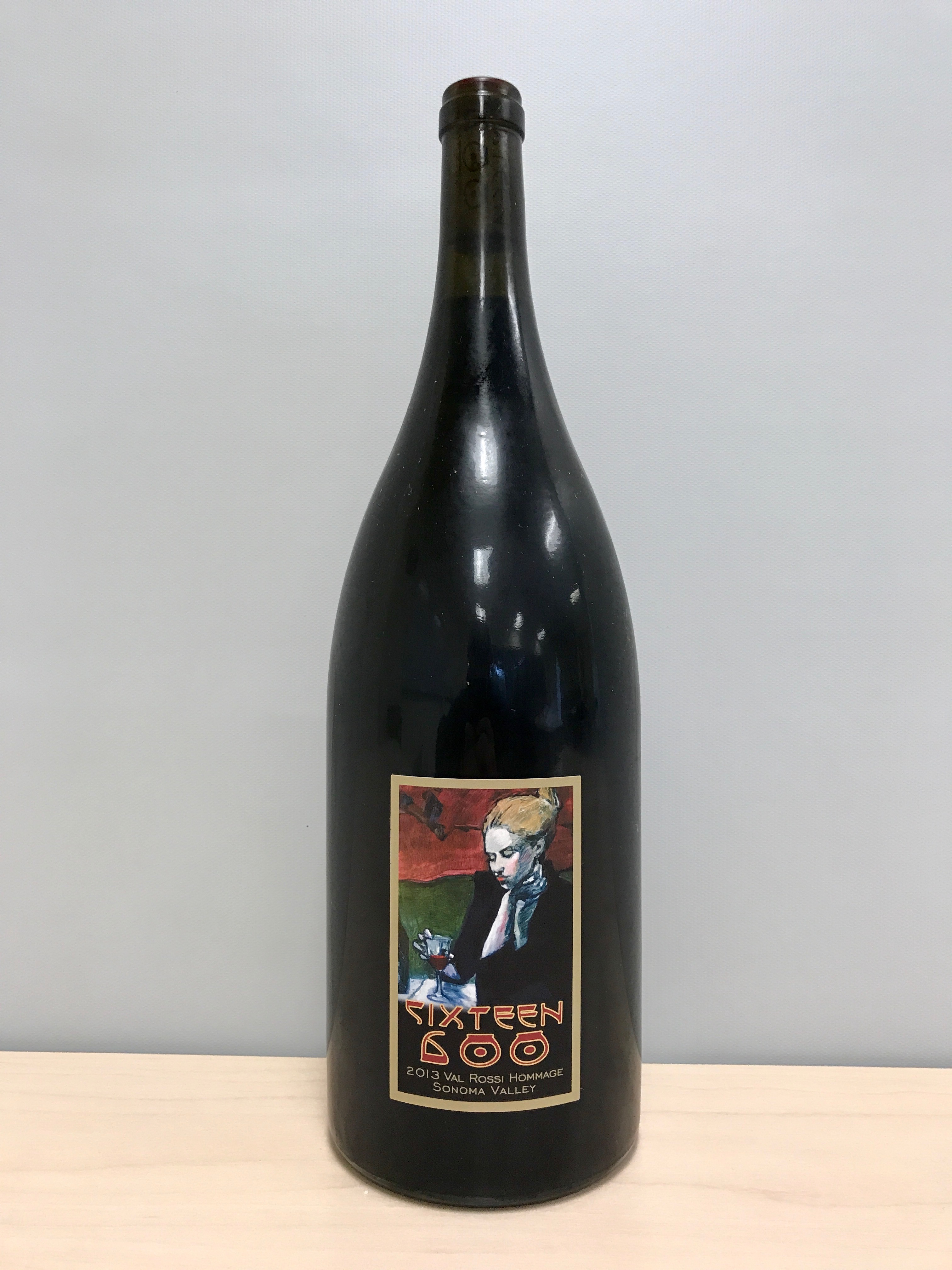 Sixteen 600
Magnum (2013) – Valued at $130
Winery Sixteen 600 is the vision of Phil Coturri and his son Sam Coturri. If you ask him, Phil Coturri might quote a Levon Helm song and describe himself as a "poor old dirt farmer". However, after 35 years pioneering organic and biodynamic winegrowing in California descriptions range from "famed organic viticulturalist" by the Hollywood Reporter to "the ubiquitous wizard of sustainable winemaking" by Sonoma Magazine. Phil farms everything from Sonoma Valley's oldest century old heritage vineyards to Napa Valley vineyards that supply fruit Harlan. Phil has proven that not only are sustainable farming practices better for the farmers and the environment, they produce better wine. The grapes used for Winery Sixteen 600 are all certified organic or biodynamic. No chemical fertilizers, pesticides or herbicides are ever applied. Dense cover crops and insectaries promote biodiversity and enrich the rocky soils with vital nutrients. Yields are kept low, vines are hand worked and watered minimally. The result is ripe, vibrant flavors, rich, full-bodied wines that allow the varietals and region to shine.
Wente Cabernet Sauvignon
3L Bottle (2014) – Valued At $130
For five generations the Wente family has been dedicated to the art of winemaking and to the philosophy that the quality of a wine originates in the vineyard. The Single Vineyard Charles Wetmore Cabernet Sauvignon is named after one of Livermore's most prominent pioneers, California's first Agricultural Commissioner, renowned for planting grapevine cuttings from many of Bordeaux's top Chateaus in the Livermore Valley in the 1800s. The vines planted today are direct descendants from these vines and only the best of these Cabernet Sauvignon vines have been selected for each new generation planted. The Charles Wetmore Vineyard is located in the southern hills of the Livermore Valley between the Arroyo del Valle and the Arroyo Mocho, ranging in elevation from 460 ft to 735 ft. The site was selected because it demonstrates the ideal well-drained gravelly loam soil of the Livermore Valley similar to the Bordeaux region in France, ideal for growing Cabernet Sauvignon of distinct character, depth, and intensity.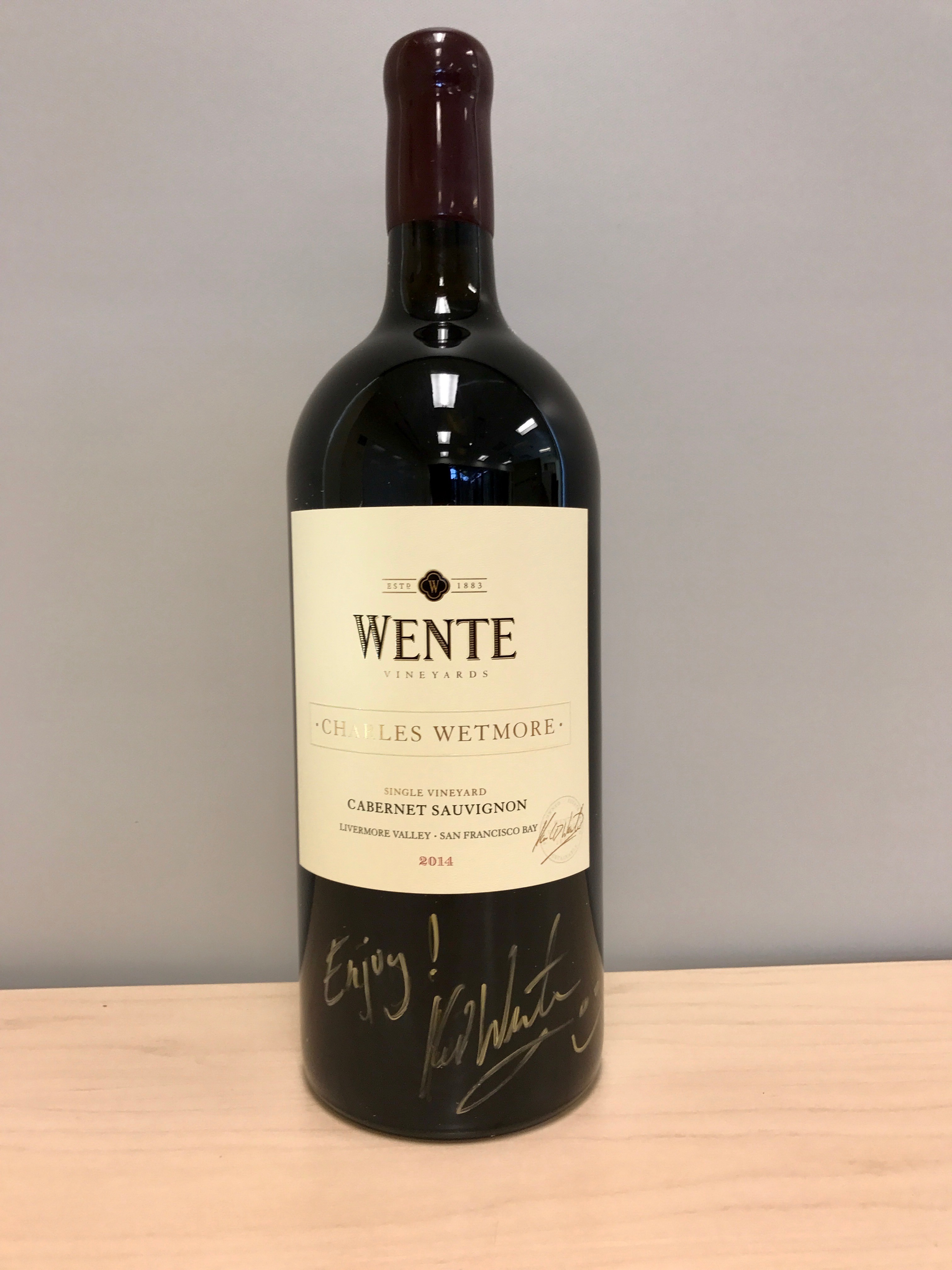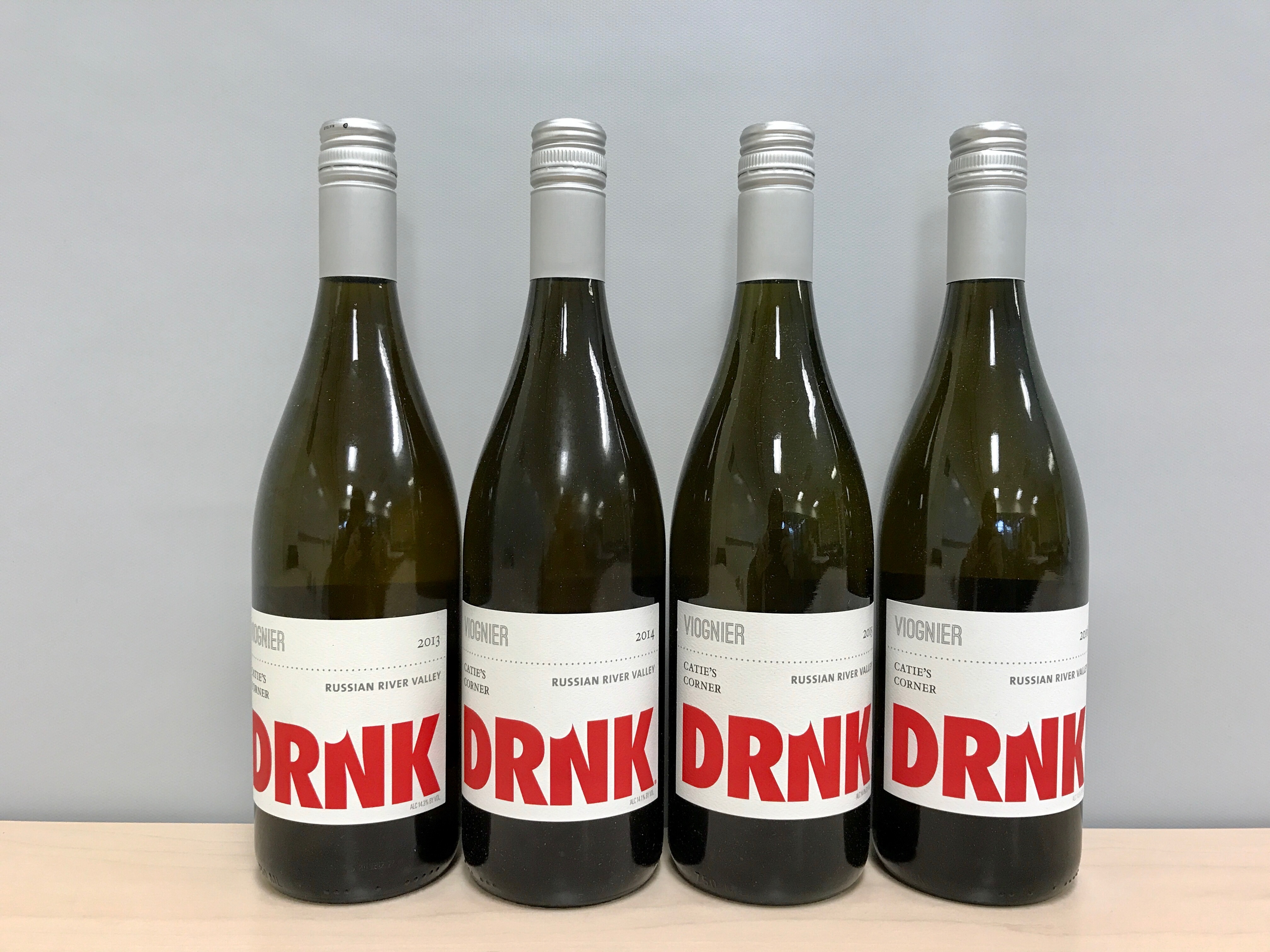 DRNK Viognier
4 Bottle Vertical (2013-2016), Includes Tasting for 4 – Valued at $115
Winemaking begins in the vineyard, and DRNK Wines begins evaluating their fruit from the time of inception to harvest from all perspectives, from under root to over the canopy. An intimate relationship with the fruit continues through crush as each lot is carefully hand harvested and sorted in the vineyard and again at the winery before crushing. All fermentations are carried out in small batches and punched down by hand. The wines are then transferred to barrel in their underground cellar, which is an ideal winemaking environment. The utmost care and consideration is given to each barrel individually before final blends are made. The Catie's Corner Viognier is a very light pale lemon yellow color and presents intense aromas of apricot stone fruit and lychee give way to melon and white flower. This wine has a broad mid-palate and viscous mouthfeel with a fresh medium-long finish. This vertical of 2013 to 2015 Catie's Corner Viognier from DRNK displays the consistent quality and vivacity of this winery's premier white wine.
Frog's Leap Cabernet Sauvignon
Magnum (2014) – Valued at $100
For more than 25 years, Frog's Leap has been well known for their advancement of the principles of organic grape growing, dry farming and many aspects of biodynamics. Owner and Winemaker, John Williams, brings forty years of grape growing experience in the Napa Valley into his winemaking philosophy, producing wines of exceptional quality that have come to define the standard of quality in the Napa Valley. The Frog's Leap 2014 Estate Grown Cabernet Sauvignon is classic in every way, with intense aromas of dark fruits, blackberry, and cassis with lovely overtones of mocha and coffee bean. The flavors are subtle and nuanced while precisely balanced and deep. It is a wine for the cellar, of course, but will not disappoint in the shorter term paired with a nice rack of lamb or perhaps a Châteaubriand.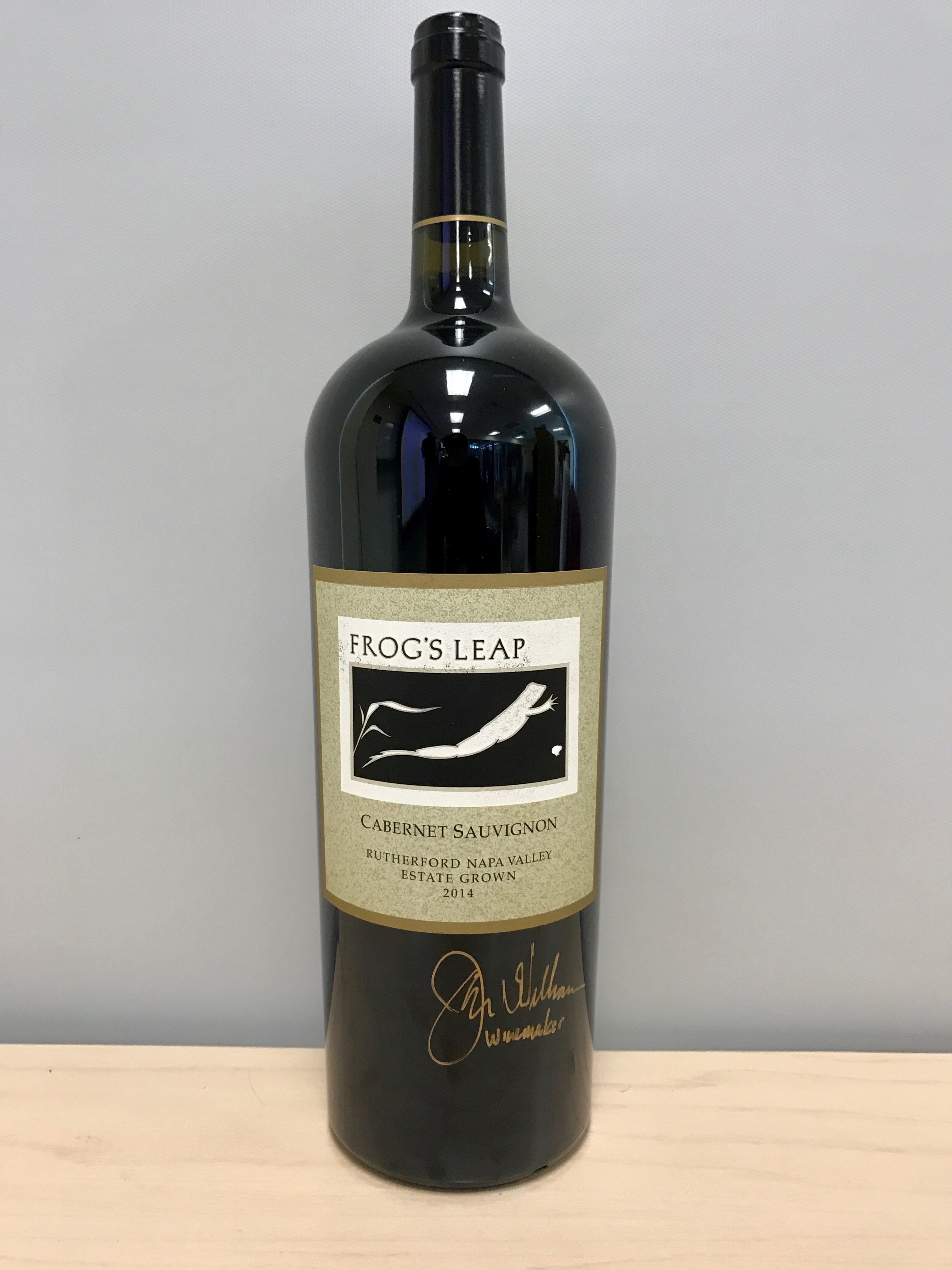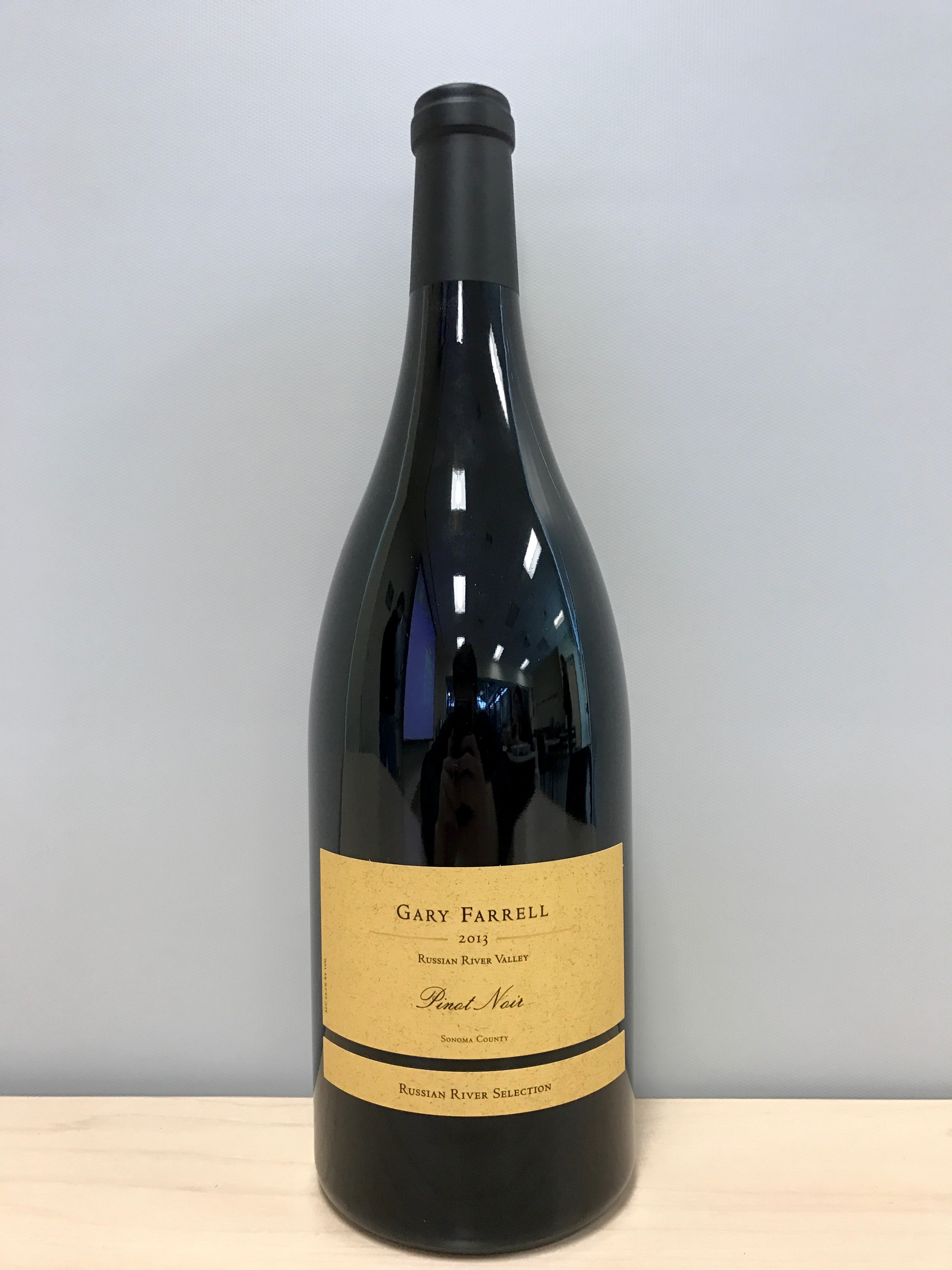 Gary Farrell
Magnum (2013) – Valued at $100
Since their first release in 1982, Gary Farrell Winery Pinot Noirs and Chardonnays have remained benchmarks of the region with their elegant, complex expressions of their Russian River Valley vineyard origins. The winery continues to nurture founder Gary Farrell's legacy of producing small lots of honest, expressive and regionally distinctive Russian River Valley Pinot Noirs and Chardonnays. This quintessential duo is sourced from only the best vineyards in the region, and this dedication to excellence comes forward in the finished wines, which are elegant yet vivacious. This Pinot Noir is nothing short of spectacular, with powerful notes of wild strawberries and raspberry preserves, laced with deeper layers of rose petals, violets, cinnamon, and cloves. This wine is bright on the tongue with a smooth, balanced finish that will leave you wanting more. Its companion, the Chardonnay, is wrapped in aromas of candied pear, vanilla, and crème brulee, which follow through in the palate and are balanced by an invigorating natural acidity. Both wines in this pairing scored 95 points by Wine Enthusiast and were praised for their complexity and delectable finish.
Ridge Red
(2016) – Valued at $85
The history of Ridge Vineyards dates back to 1885 when the property was originally bought by Osea Perrone, an Italian doctor hailing from San Francisco. Over the decades, the property has been passed from one owner to the next until it fell to its current owner, Paul Draper, who was named "Man of the Year" by Decanter Magazine in 2000. He, along with the present winemaking team, encourages the use of nature and tradition rather than technology to consistently produce unique, high quality wines. The 2015 Geyserville blend combines the diverse characters of Zinfandel, Carignane, Petite Sirah and Alicante Bouschet. The deep ruby color of this wine is reinforced with intense aromas of dark berry, gravel, licorice, and exotic spices. On the palate, the wine is fruity yet tannic, providing an immense depth of flavor and lengthy finish.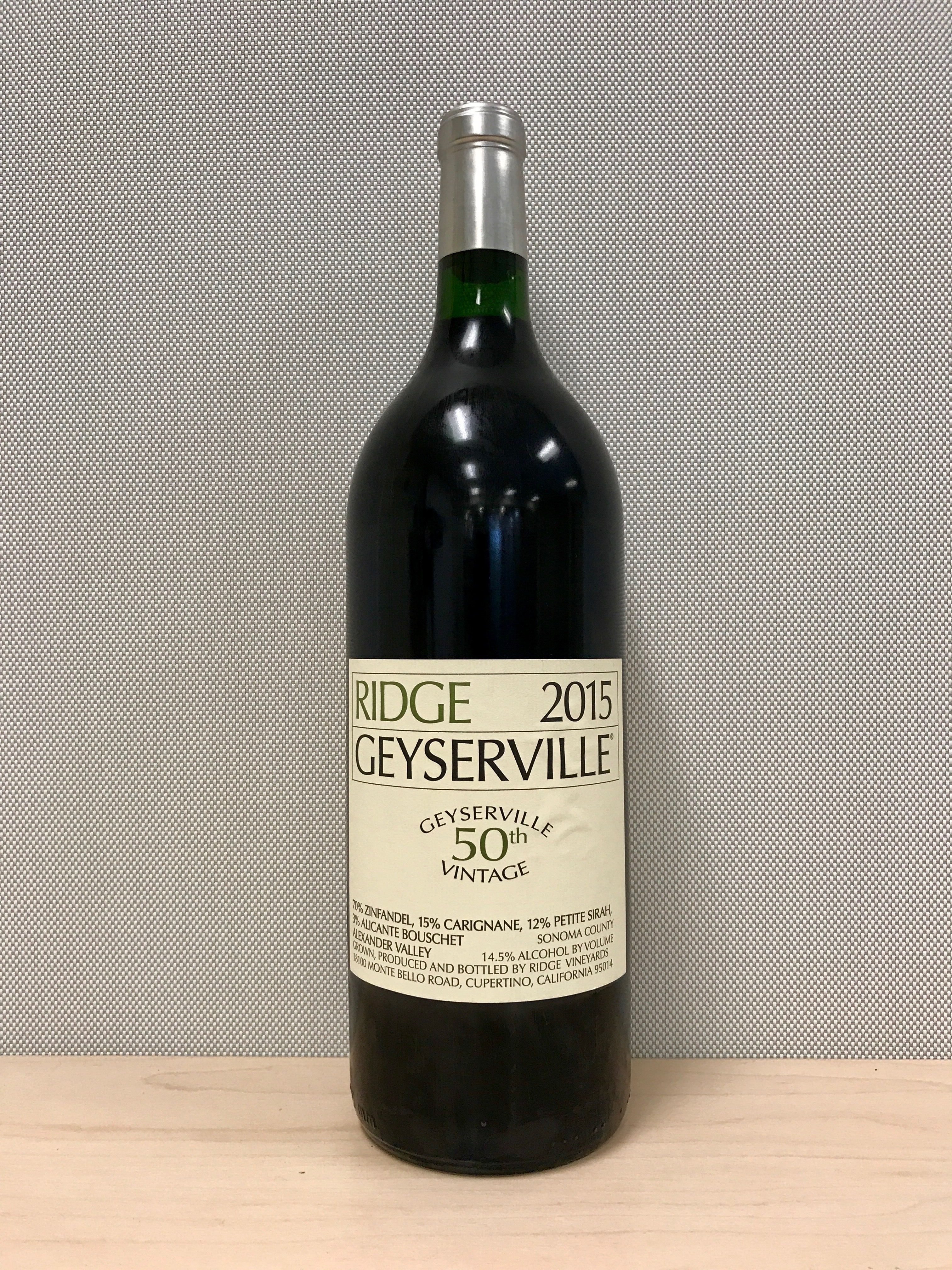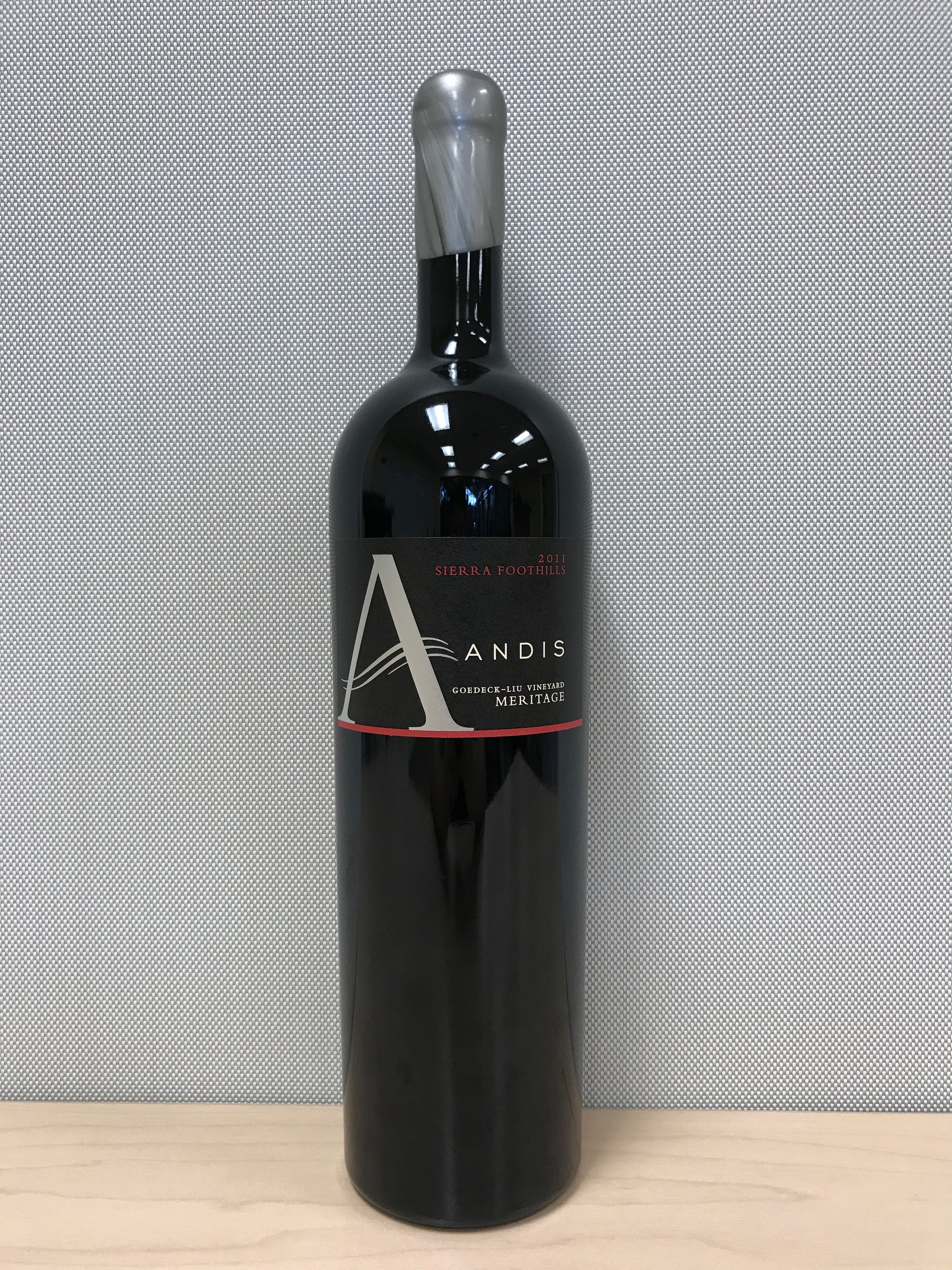 Andis Meritage
Magnum (2011) – Valued at $70
In 2010, Andis wines became the newest addition to Amador County's wine legacy. They set out with one vision: to explore and highlight the incredibly diverse terroir of the Sierra Foothills' best vineyards. Built with the highest environmental standards in mind, a state of the art production cellar, and stunning tasting room, they are dedicated to taking the evolution of Amador Wine to heights not yet seen. The 2011 Meritage is a blend of Merlot and Cabernet Sauvignon. Both varieties are grown side-by-side in the same vineyard in El Dorado County and farmed by Peter Goedeck. Initially, the grapes were separated, and then blended together to age in concrete tanks and knit together the structure. After a nice compliment of French oak, the wine expresses aromas and flavors of cedar, strawberry, black cherry and coffee. Certainly one of the standouts among Andis Wines collection, it will continue to improve over the next five to ten years.
Two Hands GSM & Leitz Riesling
2 Bottles (2015, 2013) – Valued at $55
The Two Hands GSM features buoyant notes of raspberry, red cherry characters with a restrained savory palate, grainy tannins backed by integrated oak. A serious food wine that shows what a wonderful marriage these three varietals make if blended with balance in mind. The Leitz Berg Schlossberg shows up with precise aromatics of slate, ripe exotic fruits and the typical intense flavor of this unique vineyard. The scent of orange zest, papaya, mango and passion fruit is overwhelming and you will find with the first sip a powerful harmony of smell and taste. The minerality of Berg Schlossberg is vibrant and elegant in the same way. It performs absolutely pleasant with the delicate acidity, which is wonderful embedded. Perfect to pair with raw marinated prawns with lemon oil and ginger jelly or a medallion of turbot on glazed truffle with parsley puree.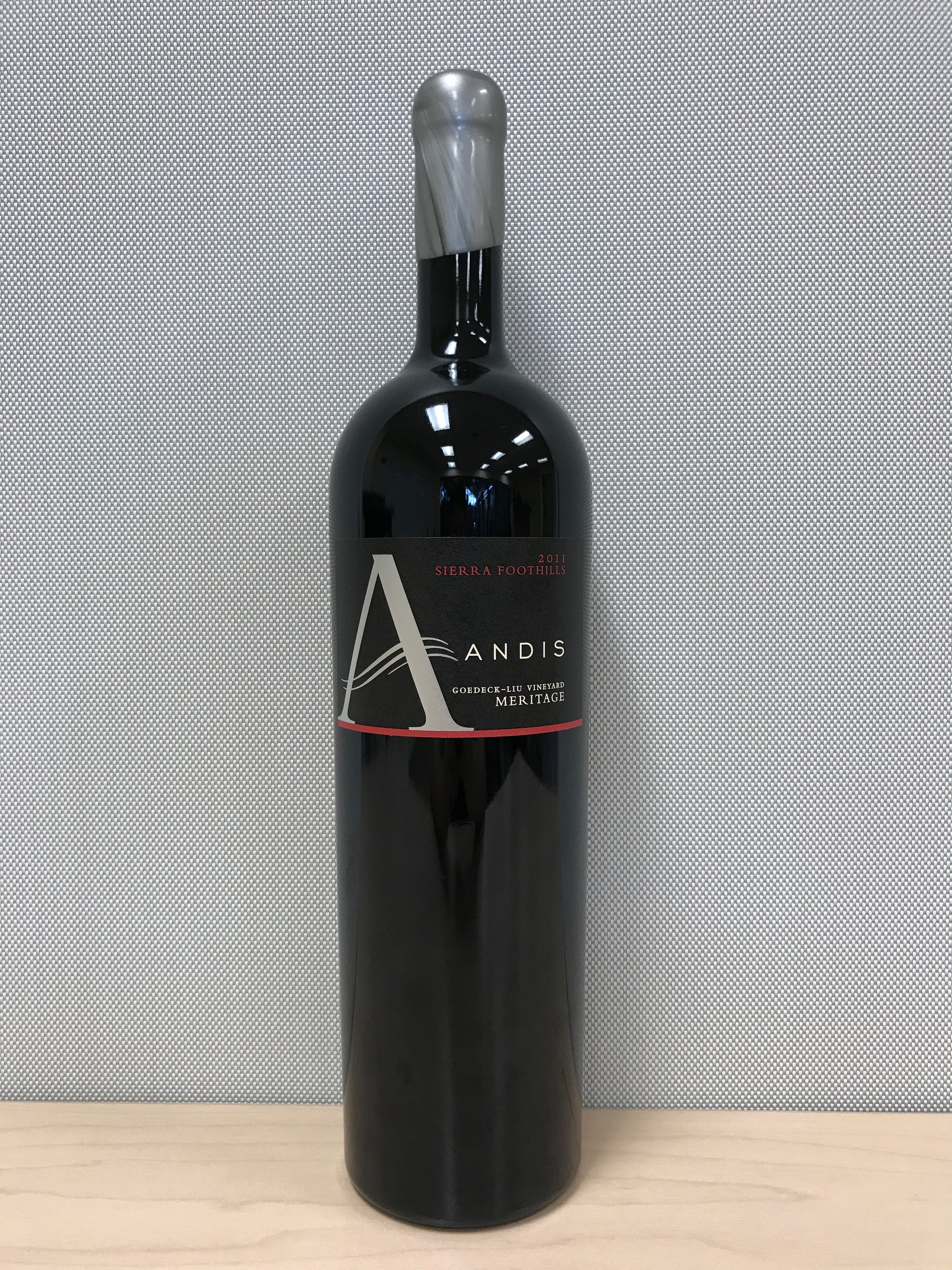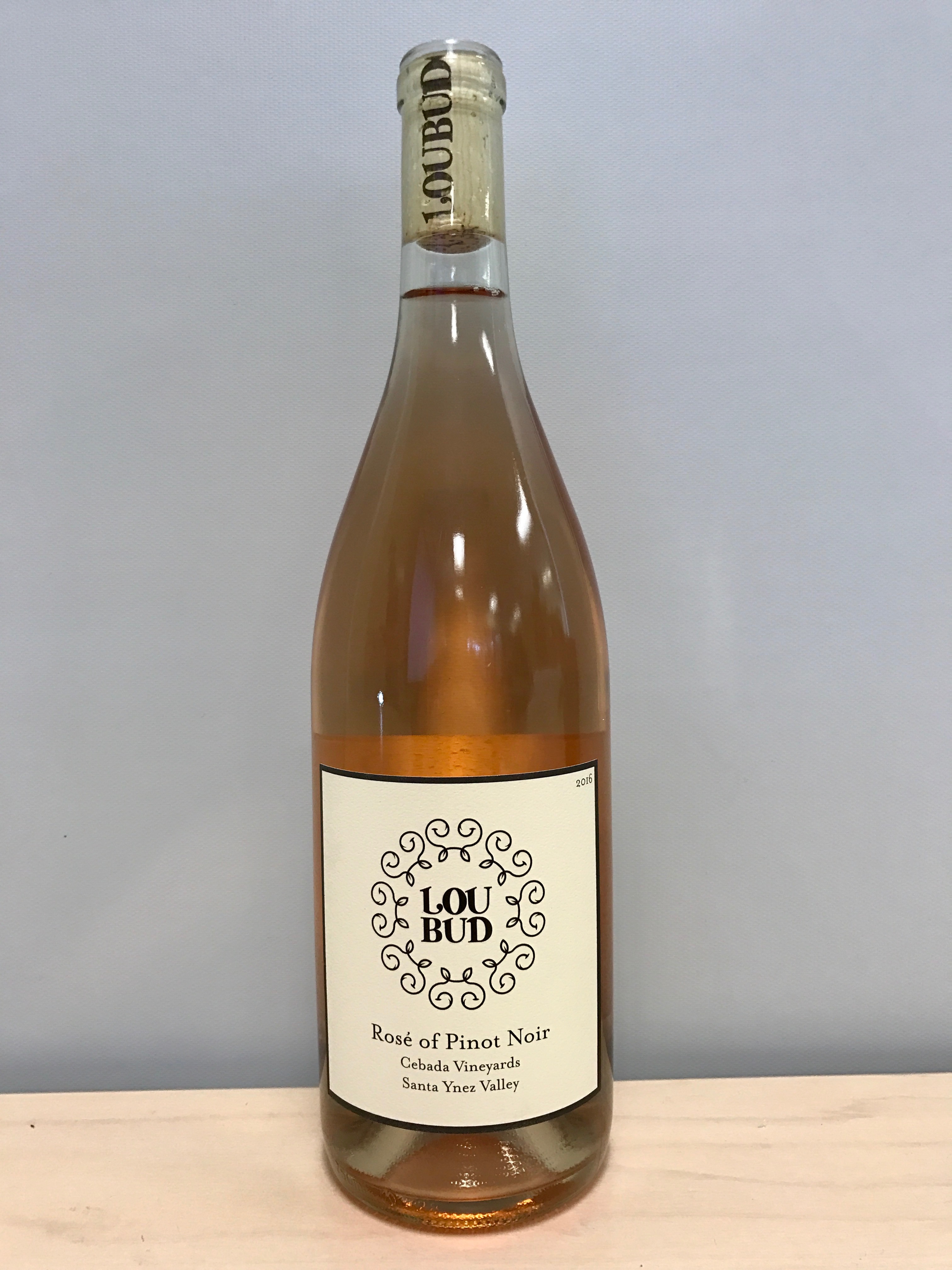 Loubud Rose
(2016) – Valued at $25
Alumnae of the UC Davis Viticulture and Enology program, Laura Roach's passion for Pinot Noir is only surpassed by her dedication to producing spectacular wines. After working in wineries as far as South Africa, Laura was drawn to the coastal region of Santa Barbara, where she established Loubud Wines. The cool, marine climate is ideal for bringing forth the tart and vivacious acidity in her wines, particularly her 2016 Pinot Noir Rose. Only 65 cases were produced of this 2016 vintage, with a majority of them only available to Wine Club members. This elegant, crisp Pinot Noir is a testament to the Santa Barbara region, both rich in character and smooth in finish.